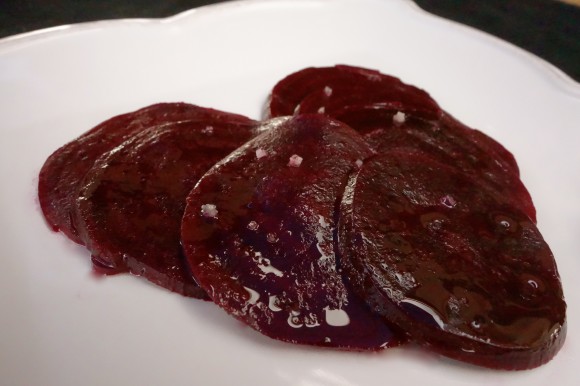 Valentine beet carpaccio
serves 6-8
what you need:
1-2 red beets, roasted, peeled
(optional) ¼ cup chopped nuts (nuts, pistachios or walnuts), toasted
marinade
1 tablespoon olive oil
2 tablespoons walnut oil (or other nut oil)
1 tablespoon balsamic vinegar
1 teaspoon gros sel de guérande (and to taste)
freshly ground black pepper (to taste)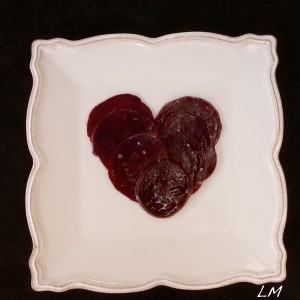 how to:
Make Marinade.

Place all marinade ingredients in a bowl and whisk well. Set aside.
Roast Beets.

Clean beets well with a vegetable brush. Remove beet tops (reserve for something else). Wrap the 12 beet bulbs with aluminum foil. Place bulbs on a baking sheet lined with parchment paper. Roast in an oven preheated to

350 degrees Fahrenheit

until a fork can easily be inserted into the bulbs. Remove and cool.
Peel & Slice

. Once beets are cool enough to touch, remove the foil and peel the skins (they should easily come off). Using a mandoline or a chef's knife, thinly slice the beets .
Marinade.

Place beets in the marinade and place in the refrigerator for at least 3 hours.
Serve.

Remove beets from the marinade and gently tap off extra marinade. Place beet slices on a plate in a visually pleasing manner. Sprinkle with fleur de sel or gros sel de Guérande. Garnish with nuts.
Tags: beets, carpaccio, healthy starters, marinade, Valentine Day menu