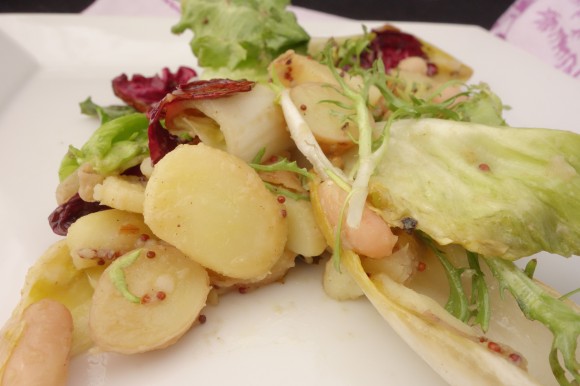 potato and wilted escarole salad
this winter salad is full of protein and tossed in a creamy dressing made with avocaodo (no mayonnaise or cream)
serves 4-6
what you need:
salad
1 small head frisée
1 small head radicchio
1 Belgium endive
8 fingerling potatoes, steamed or boiled
1 small head escarole, leafed
½ cup Cannelloni beans, drained and rinsed
(optional) ½ cup chopped walnuts, toasted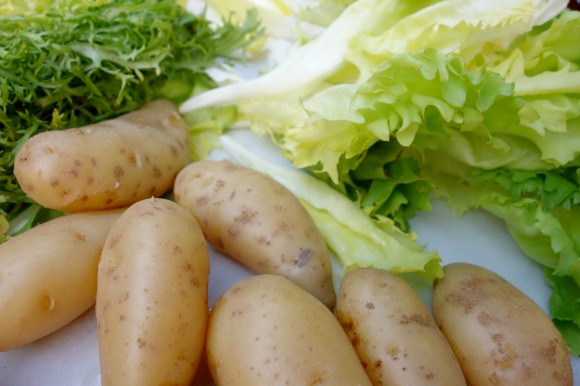 dressing
4 tablespoons walnut oil
2 tablespoons white balsamic vinegar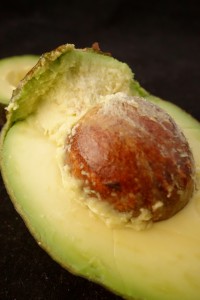 2 tablespoons avocado
2 teaspoon minced shallots
1 teaspoon gros sel de Guérande (or sea salt)
½ teaspoon ground cumin
1 teaspoon brown mustard seeds
how to:
Make Dressing.

Combine all dressing ingredients in a small food processor and blend until smooth and
you achieve a good emulsion (or place vinegar in bowl with cumin and whisk in oils and then the remainder


of the ingredients. Set aside until ready to use.
Leaf Greens.

Wash and dry all greens well. Remove the frisée, escarole, radicchio leaves and endive spears from their cores.


Cut the endive spears in half if large. Tear the radicchio and escarole leaves in half if large as well.
Boil Potatoes.

Place potatoes in a pot of cold water. Bring to a boil and cook until fork tender but retain their shape. Remove from heat.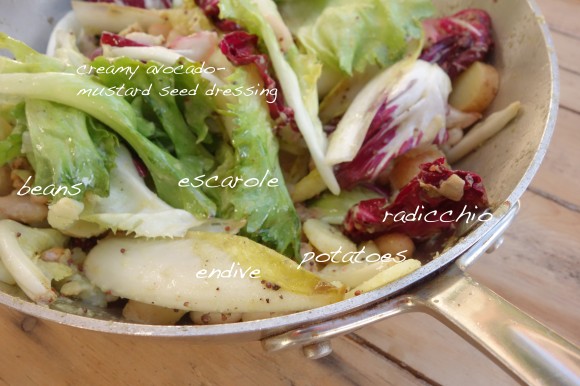 Wilt.

When the potatoes are cool enough to handle, but not cold, slice and place in a large stainless steel bow (if the potatoes are cool, you can do this in a large sauté pan over a low flame). Add the beans, escarole and radicchio. Let the warmth of the potatoes wilt the escarole and radicchio a little. Toss with a little of the dressing
Toss.

Add the endive, frisée, walnuts, and the rest of the dressing. Toss to combine.
Season.

Add salt and pepper to taste. Serve at room temperature or slightly warm.
Tags: avocado, beans, easy salads, escarole, frisee, homemade dressing, potatoes, Valentine Day menu, warm salads