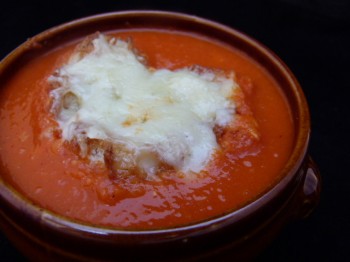 winter tomato soup au gratin
stats:
yield: approximately 28 ounces
what you need:
soup
1 1/2-2 tablespoons olive oil
2 tablespoons minced garlic
4 tablespoons minced shallot
2/3 cup diced carrot
2 28 ounce cans of whole San Marzano tomatoes with juice

bouquet garni (with fresh leek, fresh Italian parsley, and bay leaf
1/4 cup olive oil
kosher salt (to taste)
freshly ground black pepper (to taste)
crouton
4-6 slices of country bread
2 garlic cloves, smeared (optional)
olive oil (as needed)
4 ounces Basque sheep's milk cheese, grated
or

2 ounces Gruyère, grated
2 ounces Comté, grated
1 tablespoon unsalted clarified butter
how to:
croutons
Use either day old bread or fresh bread and dry overnight and/or in the oven.
Cut

. Slice bread about 1 inch thick (cut horizontally for more surface area if using a baguette). Use a heart-shaped cookie or biscuit cutter and cut heart shapes from the slices.
Dry

. To dry out the bread, let it sit uncovered overnight (or place on a baking sheet and place in the oven uncovered at 200 degrees Fahrenheit until it is dry).
Season

. Brush the croutons with a little olive oil (and smeared garlic if you want). Sprinkle with salt. Place in an oven preheated to 350 degrees Fahrenhe

i

t

and bake for about 5 minutes (turning over after 2-3 minutes to ensure even baking) until light golden brown. Set aside. This can be done in advance.
soup
Prepare Tomatoes

. Pour the tomatoes and juice in a food mill. Pass through the mill to separate the seeds (and skin) from the puréed liquid. Discard seeds and skin. Reserve strained liquid.
Sweat Aromatics

. Heat a saucepan over medium heat. Add olive oil. When warm, add garlic. When garlic becomes fragrant, add the shallots and carrots and toss to coat in the oil. Cook until carrots are beginning to get tender.
Add Tomatoes

. Add tomato purée and bouquet garni to saucepan. Simmer about 30 minutes until flavors are infused and liquid has reduced by at least 1/3.
Purée

. Discard bouquet garni. Using an immersion blender or food processor, purée until smooth. Place in a clean saucepan and return to heat.
Adjust Seasoning

. Swirl in olive oil. Add salt and pepper to taste.
Make Gratin

é

e

. Pour soup in oven-proof bowls. Add heart shaped crouton to soup and top the heart with grated cheese. Drizzle a few drops of clarified butter on top of the cheese. Place uncovered soup bowls under the broiler until cheese is melted and bubbling.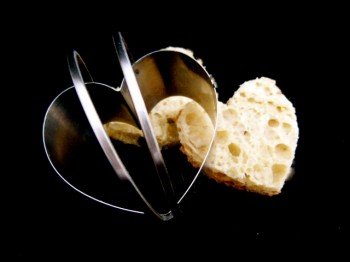 Tags: au gratin, Basque cheese, Comte, crouton, Gruyere, soup, tomato, tomato soup