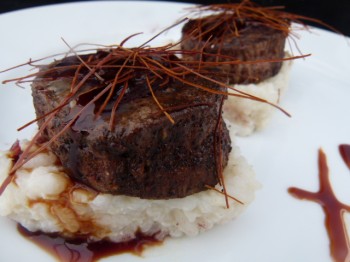 spicy espresso tournedos on a heart-shaped bed of creamy almond-leek risotto
stats:
serves 4
what you need:
8 tournedos, 1 " thick and 2  1/4" diameter
kosher salt (as needed)
freshly ground pepper (as needed)
1-2 tablespoons unsalted clarified butter
spice
2 teaspoons espresso, finely ground
2 teaspoons piment d'espelette
1/2 teaspoon hot paprika
1/2 teaspoon Midnight red cocoa powder (dutch pressed)
1 teaspoon kosher salt
1/2 teaspoon freshly ground black pepper

sauce
4 tablespoons dry red wine
1 tablespoon unsalted butter, cold
leek purée
1 tablespoon unsalted clarified butter
2 cups chopped leek (white portion only)
1/4 cup water
1/2  teaspoon kosher salt
risotto
1 tablespoon unsalted butter
1 tablespoon finely minced shallots
1 cup abborio  rice
1/3 cup dry white wine
2 1/4 cups almond milk
1/2 teaspoon kosher salt (and to taste)
1/8 teaspoon freshly ground black pepper (and to taste)
how to prepare risotto (can be made in advance):
Prepare Leek Purée

.   In a saucepan over medium heat, add clarified butter.  Once melted, add leeks.  Cook until leeks begin to stick to the bottom of the pan and are very tender (but with no color).  Add water and stir well.  Remove from heat.  Purée leeks  in a food processor until very smooth.  Pass through a vegetable mill or china cap to eliminate any leek chunks.  Add salt.  Set aside.
Warm and Reserve Almond Milk

.  Place milk in a saucepan.  Keep warm over a low flame.
Melt Fat In Pan

.  In another saucepan, melt butter.  Add shallots.
Sauté Rice

.   Add rice and toss to coat  (the outside of the rice  will soften but the inside is still white).
Add Wine.

Add wine and thoroughly mix with the rice.  Reduce

au sec

(all of the wine is gone from the pan).
Ladle In Milk And Simmer

.   Add warmed milk by the ladle full to the rice until rice is covered.  Once absorbed, add another ladle full of milk.  Continue until you use all of the milk (you may need more).  The rice is done when the rice is

al dente

and the consistency is smooth.
Add Leek Purée

.  Remove rice from heat.  Add leek purée.  Stir to incorporate.
Correct Seasoning And Texture

.  Add salt and pepper to taste.  Add more milk if risotto is dry (it should be creamy smooth but you need it to hold its shape so do not as much as you normally would).
how to prepare tournedos:
Tie

. Use kitchen twine and tie the circumference of the tournedos.  Season with salt and pepper.
Make Seasoning

.  Combine all spice ingredients in a bowl.
Season Tournedos

.  Roll the tournedos in the seasoning.  Do not rub, the meat is too tender.  Set aside.
Pan Fry

.  Place a cast-iron skillet over medium-high heat.  Add clarified butter.  Once butter is hot, add tournedos.  Cook each side of the tournedos for 4 minutes.
Keep Warm

.  Remove tournedos and cover with foil to keep warm while you make a quick sauce from the meat juice.
how to prepare sauce:
Degrease

. While pan is still hot, use a paper towel and carefully remove the grease and excess/burnt spices from the skillet (it will look dry, but there will be fond on the bottom).
Deglaze

.  Immediately add wine.  The wine will sizzle and cook from the heat of the pan.  Reduce by half.  Remove from heat.
Add Butter

.  Add 1 tablespoon of cold butter to the reduced wine and swirl in.
Plate

. Place risotto on plate in shape of two hearts. Place one tournedos on top of each risotto heart. Remove kitchen twine.  Drizzle sauce over tournedos.
Serve

.  Serve immediately.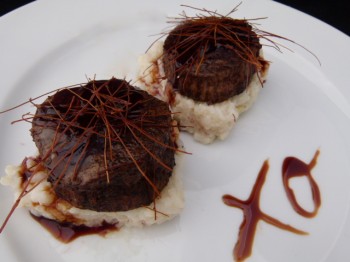 Tags: almond milk, chili, espresso, leeks, no diary, red midnight cocoa powder, risotto, tenderloin, tournedos