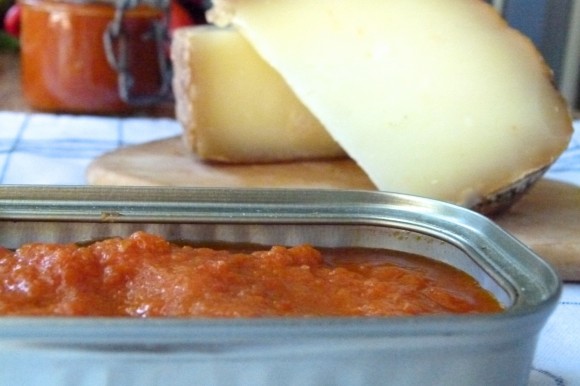 roasted red pepper tuna purée
stats:
makes 1 pint (16 ounces)
approximately 421 calories
2 ounce serving = 53 calories
what you need:
4 ounces concassé tomatoes (seeds and skins removed) or canned (drained, seeds and skins removed)
16 ounces roasted sweet red peppers(seeds, stem, and skins removed)
3 teaspoons (reserved) olive oil
5 ounces unsalted canned tuna (in oil), drained (oil reserved)
½ teaspoon kosher salt (and to taste)
½ -1 teaspoon piment d'espelette (to taste)
optional accompaniments
eggs (fried, scrambled, boiled)
slices of ewe's milk cheese
fresh goat cheese
quality olive bread, or crostini
olive oil breadsticks or seed crackers
fresh vegetables (celery, carrots, sweet peppers)
pasta (penne, farfalle, rotini)
how to:
Roast Peppers

. Place peppers on a grill (or over a range). Roast until the skins are blistered on all sides. (Alternatively, you can blister the skins with a kitchen torch by placing the peppers on a metal baking sheet and hold the torch 2-3 inches from the peppers, blistering all sides).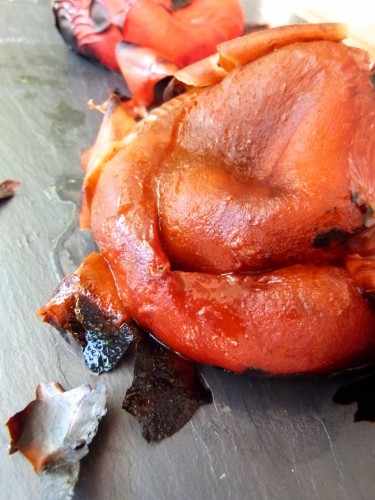 Peel Peppers.

Place the peppers on a plate (or in bowl) and cover with plastic wrap. Set aside for at least 15 minutes to allow the steam to loosen the skins. Once cool enough to touch, remove and discard the skins, stem, the seeds, and membrane. Rough chop. Place on a paper towel or in a colander to remove excess moisture.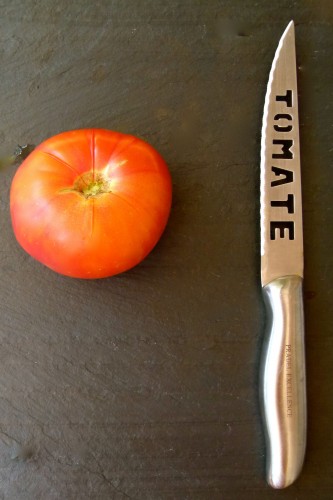 Concassé Tomatoes. Where the tomato was attached to the vine, score the tomato skin with an "X." Bring a pot of water to a boil. Place the tomatoes in the boiling water for 1-2 minutes. Remove tomatoes and place in an ice bath to cease the cooking. Drain. Once cool, remove the skins from the tomatoes. Cut tomatoes in half and scoop out the center and the seeds. Rough chop the tomatoes. Dry well on a paper towel or in a colander to eliminate excess moisture.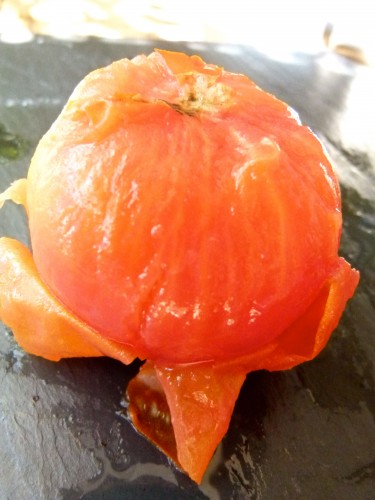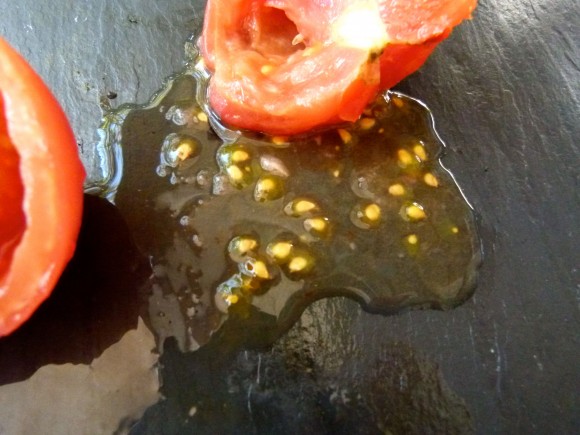 Purée

. Place peppers, tomatoes, tuna, and olive oil in a food processor (or use an immersion blender). Blend until smooth.
Season.

If you like the consistency, add seasoning – salt and piment – begin with ½ teaspoon of each. Add additional salt (depends on how salty your tuna is) and piment to taste. If the purée seems watery, place it in a saucepan over medium heat and reduce it to the consistency you want (but remember that it will be spicier the more you reduce it so adjust seasoning after your consistency is where you want it).
Serve/Store.

Purée can be served cold, room temperature or warm. You can store the purée in an air-tight container for up to a week in the refrigerator.
Tags: canned tuna, dips, fast meals, protein, purée, red peppers, spread, tomatoes