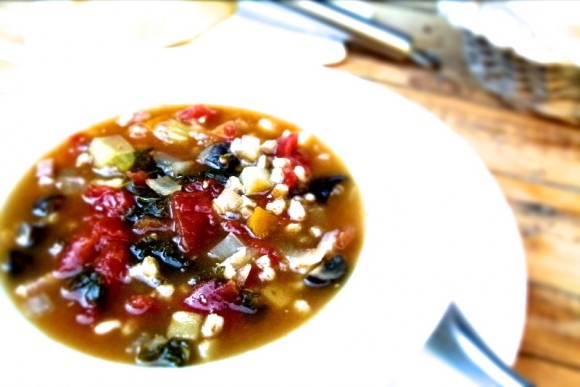 satisfying hunger and putting your heart in a bowl:
harvest minestrone with autumn vegetables and farro
In her book, The Gastonomical Me, M.F.K. Fisher explained that she wrote about food (rather than other topics) not only because she was "hungry" but also because:
"[O]ur three basic needs, for food and security and love, are so mixed and mingled and entwined that we cannot straightly think of one without the others. [W]hen I write of hunger, I am really writing about love and the hunger for it, and warmth and the love of it and the hunger for it … and then the warmth and richness and fine reality of hunger satisfied… and it is all one."
Nowhere are Ms. Fisher's words more poignant or demonstrative than when it comes to a bowl of hot soup. Nutritious, filling, and restorative, soup provides warmth to our body and comforts our soul.
Recently on the news I saw one easterner give a fellow easterner (a victim of Hurricane Sandy) something hot to eat. As she handed her the food, she placed her other hand on the recipient's arm. It was a moving moment. I thought of Ms. Fisher's words about the co-mingled needs for food, security and love and this week's simple pleasure was born: harvest minestrone with autumn vegetables and farro.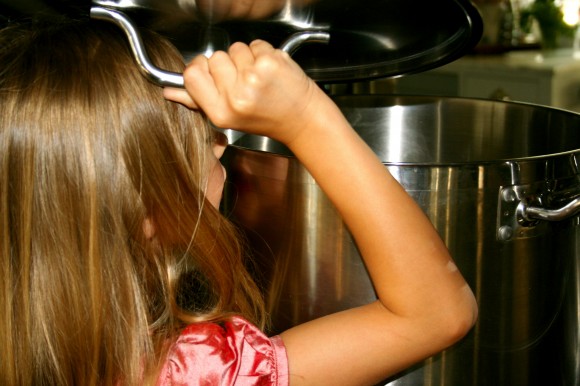 Hot soup universally evokes a state of physical and emotional well-being.We give it to our loved ones when they are ill. We seek it when we are cold. We crave it when we are hungry. Soup has been the namesake of inspirational books as well as the foundational basis for kitchens and food banks designed to assist those struggling with hunger and/or poverty ("soup kitchens" began in the Great Depression).
Some of my own most cherished food moments include hot soup: the chicken noodle soup my mother made me on days I stayed home sick from school (or put in my thermos to take to school on the snowy days); the thick potato soup my grandmother made filled with hearty, plump homemade egg noodles as long as the span of my hand when we came to visit; the spicy coconut chicken and lemongrass soup I ate night after night in Bali when all communication was lost due to the unusual downpour; the soups my wonderful friends brought me over the years when I needed extra help or was alone; the shared stockpot of bouillabaisse in Corsica with rouille slathered on crispy bread waiting for the storm to pass; my first meal of simple broth after being hospitalized for nearly a month in Monaco. I have been even more fortunate to pass on the sentiment and provide of hot soup to others, from my own children to those I had not previously met, in their moments of "hunger." I remember these moments even more.
The autumn chill and rain brings a desire for warm, comforting foods. The devastation of Hurricane Sandy as well as the spirit of the impending holidays brings out our natural human desire to comfort (and feed) others. Not defined or limited by geographic lines, political parties, or cultural or religious differences, hot soup satisfies hunger.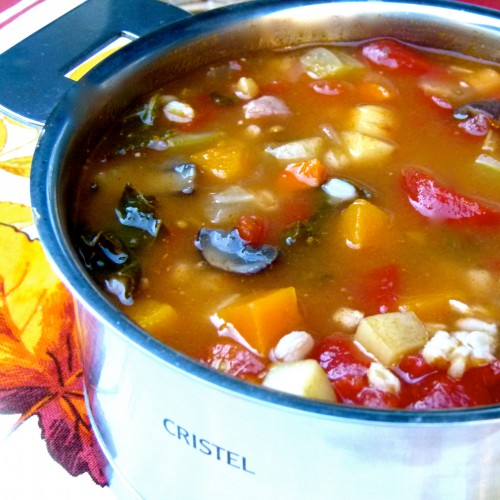 This harvest minestrone tweaks the traditional minestrone by replacing the use of beans with the ancient wheat of farro. It also contains eight different seasonal vegetables including: kale, winter squash, mushrooms, and parsnips. Feel free to embellish or adapt this seasonal soup to meet your taste or the ingredients you have on hand (using rice or beans instead of farro) or adding sausage or shredded chicken (or turkey). This soup can be a starter or a meal. It can be stored in the refrigerator in an airtight container for a few days (store the farro separate from the broth) or it can be frozen to reheat later. Share it with a loved one, a freind, a neighbor. Give it to someone you do not yet know or someone you should know better. Whatever the ingredients or the meal, putting a little of your own heart into making a simple bowl of soup for others is hunger satisfied. Nothing tastes better than that.
harvest minestrone with autumn vegetables and farro recipe
mangez bien
vivez bien
bon appétit (eat well, live well, and enjoy)
LM
when you cannot deliver soup in person, you can donate to the Red Cross
Tags: farro, kale, minestrone, soup, winter squash