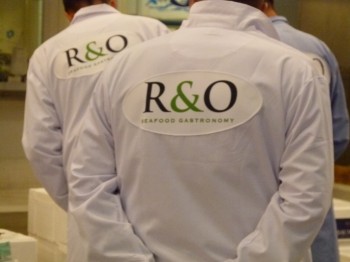 venez avec moi
à Rungis marché international
 Rungis (pronounced "run gee") is the world's largest fresh food market.  It is an enormous operation and the seemingly effortless and efficient  in and out of fresh, quality food product – be it cherries from France or salmon from Scotland – is beyond comprehension. So what is the world's largest fresh food market is like? Venez avec moi à Rungis (come with me to Rungis) and I will show you (be warned: there are pictures that may not be suitable for young eyes).
LM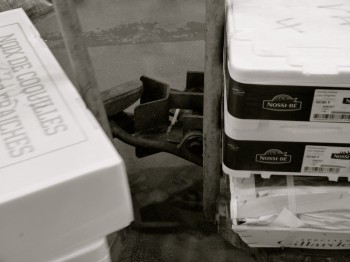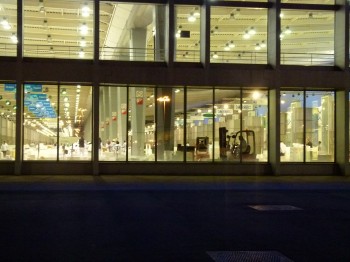 Qu'est-ce que Rungis et pourquoi ici ?
(what is Rungis and why here?)
Before Rungis Marché, the wholesale market was located at the multi-leveled Les Halles in the center of Paris (now a shopping center). The lack of space and the congestion caused by the trucks in and out of Paris central necessitated the move which took over twenty years and was completed in March,1969. Spread out over three towns and just 7 kilometers south of Paris, Rungis marché is over 232 hectares (which is about 4,492 acres).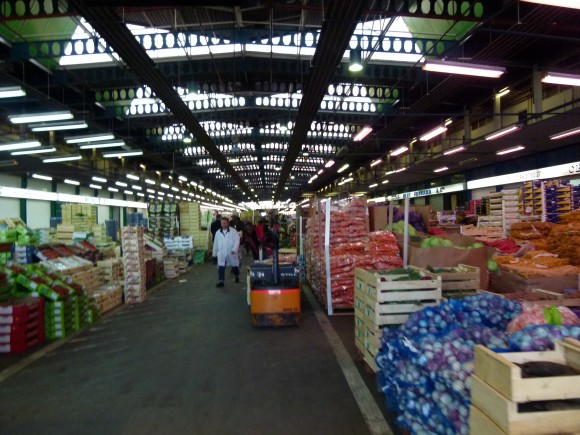 comment Rungis est-il  organisé et qu'y vend-on ?
(how is Rungis organized and what is sold here?) 
 Rungis is organized like a city in and of itself. Direct freeway access permits refrigerated trucks easy access. One million tons of food arrives everyday by train, truck or airplane. Two refrigerated trains come and go per night from Rungis. Like an international airport, several hotels are located just outside the market.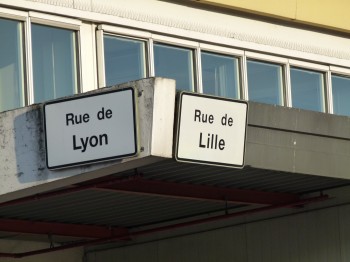 Inside Rungis there are banks, car rental services, a police department, a fire department and nineteen restaurants. Rungis has avenues, boulevards, and streets. Wholesalers sell everything from flowers and kitchen aprons to meat, produce, and truffles.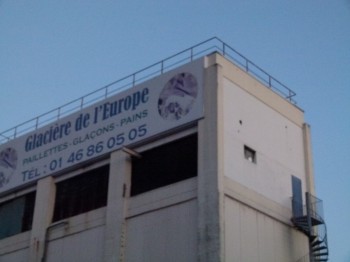 The buildings (pavilions) in Rungis are organized in sections according to product-type.  For the most part, Rungis is organized in rows designated by the letters A through F.  Each row consists of several pavilions numbered 1 through 6. The rows and the individual pavilions are separated by streets, each named after a French city or region. When you enter Rungis, flowers are to your immediate left, fresh produce and catering products are in the center, the fish pavilion is on your right, cheese and dairy products on your left, and meats  at the end.  There is an entirely separation section for administrative services and a huge tower that looks like a mini skyscraper devoted solely to the making and selling of ice.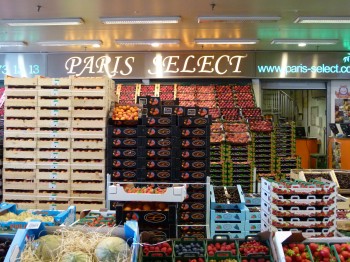 The majority of Rungis (eight and one half pavilions) is devoted to the sale of fresh fruits and vegetables and one pavilion is dedicated to "bio"  (organic) produce (only 10-15 % of the French population eats bio produce).
Four pavilions are devoted to cheese, dairy, Italian specialties, and catering items (including épicerie items vinegars, oils, salts, spices, truffles, and pâtés).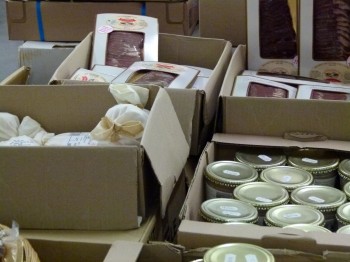 There one pavilion dedicated to fish and seafood;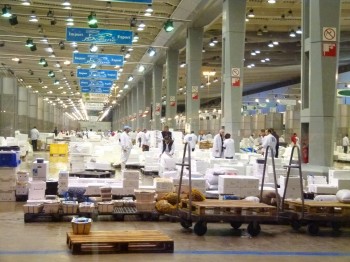 another for tripery;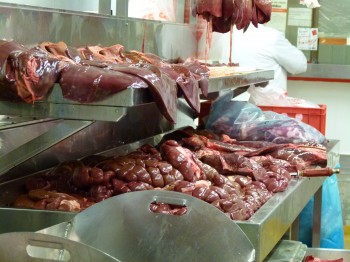 one pavilion for poultry and game;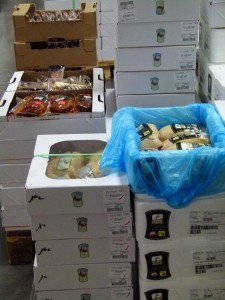 one pavilion devoted to the sale of red meat (beef, lamb and veal); and one pavilion for pork.
 comment Rungis marche ?
(how does Rungis work?)
Product suppliers, called "wall sellers", come to Rungis to sell or deliver their goods to people in the food industry. Buyers range from individual chefs and caterers to large distributors and grocery stores. Buyers must be registered in the industry and hold a Rungis card. Ten percent of the turnover is exported (shipped from Rungis to somewhere outside France, including the United States).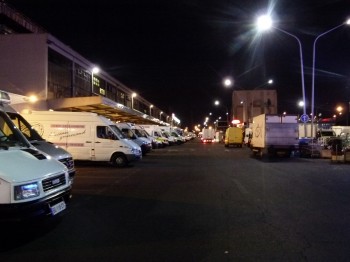 Each wall seller has their own designated floor and wall space in the pavilion where they display their products and take orders in a small office  located behind their displayed product. Purchasers transverse the center.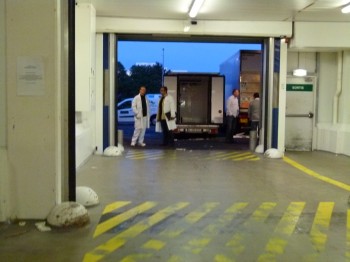 Behind the wall seller's "wall" is a large empty hallway with large doors which open to the outside. Trucks back directly against these doors to deliver product or pick-up product, as the case may be.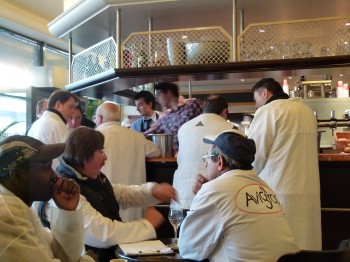 Rungis comes alive at night. Wall sellers arrive at about 10 p.m. to unload their product and begin selling at 2 or 3 a.m.  Selling concludes by the time most people begin their work day. By the time the morning sun comes up, the brasseries and restaurants are filled (99 percent of them are men) who have completed their work "day."  Drinking beers, wine, and enjoying steaks with fries, they are unwinding after a hard night's work. However, if at 4 a.m. you just want a coffee and butter tartine, like I did, that is also available.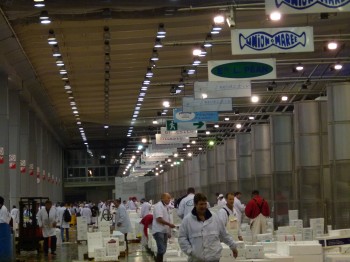 produits de la mer, viande et volaille
(seafood, meat and poultry) 
 These pavilions are refrigerated and are just plain cold. Freezing cold. They are the world's largest "walk-ins". Despite the carnage cut and hung everywhere, the pavilions are amazingly clean without odor which is not always the case in large world markets (in some they will actually hand you fresh herbs to hold under your nose to cover the smell and I will leave it at that). You must be clothed in white, sanitary jackets and hats to visit the meat pavilions.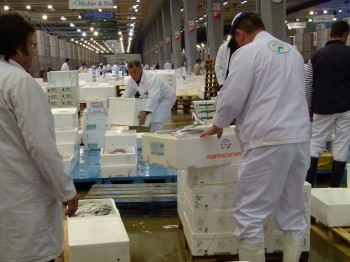 The fish pavilion opens at 2 a.m. for trading and closes at 7 a.m. Friday is the busiest day because it is before the weekend and the fish pavilion is closed Sunday and Monday (officially, although I was told it was closed on Saturday as well). Fish comes from the northern coast of France (i.e., Normandy and Brittany) but also Norway, Sweden, Scotland, and Denmark.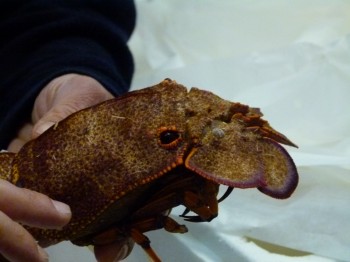 You can find everything here: cigales from Africa, lobsters from South Africa, Brittany and even the United States, tuna, salmon, oysters, Saint- Pierre, turbot, clams, and shark. They even save you the trouble of going to the produce pavilion as there are large supplies of lemons and parsley on hand (which I thought was a little funny).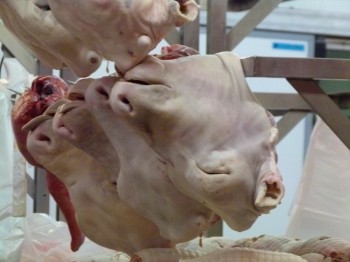 The meat and tripe pavilions are open for trading at 3 a.m. and close at 9 a.m.  They are closed on the week-end.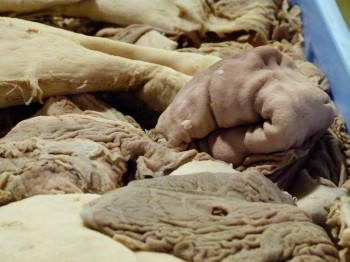 Tripery includes offals such as sweetbread (the thymus gland), headcheese, tripe (intestines),  stomach, kidneys, et cetera. It is devoted to the parts that usually need to be soaked in milk overnight before you eat them and then are cooked in a generous amount of butter and parsley or braised. Butchers work away in the back-rooms, separating the meat and skin from the skulls, butchering feet, tails, thymus glands, intestines. Every part is used.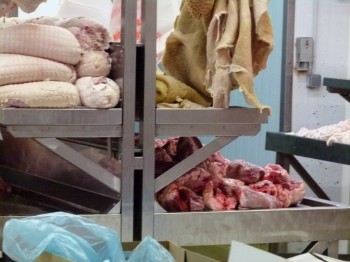 One pavilion is devoted solely to beef, veal and lamb. This is another large refrigerated butcher shop basically with hanging carcasses displayed on hooks. You can buy whole carcasses, sides, quarters or get it "BRT" (boned, rolled and tied). The pavilion is not for the squeamish.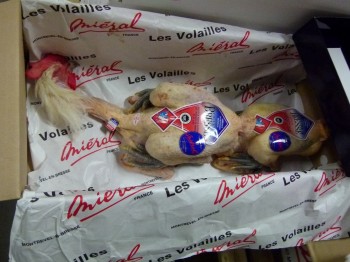 The poultry and game pavilion is by far the coldest pavilion (which makes absolute sense because of salmonella dangers with poultry). The pavilion opens at 3 a.m. and closes at 9 .a.m., Tuesday through Friday (on Saturday trading times are 4 a.m. to 7 a.m.).  It is closed on Sunday and Monday.  Here you can find Bresse blue-footed chicken, caille , duck, geese, fresh foie gras (as well as rillettes and pâtés).  You can buy poultry whole with the head and feathers or "wog" (kitchen slang for without the guts). Suckling pig and goat meat are also available.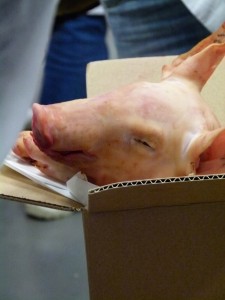 There is another pavilion for pork.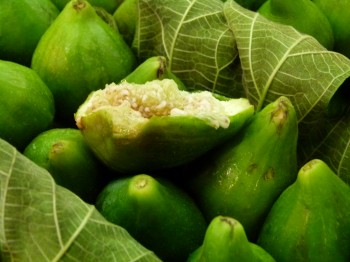 fruits, légumes, et produits laitiers
(fresh fruit and vegetables and dairy)
One million metric tons of fresh fruit and vegetables are sold every year at Rungis. You can find everything here: cherries from France, pineapple from Hawaii; every variety of mushroom, potato, tomato or pepper you can imagine.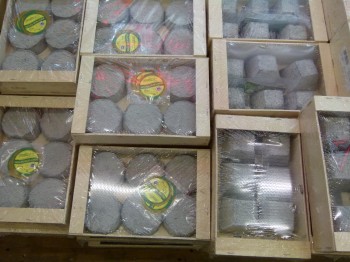 Cartons of fraises des bois (my favorite, which are difficult to access in the States). It is a giant farmer's market and despite the scale of product, it is still presented with French flair.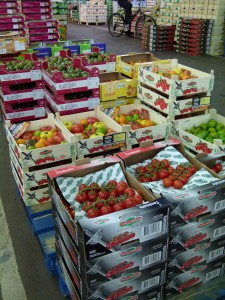 The produce pavilions are more visitor friendly than the meat pavilions: they are open until 11:00 a.m. and they are not nearly as cold as the meat pavilions. Diary items, eggs, cheese, dry goods, charcuterie, and deli items are sold until 1 p.m. Tuesday through Saturday.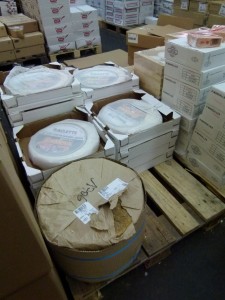 produits de l'horticulture et de la décoration
(flowers, potted plants, and decor)
Rungis is not limited to the sell of food. Potted plants are sold Tuesday and Thursday from 5 a.m to 12:30 p.m., cut flowers are sold Monday to Saturday  from 5 a.m. to 12 p.m., and interior decor items (everything from bath products and candles to furniture) are sold Monday to Saturday from 5 a.m. to 2 p.m.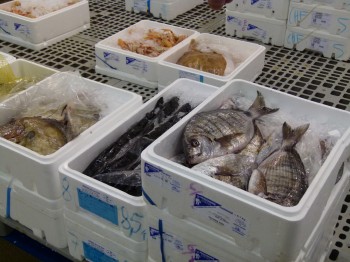 comment aller à Rungis
(how to get to Rungis)
Rungis is located south of Paris and slightly north of Orly International Airport. It lies in between Autoroute A6, Nationale route N7, and Nationale route 186 (if you are driving from Paris take Autoroute A6 to Nationale 186 and exit MIN Rungis). From the center of Paris it is about a 30 minutes drive and a cab ride will cost you around 50 euros. RER C and bus lines 183, 185, 192, 216, 285, and 292 will get you to Rungis as well.
visite
(tours)
 About 18,000 people visit Rungis per year.  There are both group and private tours offered through "visit Rungis"  (www.VisiteRungis.com).  The tours are offered in a variety of languages. For a reservation you can contact them by email at resa@visiterungis.com or by telephone number is (33) 03 83 50 10 85.  Tours begin at 4:45 a.m.  The group tours are more reasonably price than the private tours. There are no tours permitted in July and August.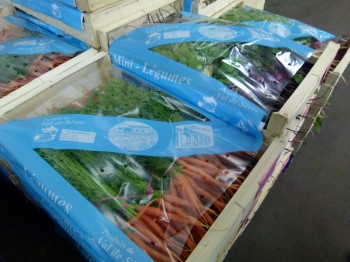 accueil
 For more information about Rungis you can visit their website: www.rungisinternational.com
or call (33) 01 41 80 80 00 or  (33) 01 41 80 80 75.