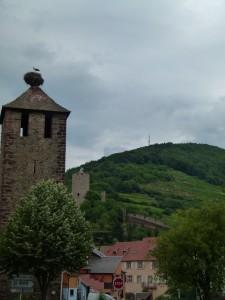 venez avec moi en Alsace
An Overview
A family member, I deeply love, is loosing her sight. She has never been to France. She never will go. On a recent trip to the Alsace (alzas) region in the northeastern area of France, I called her. She asked me what Alsace was like.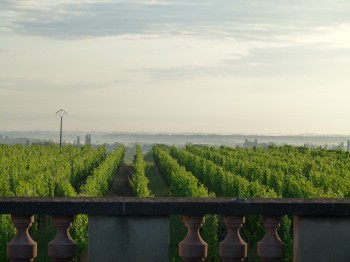 I stood on my hotel balcony and I gazed upon vineyards blanketing the entire Alsace region, the green horizon only broken up by small villages and castles. I struggled with words to place her there with me because descriptions can be flawed. Nevertheless, I tried to convey the warmth of this place and its people, the comfort of its food, and the beauty of the region. I told that:
The Alsatian people are warm and as welcoming as an embrace between reunited loved ones. 
The country breeze is peaceful and dreamy and it makes you whisper.
Grape leaves wave majestically in the breeze as if they were swaying to your favorite classical melody. 
The food is generous with family-style plates of comforting meats, yet refined at the same time with the warm flavors of bacon, rendered goose fat, tangy cheese and sauerkraut, and notes of

juniper berries

,

fennel seeds

, and cumin.
The smell of cinnamon, allspice, and ginger spills into the streets from the boulangeries and fill you with the anticipation only a child knows waiting for Santa. 
Biscuits and breads are generously baked with French butter, nuts and dried fruits. It is Christmas everyday.
Friends bond over apéritifs of the region's delicate and fruity wines served in an elegant, petit green-stemmed glass and served with

goose liver pâté

de

foie gras

that has been embellished with a hint of ginger. 
Where one vineyard ends, the next begins. Together they weave a green quilt with varying patterns and shades of green. Each square unique and adding to the richness of the region as a whole.

 
Driving on the wine route is like watching the end of the

film Cinema Paradiso

  (where scenes of couples in various films are spliced together to form one continuous and passionate embrace) because leaving one winery, and approaching the next, fills you with a continuous reoccurrance of  joy and anticipation.
I realized then that the words were spilling quicker and quicker from my mouth and my voice was filled with excitement and she was appreciative but I was even more so, because it feels good to share a special discovery with others.It is now with the same spirit that I share my culinary visit to Alsace with you.
Venez avec moi en Alsace for a little taste of this special corner of the France.
LM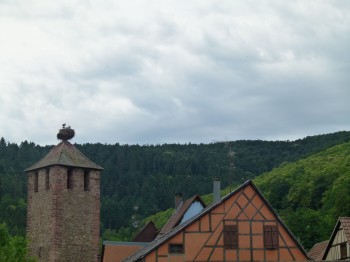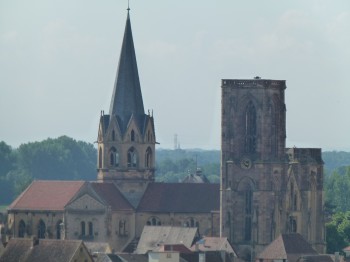 Where Is Alsace & How To Get There 
Alsace lies in the northeastern region of France. On the east border is Germany and Switzerland. Even if you did not know the geography, the food, wine, and culture is a give away to Alsace's neighbors.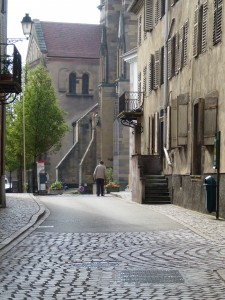 The Alsace region is divided into two departments: bas-rhin (in the north) and haut-rhin (in the south).  Colmar, the capital of Alsace, lies in haut-Rhin, south of  Strasbourg, the largest city in Alsace.
Alsace is easy to get to from Paris. You can take a plane, train, or car. Strasbourg has an international airport and there is the smaller EuroAirport Basel-Mulhouse-Freiburg which lies just south of Mulhouse with daily arrivals and departures by twenty different airlines.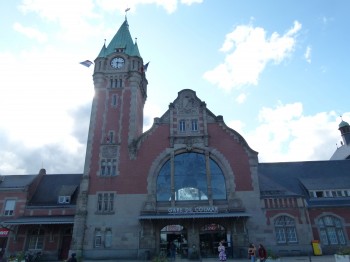 I find the train to be the easiest and nicest way to travel to Alsace. You can take a train directly from Charles de Gaulle airport or Paris Est (in the 10th arrondissement). From CDG, it takes one hour and a half to get to Colmar (through Strasbourg) and you will travel  through the Champagne and Lorraine regions (think of Champagne, quiche Lorraine, and Baccarat crystal). From Paris you can take the train from Gare-Est to Strasbourg and other Alsatian cities. There are frequent trains throughout the day, seven days a week. It takes a little less than three hours from Paris to Colmar (through either Mulhouse Ville or Strasbourg). The Colmar train station is beautiful and the clock tower, built in 1907, is really something to see, especially at night.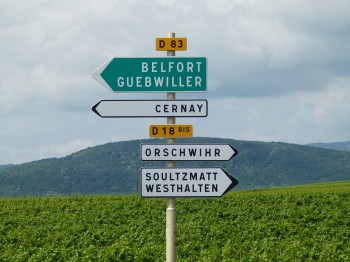 History Of Alsace
The region of Alsace has been taken over and reclaimed by the Germans and the French throughout history. Most recently, France once again reclaimed the region from Germany after World War II. It is said that the Alsatians speak neither French nor German, but "Alsatian," a mixture of both.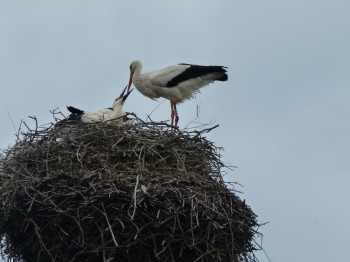 The Stork 
 The stork (cigogne) has long been the the symbol for Alsace. You can find them, often feeding their young in a large nest on the top of steeples or rooftops. Storks signify the return of spring (due to their migration from Africa after the winter). They also symbolize happiness and faithfulness (allegedly storks are monogamous but this has been debated). Legend says that if a child wanted a brother or sister they would leave a cube of sugar on the window sill for the stork who would leave a "bundle of joy" in exchange for the sweet treat.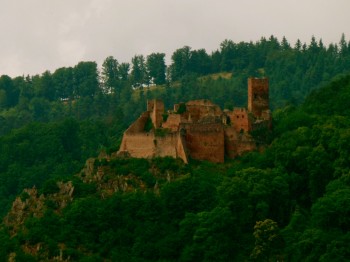 The Architecture Of Alsace
Alsace is full of half-timbered houses, similar to those in Normandy (or Germany for that matter), brightly colored and tall.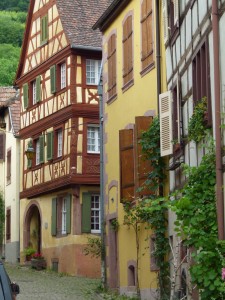 Adding to the richness of this region in history and sight are the numerous castles spread throughout. Alsace boasts to have the most medieval castles spread throughout the region. Some are in ruins, others are well-preserved. Some of the castles have tours, exhibitions, and shows. For example, Château Orschwiller in Haut-Kœnigsbourg (www.haut-koeningsbourg.fr), Château de Saint Ulrich, Châteaude Girsberg, and Château de Haut Ribeaupierre.(www.ribeauville-riquewihr.com). The Hohlandsbourg Castle (built in 1279) is open from Easter through mid-November, has tours, historical festivals, an adventure trail for children gardens and you can sample locals dishes. (www.chateau-hohlandsbourg.com).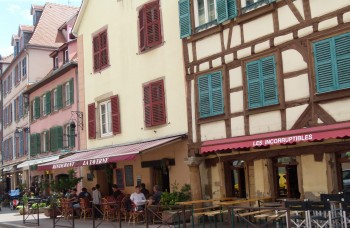 Winstubs And Brasseries
Both Winstubs are Brasseries are casual eateries (like taverns, really) that serve beer or wine with German-inspired culinary traditions of baeckeoffe, choucroute, and sauerkraut, to same a few favorites. Brasseries (found throughout France) began in Alsace and serve beer.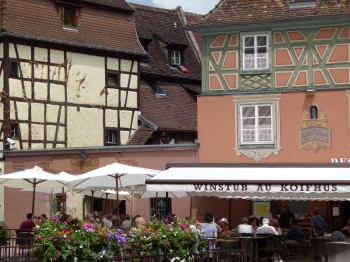 Winstubs were created in Strasbourg to promote wine. Alsace is the main beer-producing region in France (it produces German-inspired lagers as opposed to ales).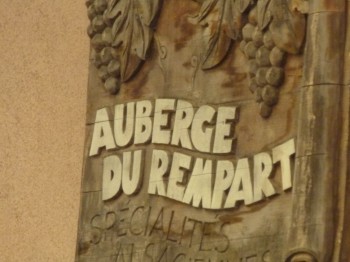 Auberges & Fermes-Auberges
These are small inns throughout Alsace. They provide country food, regional specialities, and local produce and many provide lodging to travelers. For more information, visit www.bienvenue-a-la-ferme.com.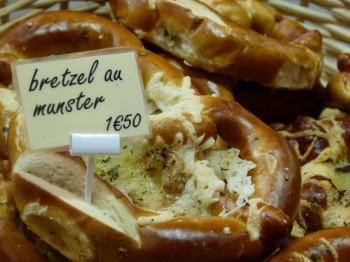 Culinary Flavors and Traditions of Alsace
There is nothing dainty about the food from Alsace. The portions are abundant. The flavors are warm and often tangy.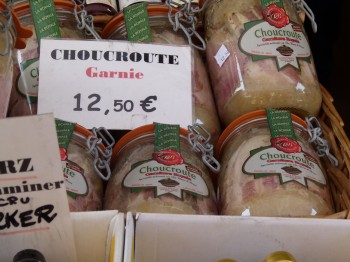 When you think of food from Alsace, charcuterie first comes to mind. It was the Benedictine monks whom initially encouraged the breeding of pigs. This practice continued so Alsatian food often includes pork of all cuts, shapes, and flavors, including Bratwurst, Leberwurst (pork liver sausage ), and saucisse de Strausbourg (smoked pork and beef).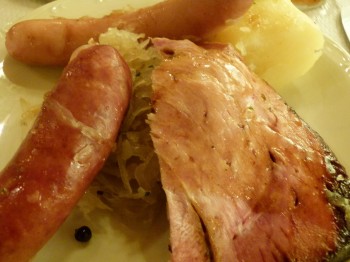 Regional specialities include: choucroute garnie (pork sausages with sauerkraut); baeckeoffe (a meat stew braised with vegetables and potatoes in white wine); tarte flambée (flammekueche), similar to a very thin crusted pizza made with onions, lardons, and cream and munster cheese; and carpe frite (fried carp) a speciality in the south of Alsace.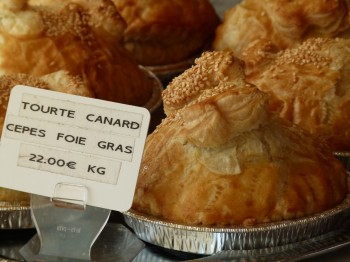 Many meat dishes are prepared en croûte, meaning the food item is encased in a pastry shell. En croûte items include pâté de foie gras d'oie en croûte and Tourte Alsacienne which resemble pies or tarts and are filled with various sausage or meats (ground, pounded, puréed, or made into farcemeat).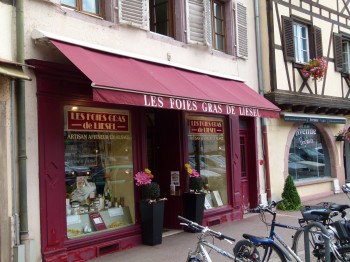 Foie gras is also a regional speciality and enjoyed often either lightly sautéed or as a pâté.  Sometimes spiced with nutmeg or quatre d'épices, it is absolutely delicious.
If you have not had Spaetzele (or Spätzle), egg noodles that have been shaped like large rice grains by pressing through a slotted spoon, try it here sautéed in butter and fresh chives. 
Chicken cooked in Riesling (coq au Riesling) is delicious as are egg dishes and sausages flavored with fennel and cumin. Soups include sauerkraut, or cabbage with Bratwurst.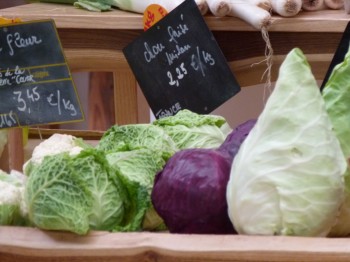 With respect to vegetables, you will find the cold-weather vegetables – root vegetables, cabbages, Kohrabi, and onions – in abundance and used in a variety of ways beyond fermentation, including braised, in slaws or cooked in cream. Potatoes and morels are also used in abundance. Fruits, such as cherries, mirabelles, raspberries are used in desserts.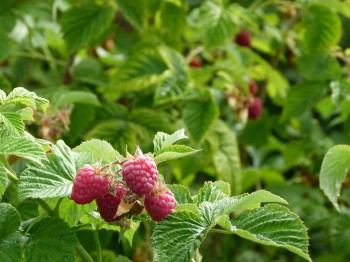 Alsatians use their wines to cook with or embellish gourmet specialities such as mustards, salts, and vinegars. Wine or eaux-de-vie is used to rehydrate dried fruits to add to sauces or desserts.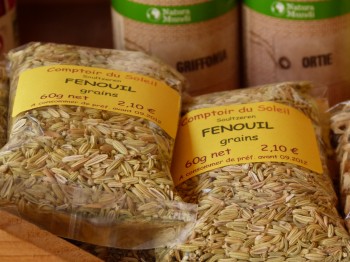 Spices such as fennel seeds, cumin seeds, juniper berries as well as quatre épices or the melange of pain d'épice to embellish their cooking.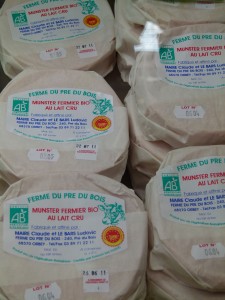 Munster is the cheese of the region. It is an unpasteurized, soft cow's milk cheese (very unlike the sliced American munster cheese you find in the deli aisle of the grocery store). Munster is created in the Munster village in the Vosges mountains. The cows spend the months from May to September in the mountains and in the winter in the valley on farms. The cheese is cured on wooden planks. It tastes best in spring and at the end of the fall after the cows have grazed on herbs and flowers. Munster Géromé is the sister cheese of Munster but larger in size and comes from the Lorraine side. Cumin or cumin seeds are often added to Munster cheese.  Munster cheese is AOC protected.
Bargkass (or Barikaas)  is a raw cow's milk cheese with a wash-rind from the Vosgues where the cows graze on herbs, flowers and blueberries
Alsatian Pastries & Christmas All Year Long
Alsatian pastries include more dairy than the baked goods that you find in Paris or in the south of France, for example, (imagine the flavor and richness of brioche). The bread is chewy and substantial. The baguettes are well-fermented with large air holes but not as light as the baguettes in Paris.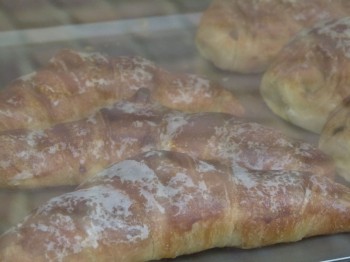 Alsace is one year-long Christmas party because many regional specialities are items we would only enjoy during the holidays. There are four you must try in Alsace or your journey would simply not be complete.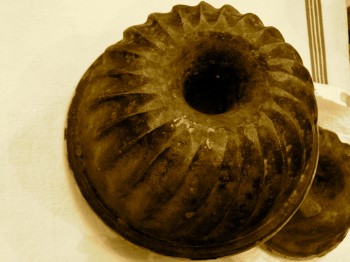 First, kugelhopf, baked in the traditional Kugelhopf mold. The bread is primarily eaten for breakfast, although it would not be unheard of to have a little slice in the afternoon. It is very similar to Italian panettone made with milk, butter, sugar, and dried fruit (I primarily saw it made with currants or raisins). Almonds are added to the base of the mold so the bread is decorated with almonds on top.  There are variations on the theme: a savory kugelhopf with ham and walnuts, others have chorizo. There is an annual Kugelhopf festival in Ribeauville every June.
Second, pain d'épice ("spice bread") is a loaf cake sometimes topped with candied fruit and/or nuts and often served with tea or coffee. Traditional pain d'épice is made with wheat and rye flours and honey both of which are used to to create a pâte-mère, a paste of honey and flour that is fermented over a series of days. Melange pain d'épice is a pre-measured mixture of pain d'épice spices which the use of extends beyond bread. The spice is used in many baked goods but also in many savory dishes.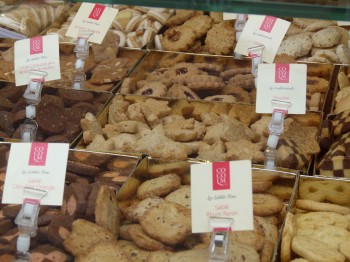 Third, Bredle are small sugar cookies made with small, special cookie cutters in the shapes of stars, moons, Christmas trees or hearts.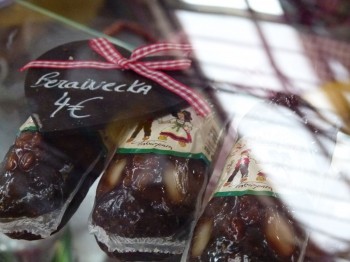 Fourth, anything with fruit in it. Dried fruit in desserts is often decisive, but this dried fruit is moist and tasty. Berawecka is a fruit cake in a loaf form made of soft, candied fruit. It is sweet and substantial and best consumed with tea. "Croissant Alsatian" are croissants filled with dried fruit and coated with egg whites.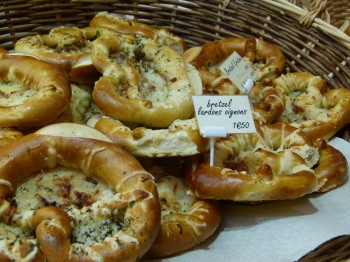 Lastly, bretzels are a must to try. Bretzels are soft pretzels. There are many sweet and savory variations including, chocolate chip, bretzels with sprinkles, cinnamon sugar, or brioche sugar, bretzels filled with cheese, with herbs, with bacon, sausage, or chorizo.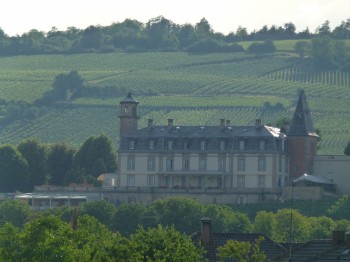 The Wines of Alsace 
The wines of Alsace are distinctive, varied, and predominately white. They are named for their grape variety rather then their terrior. For example, "Burgundy" wines are produced in the Bourgogne region of France.  "Côtes de Rhône AOC" are wines from the valley of the Rhone river (which runs through the southeastern region of France ) and "Côtes de Rhône-Villages AOC" refers to wine from specific villages in the Rhone valley (all of which must adhere to strict requirements for wine production).  In contrast, in Alsace, the wine is not "Val de Ville" or "Ribeauville," but comprised of seven varieties.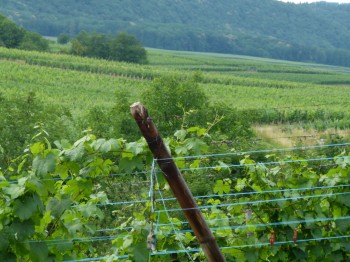 Alsace wines are as follows:
Sylvaner (a white wine grape which can be acidic and is known for taking on the flavor of the terroir);  
Riesling (a white wine grape, aromatic and flowery, described as sophisticated with a subtle bouquet);
Pinot Blanc (a white wine grape described as full-bodied, well-balanced, smoky, and slightly spicy);
Pinot Gris (a white wine grape with grayish-blue skin – in Italy this grape is called Pinot Grigio – Pinot Gris has more time to stay on the vine in the autumn and therefore more full-bodied. Tokay Pinto Gris is the name formerly used);
Muscat (a muscat grape ranges in color from white, pink to even deep purple, and the grapes are aromatic and sweet); 
Gerwürztraminer (a white wine grape with pink-red skin, which is known to be sweet, floral with hints of apple); and
Eldelwicker (a blend of grapes).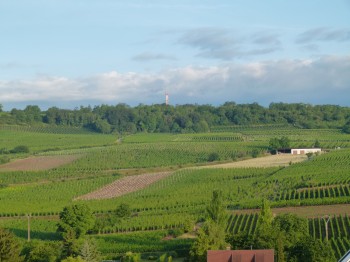 The wines from Alsace are generally thought of as delicate and fruity but some are much drier than you would expect for a region known to produce the apple-toned Gewürztraminer. The wine must be bottled in the region where it is produced. The bottles are the tall, slender green ones (known as flûtes or Wine of the Rhine) like those used in Germany.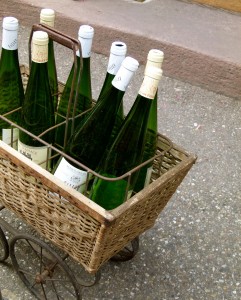 All Alsace wines are given AOC status (appellation d'origine contrôlée) and there are three categories: "AOC Alsace," "Alsace Grand Cru," and "AOC Alsace Cremant d'Alsace."  One third of all of the AOC designated white wines consumed in France are from Alsace.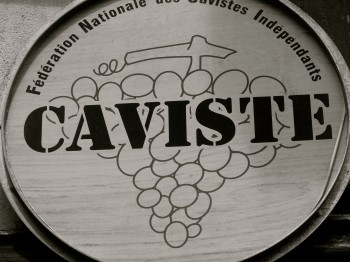 There are fifty-one Grand-Cru vineyards. Grand-Cru can be designated "Vendanges Tardives" (old vines which are harvested late and can only be from Riesling, Muscat, Pinot Gris and Gerwürztraminer grapes) and "Selection de Grains Nobles" (for rare, usually late harvested wines). These wines generally need to age a little longer. The yield from Grand Cru vineyards designed is lower than the other vineyards.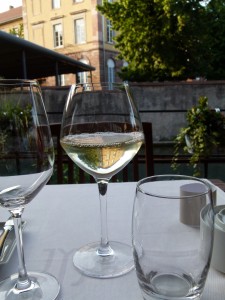 Pairing Alsatian Wines With Food
 With respect to pairing Alsatian wines with food, the following is recommended:
Apéritifs: Crémant, Gewürztraminer or Muscat 
Special Occasions or Toasts: Vendanges Tardives or Sélections de Grains Nobles
Entrées (first-courses), Charcuteries, Eggs, Salads: Sylvaner, Pinot Blanc, or Gewürztraminer
Plats (main courses) of Fish: Gewürztraminer, Pinot Blanc, or Riesling
Plats (main courses) of Red Meat or Game:  Pinot Gris or Pinot Noir
Plats (main courses) of White Meats: Pinot Blanc, Pinot Noir, or Riesling
Cheese: Riesling, Pinto Blanc, Gewürztraminer, or Pinot Gris
Desserts: Gewürztraminer, Crémant, Vendanges Tardives, or Sélections de Grains Nobles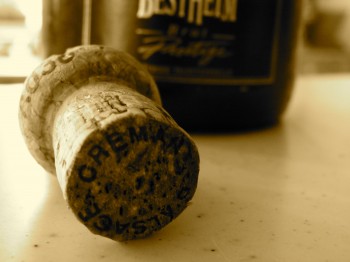 Cremants & Eaux-de-Vie
Cremant is sparkling wine. It is not bottled in flûtes. The wines are usually enjoyed young (one to five years after harvest). Cremant should be served chilled between (8 and 10 celsius). Eaux-de-vie, water of life, are liqueurs distilled from fruit…typically rapsberries, mirabelles, cherries. Kirsche is made in the Vosges valley. Lapoutroie has a musée des eaux-de-vie. Eaux-de-vie are used frequently in cooking, particularly desserts to flavor custards, cakes (even wedding cakes), fruit, and chocolate.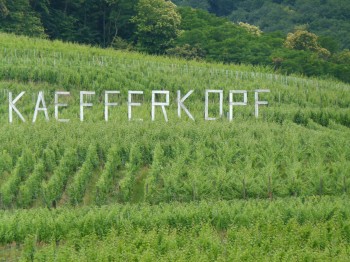 The Route des Vins d'Alsace 
(the wine route)
The wine route, east of the Vogues and about 106 miles long, is a well-marked road that takes you from Marlenheim (furthest north) to Thann (furthest south) through over one hundred villages. The wine route lies just west of the A35 (which runs north-south and takes you to Strasbourg through Colmar and down to Mulhouse). There are five different "tours" on the wine. Each one is a manageable day trip.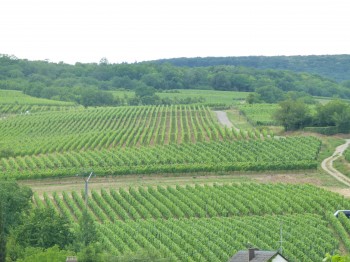 When picking which tour to begin with, my suggestion is to decide which of the following factors are the most important to you: (1) proximity to where you are staying; (2) the grape varieties (some routes have a higher concentration of grand cru vineyards than others); (3) particular wine growers you are interested in; (4) historical sites (i.e., castles, churches); or (5) villages with more tourist things to do (i.e., Colmar, Turckheim, Ribeauville, Kayserberg, or Eguisheim). 
In addition to the tours, there are forty-seven vineyard trails (or paths). The trails give you an insight into the vineyard and the winegrowers more than if you merely stopped for a taste at the cellar or winstub. The trails are usually closed during harvesting time (September to late October). 
If you want more Alsace wine education you can contact CIVA  (Conseil Interprofessional des Vins d'Alsace) which has a Alsace Wine School in Colmar at (33) 03 89 20 16 20 or www.AlsaceWine.com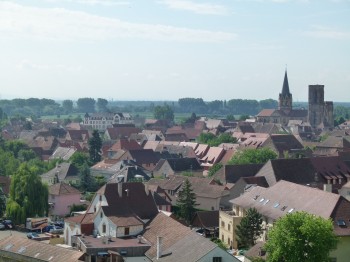 Tags: Alsace, Alsace wines', AOC, architecture, Auberges, bas-rhin, Brasseries, Bratwurst, Bredle, bretzels, castles, charcuterie, colmar, en croûte, Fermes-Auberges, Foie gras, haut-rhin, Kugelhopf, Munster, pastries, simple pleasures, stork, vineyards, wine route, Winstubs