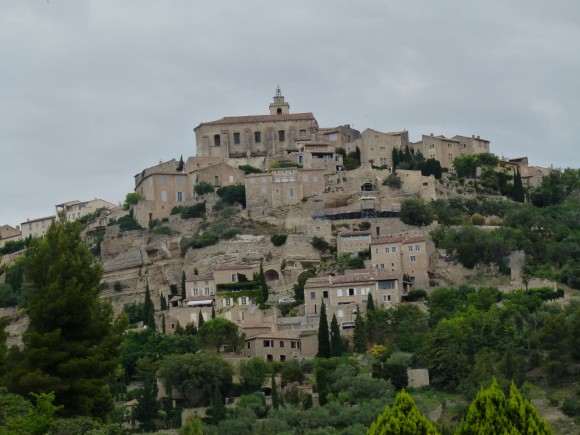 picking cherries in the valley of the Gods: venez avec moi à Gordes
It is 9:30 p.m. and the sun is setting, but not so quickly. The sun is taking its time; everyone is. It is difficult to put an end to a day filled with Provençal sun, the calming smell of lavender, and the song of the complacent cicadas. As I write, I see expansive green valleys filled with cherry trees below me. The sound of pea-gravel crunching under the waiter's feet (as he brings me a Châteauneuf-du-Pape and something warm for my shoulders) is only a momentary distraction from the twenty birds swirling above my head trying to get in their last flight before heading to bed. I am in Luberon. I have eaten and explored my way through the day: jambon with truffles; cherries I picked off the trees; fougasse lush with salty olives and olive oil; wild boar sausage; fresh chèvre bathed in crushed lavender and honey, aïoli with perfectly steamed vegetables; rosés from nearby vineyards; hearty and robust reds from nearby Châteauneuf-du-Pape. I think I found the land of the Gods and perhaps that is why the Romans had once claimed it as their own centuries ago. It am in Gordes and it is Gordes which inspired this week's simple pleasure, cherries poached in fresh lavender and thyme. However, before you go there, come with me to one of the Luberon's most beautiful villages: venez avec moi à Gordes.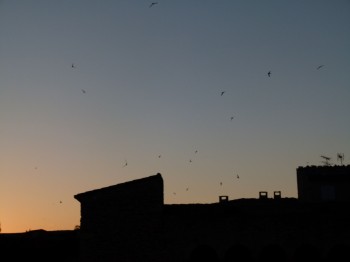 Gordes: where is it and how to get there
Despite the fact it is summer, Paris is rainy and chilly enough to wear light cashmere. This California girl needed some sun and a dose of adventure. A weekend of sunny escapism sounded inviting. I chose Gordes, the jewel of the Luberon Valley, which reportedly was in the 80's (Fahrenheit). I got on the train and headed south. I chose well.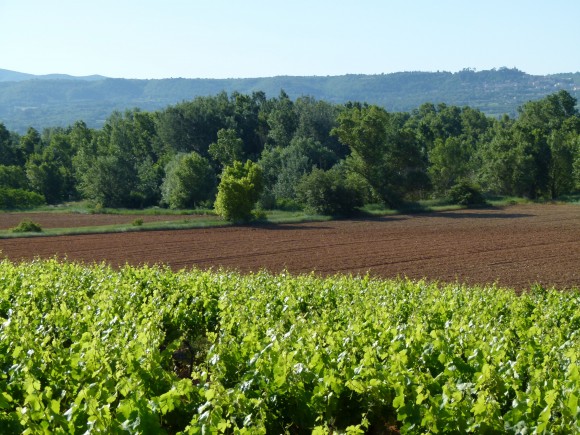 Gordes is the capital of the Luberon valley, which is in Haut-Provence in the southwest region of France. The Luberon is about a 8½- 9 hour drive south from Paris (that is if you have a heavy foot…sigh…). By train it will take you about 2 ½ hours from gare de Lyon to Avignon. A one way, first class ticket, is about 113 euros. The train station in Avignon is quaint and user-friendly. On-site rental car agencies make it easy to rent a car and drive to Gordes (36 kilometers from Avignon), about a 30 minute drive.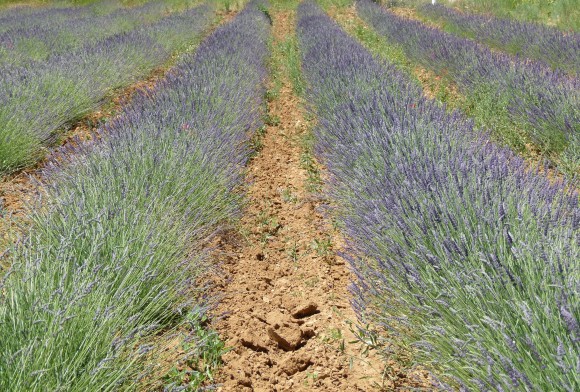 The villages in the Luberon are seemingly close to one another and the moment you leave one, you seem to stumble upon another enchanting village down the road. They all have something special: Apt, Cavaillon, Maubec, Lacoste, Menerbes, Bonnieux, Buoux, Saignon, Lourmarin, Vaugines, Ansouis, La Tour D'Aigues, Beaumont, Cadenet, and Pujet, are just a few.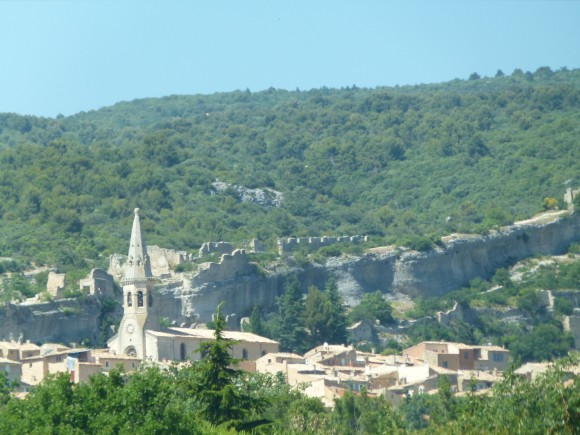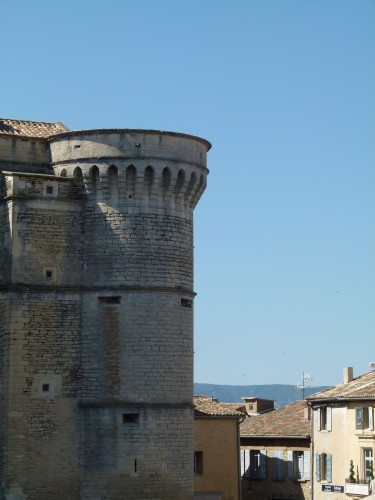 sites and architecture in Gordes
Provence is filled with hanging (or "perched") villages, which are stone villages built on top of a hill. Many of these villages boast ancient castles and buildings. Gordes is one of those hanging villages which sits on the southern edge of the Vaucluse plateau and overlooks the Coulon valley.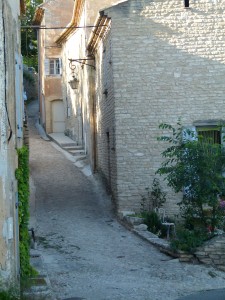 Gordes is recognized as "one of the most beautiful villages in France." Gordes was originally an oppidum, a settlement in the 11th century in administrative Rome. The name "Gordes" in fact came from the original tribe that settled here known as the Vulgientes or Vordenses (in Gallo-Roman times the "V" typically became a "G"). Gordes was a natural choice for a settlement due to its hilltop, defensive positioning from invaders and a close water source. After centuries of turbulent times, Gordes developed into a village of small craftsmans of olive oil producers, tanneries, cobblers in the 18th and 19th century.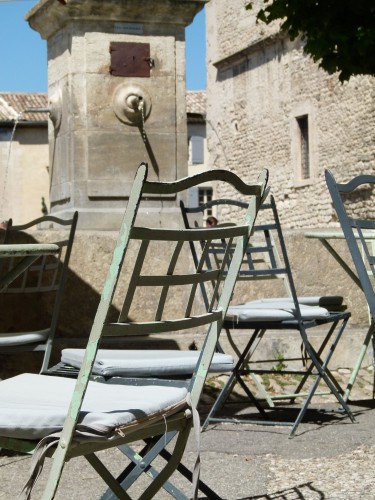 The heart of the village is the 11th century castle. The castle has changed hands over the years, endured seizure during the French Revolution, and even given to a commune. The castle has large, rounded towers and was built as a defensive fortress with artillery platforms and canon openings. Stone stairs lead to the the town square with a courtyard with a fountain. The castle is now both the town hall and an exhibition site for art. The fountain in the center of the village was the only water source for the town until 1954.
Across from the castle, and easily seen from a distance with the castle, is the 18th century church. The church bell still rings and the church is lovely inside; the parish is small and welcoming and birds fly in and out of the church windows reminding you that in Provence, you are never far from nature. Alleyways which surround the church and the castle lead to small stores and residences. Below the church is the Caves St Firmin (cellars of the St Firmin Palace carved out of a rock) and the Theatre des Terrasses (home to music and theater festival in August).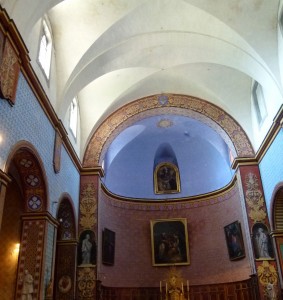 Throughout the years, Gordes has attracted numerous artists including: photographers Willy Ronis and Izis and painters Jean Degottex, Marc Chagall, Victor Vasarely, Jean Deyrolle, Pol Mara, and Andrè Lhote.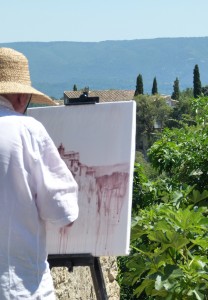 Outside the village are two significant sites not to be missed: The Bories Village and the Abbey of Sénanque.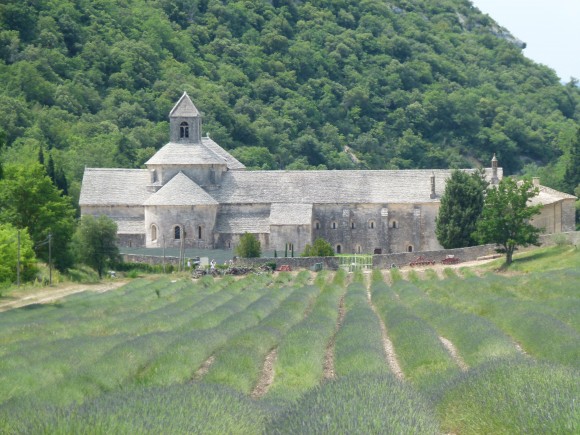 Abbaye de Séquenane
The Abbey was founded in 1148 by the Abbot of Mazan. The romantic structures (consisting of a cloister, the chapter house, chapel, dormitory, church tower, and church) lie amongst a garden and fields of lavender at the base of a valley. Like the Gordes castle, the Abbey has undergone rough times: religious wars and even sold as a national good during the Revolution. It is currently maintained by the friends of the Séquenane. The abbey itself is under Cisterican order and a religious community (as a priory of Lérins) has been living there since 1988. They support themselves on tending to the honey bees and lavender fields. You can visit the monastery anytime but if you want a tour of the interior, you must go in a group at particular times.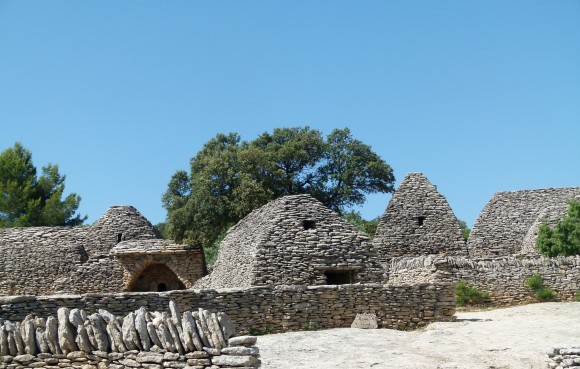 Village des Bories
The origin of the Bories is thought to date back to the Ligurians, several centuries ago. The Bories is a community of Gallic huts built of drystone (without mortar). Restored between 1969 and 1976, the small huts consist of living quarters as well as pigstys, storage spaces, treshing areas for wheat, ovens, and sheep and goat pens. Inhabitants abandoned it in the 19th century. You can visit the site from 9 am to 8 pm all year except the week in between Christmas and New Year's Day.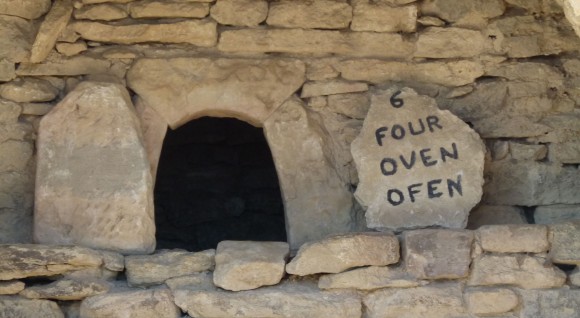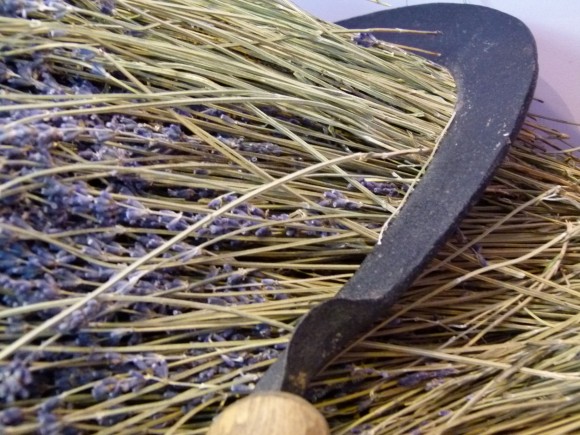 nearby museums celebrating the resources of the land: lavender, olives, and sand
Musée de la Lavande
The museum of lavender is on the route de Gordes in Coustellet (between Avignon and Gordes. The museum explains the difference between fine lavender (found in Provence and in areas only at an altitude above 800 meters) and lavandine which is predominately grown outside Provence and well as the distillery process. There is a large gift boutique with lavender products.
Musée Moulin de Bouillons et Musée du Verre et du Vitrail
Musée Moulin de Bouillons and the Musée du Verre et du Vitrail are located in St -Pantaleon, a 3 hectare park, en route to Gordes. The Musée du Verre et du Vitrail is a museum of stained glass which demonstrates the technique of glazing and to the use of glass in our lives and the making and presence of stained glass. The Musée Moulin de Bouillons is an operative, animal-powered olive oil mill, dating from the 16th century. Here, you can learn the history of olive oil and Marseille soap. The museums are open every day except Tuesday.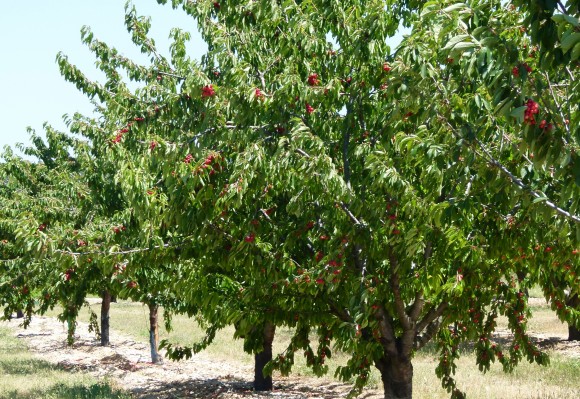 culinary specialities of the region
The Luberon is lush with fields of wheat, lavender, grapes, and olive trees. Fruit trees thrive in the valley conditions and cherries, figs, and apricots seem to be the most plentiful.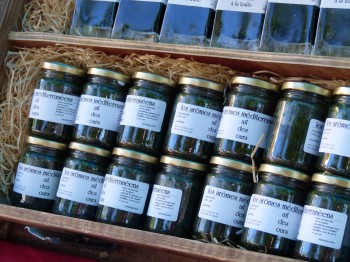 There are many varieties of honey: honey flavored with thyme flowers, lavender, rosemary, orange blossoms, chestnut, and sapin, are just a few. With respect to meat, lamb is most commonly consumed and racks of lamb will be offered in all quality restaurants. Wild boar and pork are a close second.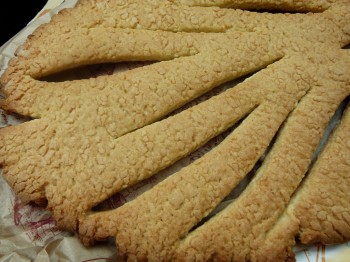 While Marseille has bouillabaisse, Apt has its sugared fruit, and Banon has its goat cheese of the same name, there is not a particular culinary dish that I would say is unique to Gordes. However, regional baked specialties such as fougasse and le gibassier should not be missed.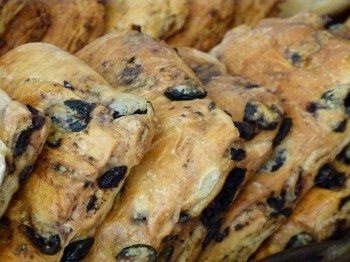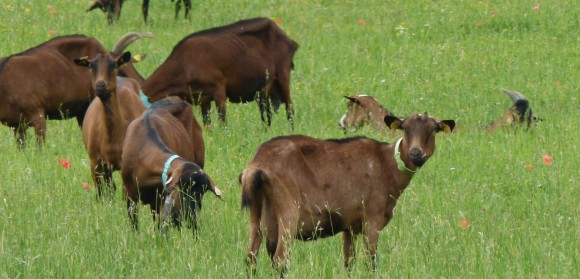 fromage de chèvre
Goat cheese is plentiful in Provence and the Luberon is full of delicious, local, artisan goat cheeses. Banon de Banon A.O.C. is probably one of the most commonly known goat cheeses from this region. Banon de Banon is a small round wheel of goat cheese wrapped in chestnut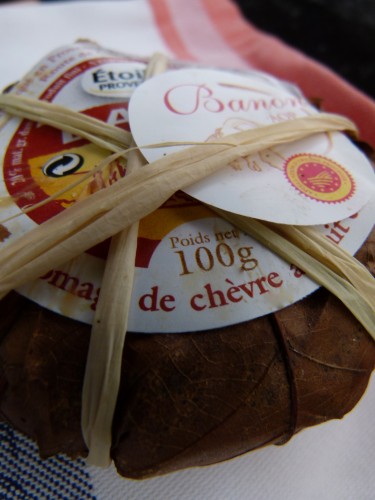 leaves and bound with raffia. Some of my other regional favorites include:
Rove frais à l'ail. This is an artisanal cheese from the region of Marseille. Rove is a type of goat and the cheese is flavored with garlic.
Brique de la Drôme cendré. This cheese, from the Drôme department (region of the Rhone Alps) in southeastern France, has ash on the outside.
Rove frais cendre. This was another artisanal cheese from the region of Marseille. Mildly sweet goat cheese made from the milk of goat that has been grazing on herbs such as thyme and lavender.
Sainte-Maure de Touraine. Goat cheese in a log form with a single piece of straw through the center.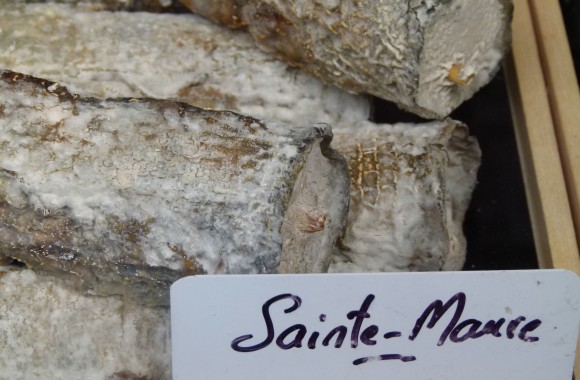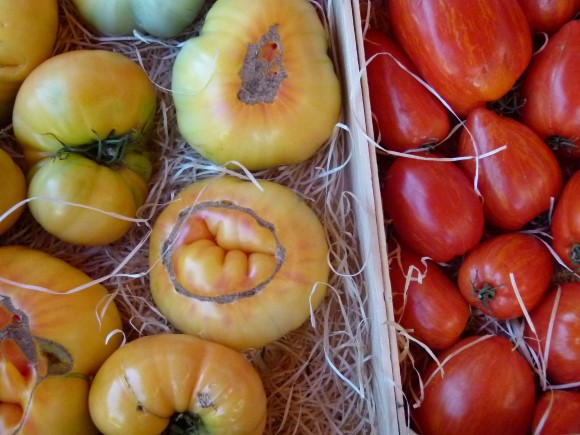 marketing in Gordes
There is a good vegetable and fruit stand in the heart of Gordes with speciality items inside. It opens about 8:30 and closes around 8 p.m. There is a general grocery store is across the way by the Post Office.
On Tuesday morning, the open air market takes over the heart of the village. It begins about 8:30-9:00 in the morning. I recommend going early because by 11:00 a.m. it gets unbearably crowded. Although the market is much smaller than the Apt market (on Saturday mornings), the Gordes market is a good one, particularly for tourists. It has a good balance of baked items, fresh produce, cheese and charcuterie (the Bresaola and herbed ham were particularly wonderful), with non-perishable products: homemade jams and confits, honeys, market baskets, ceramic dishes, cooking vessels, wine, lavender and spices, linens and tableware.
I can tell you that I have seen a lot of tourist shopping areas in France, and, in my opinion, if you are looking for household items, Provençal baskets or linens, and portable culinary treats, Gordes village has a particularly high concentration of quality shops in a small area. However, try to go in the morning or late afternoon to avoid the tour bus drop offs.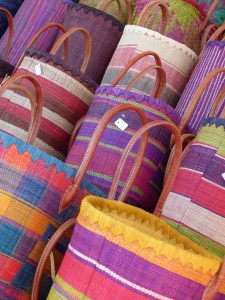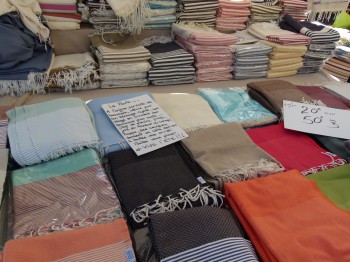 a few of my favorite places to eat in Gordes
The village itself has several eateries on the main street and in the village. In Gordes, I had three favorites.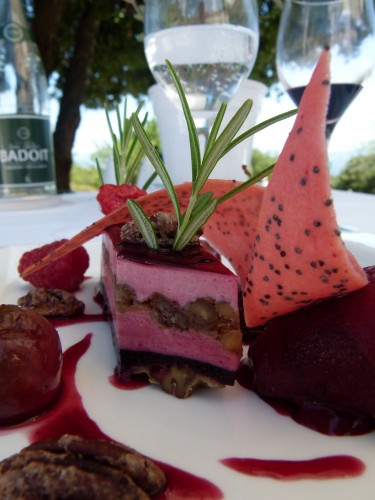 One of my favorite places to dine, lunch or dinner, in the Luberon is Les Bories. The extravagant hotel and spa, which boasts everything from a tennis court to a helicopter landing pad, has a casual bistro and a gastronomic restaurant under the command of Pascal Ginoux.
It is truly amazing. The service is like a finely-tuned orchestra with every utensil, wine selection, and plate delivery flawlessly executed.
The cheese cart alone will leave you breathless. I walked away with some absolute favorites: lamb-roasted on a bed of fresh Provençal thyme, zucchini blossoms stuffed with basil soufflé and basil-infused olive oil, chilled lentil salad with smoked duck, croquette of foie gras, roasted langoustines with yellow tomato tartare. The restaurant is set amongst cypress and pine trees. C'etait ma preferée (it was my favorite).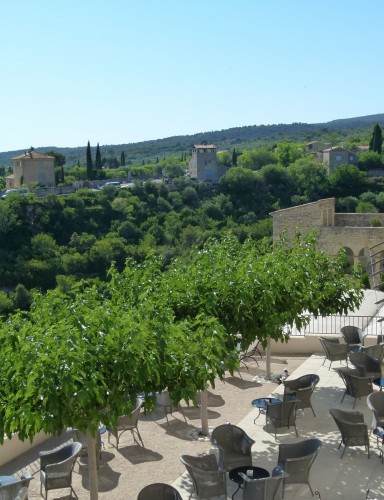 La Bastide de Gordes & Spa in the heart of the Gordes village has an unparalleled view of the valley below. This Sisley spa is busier than Les Bories, but both the service and the facilities are first rate. You can have an apéritif or glass of wine on the terrace or dine in the restaurant which has both indoor and outdoor seating. I found many things on the menu to be quite delicious. Two of my favorites were the chilled asparagus soup and frozen strawberry soufflé with a bruléed top.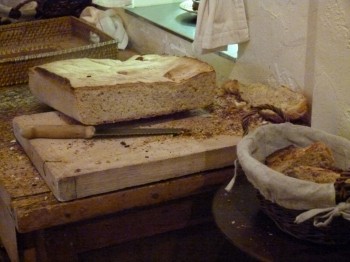 Le Clos de Gustave is just to the left of the village, making it nice if you are staying in Gordes. It is a country house with traditional Provençal food. The interior dining is homey while sitting outside on the grass under tarps and olive trees is quaint and relaxing. It is under the direction of Jean-Didier Mathis who received the "Maître Restaurateur" (recognized for excellence in catering). Here, you can enjoy traditional peasant cooking of country pâtés, braised vegetables, savory tarts, and vegetable soups. Primarily English is spoken.
* * *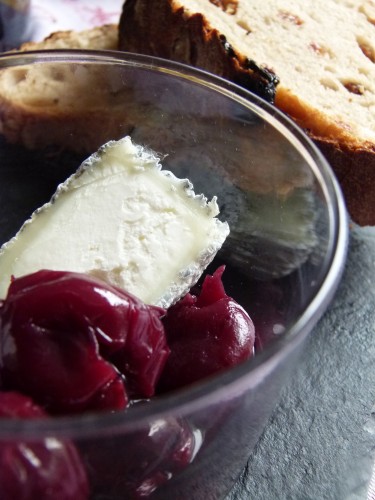 simple pleasure: cherries poached in lavender and thyme
This week's simple pleasure was inspired by the cherries growing in abundance in the Luberon valley. Eating lush, juicy, red-dripping cherries in the summer heat seems so Romanesque God-like. This recipe can breathe a little fresh air of Provence in any dish.
Fresh cherries are poached in a simple syrup infused with fresh thyme, lavender, and the cherry pits (which add a hint of almond flavor to the poaching liquid). Poaching is to cook something in liquid just below a simmer. It is a good way to prepare delicate items such as fruit and fish.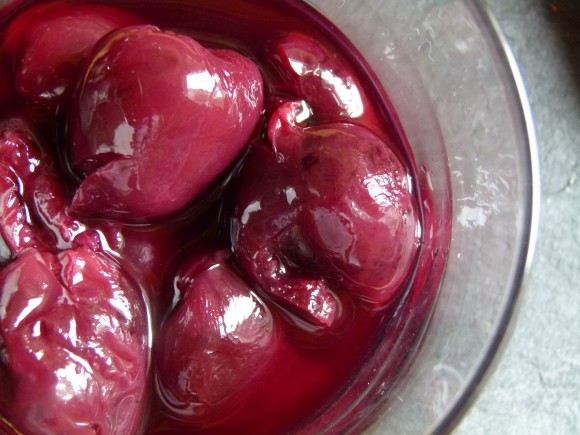 The cherries can be served in the poaching syrup or alone. Either way, the cherries are a delicious embellishment to Greek yogurt, ice cream, cheese cake, panna cotta, fromage blanc, or other light cheeses (such as ricotta or young goat cheese). However, you are not limited to using these cherries for dessert or breakfast. Poached cherries also pair well with several meats, including, game, pork, and poultry. They can be served on the side (you may want to reduce the poaching liquid even further) or do as I did and stuff a pork tenderloin with them. The cherries can be stored in their liquid in the refrigerator for a week. You can find the post here:
* * *
And my "weekend" getaway to the sun ? It was extended a few days. My train ride home to Paris? It was exchanged for a drive back because the people in the Luberon as as generous as the weather is sunny and my Mini was packed full of gifts of wine, honey, and other culinary delicacies as well as ingredients I could not bypass — sacks of flours of different protein weights, sacks of lavender and other fresh spices, cherries I hand-picked, cheese from artisanal farms, jars of Provençal honey, walnut liquor — of which I had to experiment with in my Paris kitchen when I got home. Ten hours later, the Paris sun was about to set, the rain had stopped, and the kitchen experimentation began.
Mangez bien
Vivez bien et
bon appétit !
LM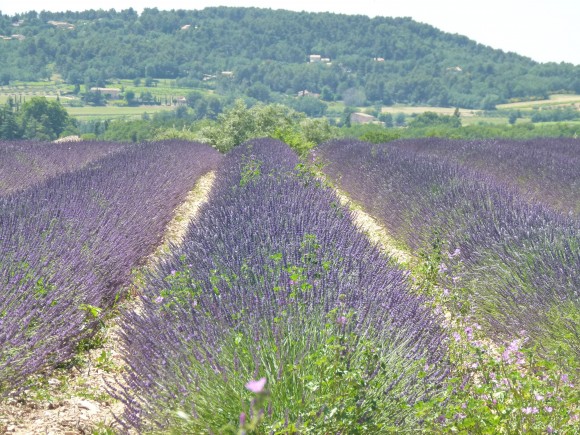 more information on Gordes visit the Gordes office of tourism site:
www.gordes-village.com
for more information on the references in this post:
Musée de la Lavande
route de Gourdes – D2
8422o Coustellet – Provence
33 (0)4 90 76 91 23
www.museedelalavande.com
Moulin des Bouillons
Musée de l'histoire du Verre et du Vitrail
Centre Frédérique Duran
D148 – Route de St Pantaléon
84220 Gordes
33 (0)4 90 72 22 11
Les Bories & Spa
Route de l'Abbaye de Senanque
84220 Gordes en Provence
33 (0)4 90 72 00 51
www.hotellesbories.com
La Bastide de Gordes & Spa
Le Village
854220 Gordes
33 (0)4 90 72 12 12
–www.bastide-degordes.com
Le Clos de Gustave
Route de Murs
84220 Gordes
33 (0)4 90 72 04 25
www.leclosdegustave.com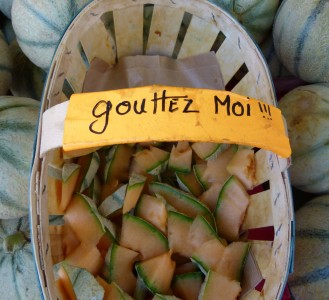 Tags: Abbaye de Séquenane, Banon, cherries, fougasse, France, Gordes, La Bastide de Gordes & Spa, lavender, lavender fields, le gibassier, Les Bories, Luberon, Musée de la Lavande, Musée du Verre et du Vitrail, Musée Moulin de Bouillons, Pascal Ginoux, provence, Rove frais à l'ail., Rove frais cendre., Sainte-Maure de Touraine, thyme, Village des Bories