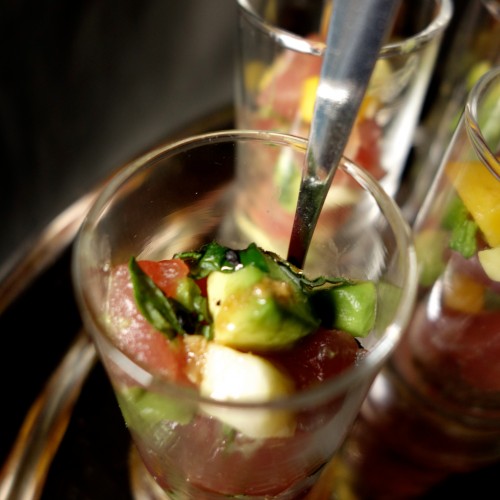 Oscars® ready: the perfect red carpet appetizer
Ahi tartare (with tangy soy-citrus and sesame dressing)
Each year I post a recipe for the Oscars®. Last year it was spicy crab toasts. With the warmer weather and a chic, simplicity implied for the occasion, I have a little something for your own red carpet celebration: Ahi tartare (with tangy citrus soy and sesame dressing). The recipe is below.
The Oscars® show this year is March 2, 2014. 
If you are not going to the Oscars® (which most of us are not) you will likely have an Oscars® party – formally or informally – at your home. It is hard not be be interested and, in fact, the Oscars® show draws a world-wide audience. The reasons are many, ranging from the awards themselves and hearing what Ellen is going to say to seeing who is wearing what and how they look in it on the red carpet as they enter. Even if you are not having a formal "party" I suspect that many of you will be gathered around the television. I know that my daughters and I will be.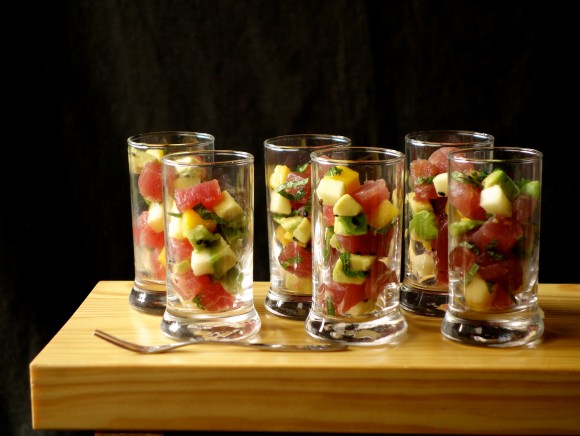 This brings us to the food for the show. Oscars® gatherings require Oscars®–worthy food. This is not the Superbowl fare you prepared a month ago. Oscars® food requires little plates or lighter meals with a sense of Hollywood. An understated elegance. Something sleek and timeless. The same time, the host does not want to spend all day in the kitchen because no one wants to miss the pre-show.  
This tartare is simple and delicious. It is just a matter of chopping and combining. The tartare can be served as a plated first course or served in shot glasses for a passed appetizer. You can substitute fresh tuna if you cannot find fresh Ahi.
Wishing you a delicious and stylish celebration. As for me, I am eager to see if the celebrities this year are as well-dressed as this tartare…
à table
LM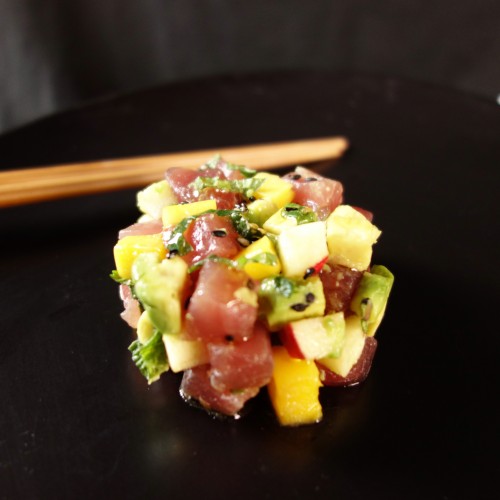 Ahi Tartare with Tangy Soy-Citrus and Sesame Dressing
This can be plated by using a biscuit cutter to shape the tartare or served as an appetizer in shot glasses (served with little spoons or chopsticks)
makes 12 shots or 4-6 plated entrées
1 pound sushi grade Ahi (about 2 cups diced) 
⅔ cup diced mango
½ cup diced avocado 
⅓ cup diced apple
3 tablespoons cut in chiffonade fresh mint
1-2 teaspoons black sesame seeds
dressing
2 tablespoons soy sauce
2 tablespoons rice vinegar
2 tablespoons quality olive oil
1 teaspoon fresh ginger zest
½ teaspoon fresh lime juice
kosher salt, as needed  
Make Salad

. Dice the ingredients, as indicated, all the same size. Place in a bowl with sesame seeds and mint. 
 

Make Dressing

. Whisk together soy sauce, olive oil, ginger, vinegar, and lime juice. Season to taste. Pour dressing over salad. Toss gently and adjust seasoning as necessary. Enjoy immediately. If you are serving the tartare in shot glasses, use a small spoon to fill the glasses.