cooking from the heart and giving with generosity
la Saint Valentin 2014
chocolate lava cakes (with a little heat)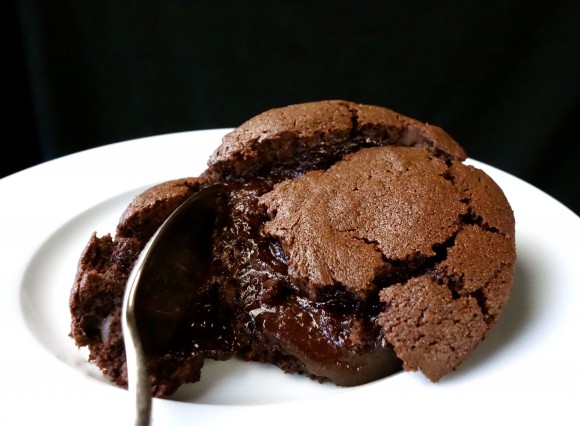 "Happy and successful cooking doesn't rely only on know-how;
it comes from the heart…
and needs enthusiasm and a deep love of food to bring it to life."
— Georges Blanc, chef of Georges Blanc restaurant in Vonnas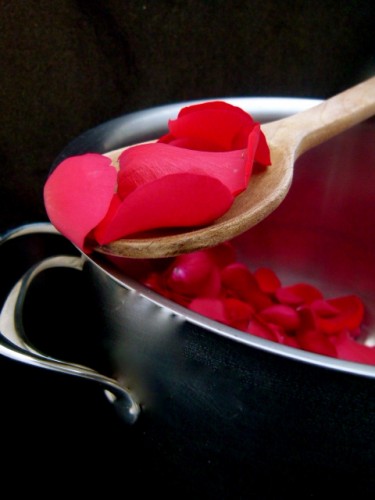 If you have lived in Los Angeles as long as I have, you will remember Jimmy's restaurant in Beverly Hills. Jimmy's was a swanky, comfortable place which drew the Hollywood elite. It was named after its founder Jimmy Murphy. The restaurant closed in 1998.  I do not think there has been a place like it since.
I was taken to Jimmy's in my early twenties by my then boyfriend's family. It was their favorite restaurant and we were celebrating a special occasion. I was told that I would love the food, that Jimmy (and everyone who worked there) is gracious and hospitable, and that the chocolate soufflé is divine. All three statements proved to be true.
To this day I remember Jimmy welcoming us all as if we were family friends and making sure that everything was perfect at our table. I remember my meal, the sauces, and the chocolate soufflé with its twenty minutes of anticipation. I remember pouring the cream into the molten center, our spoons racing to follow, and cleaning the soufflé dish as if it contained nothing at all.
Jimmy Murphy left Ireland at the age of 14 for London to pursue the culinary field. He then came to Los Angeles and worked at various prestigious establishments before opening Jimmy's. The Murphy family, who are members of the same parish my girls and I attend, are as gracious and kind in person as they were in the restaurant when I was their guest many years ago. Jimmy passed recently. He was notably missed at mass on Sunday.
Food is powerful. Beyond its nutritional and medicinal benefits, food is an expression and has the ability to create emotions and fond memories. When it is offered in a spirit of sincere generosity, as Jimmy did in his restaurant, it is remembered positively so for years, sometimes for the rest of our lives.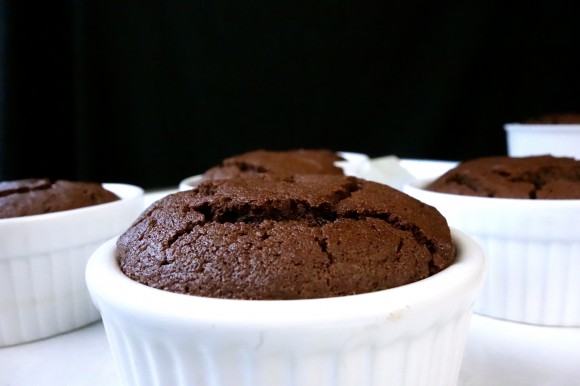 Valentine's Day is the perfect opportunity to cook from your heart and show your appreciation for those you care for. It is an opportunity to create a fond memory for someone which may stay with them throughout their life. This recipe is one which I used for a Valentine class years ago.Less intimidating than a soufflé, the recipe was well-received and I used it for various occasions after. It is a little spicy, a little warm, a little gooey, and a little sweet. Perfect for Valentine's Day.
I dedicate this post to Jimmy and his family and thank them for their hospitality, good food, and memories. I pass this chocolate recipe to you in the same spirit, and hope it creates for you and your loved ones, the favorable memories that dining at Jimmy's gave to me.
A very Happy Valentine's Day,
à table,
LM
chocolate lava cakes with heat
The quality of chocolate you use makes all the difference so select a good one. Do not over-bake these little cakes because the point is to keep them soft in the center. Inserting chocolate chips in the center helps with that, but read the recipe carefully: if the ramekin you use is only 2 inches high, it will cook much quicker and I recommend no longer then 20 minutes in the oven. I provide a range for the amount of chili d'arbol (if you want it a little more spicy, use 1/4 teaspoon instead of 1/8). Lastly, make sure your ingredients are room temperature or the cake will not be well-mixed.  
makes 8 (3" ramekins)
10 ounces bittersweet chocolate (I suggest 66-68% Valrhona)
5 tablespoons unsalted butter
1 ½ cups all-purpose flour
1 teaspoon kosher salt
¾ teaspoon baking powder
½ cup light brown sugar
½ cup granulated sugar
4 tablespoons unsalted butter, room temperature
3 large eggs, room temperature
1 teaspoon vanilla extract
2 tablespoons brewed instant espresso
⅛-¼ teaspoon ground chili d'arbol (no seeds)*
¼ teaspoon ground piment d'espelette
½ teaspoon ground cinnamon
⅛ teaspoon ground allspice
¼ teaspoon ground cayenne pepper
⅓ cup buttermilk, shaken
~ 60 semi-sweet chocolate chips
 * Use a pestle and mortar to pound the chili. Omit the seeds.
 How to:
Preheat Oven.

Preheat oven to 325 degrees Fahrenheit
Melt Butter And Chocolate.

In a bain marie or a double broiler, melt the chocolate with 5 tablespoons of butter. Remove from heat.  Set aside to cool slightly.
Mix Dry Ingredients.

Mix together flour, baking powder, and salt. Set aside.
Cream Butter And Sugar.

In the bowl of a stand alone mixer fit with a paddle attachment, mix the sugars and 4 tablespoons butter until blended.
Add Chocolate

. Add chocolate to creamed butter and sugar. Mix to combine.
Combine Eggs And Vanilla

. Combine eggs, spices, brewed espresso, and vanilla extract in a separate bowl. Slowly add to batter.
Alternate Dry Ingredients And Buttermilk

. With mixer on low speed, slowly add 1/3 dry ingredients to batter, then add 1/3 of the buttermilk. Alternate dry ingredients and buttermilk in thirds until both have been incorporated.
Pan

. Use an ice cream scooper to place batter into 8 ramekins  evenly. Insert about 7-8 chocolate chips into the center of each cake and cover the chocolate chips with batter.  Smooth the top with your finger. Place ramekins on a rimmed baking sheet.
Bake.

Bake in the oven until puffy and slightly crusty on edges, but still soft in center. For ramekins that are 2" high this is 20minutes or less. For ramekins that are taller, this is about 25 minutes. Remove from the oven and serve warm.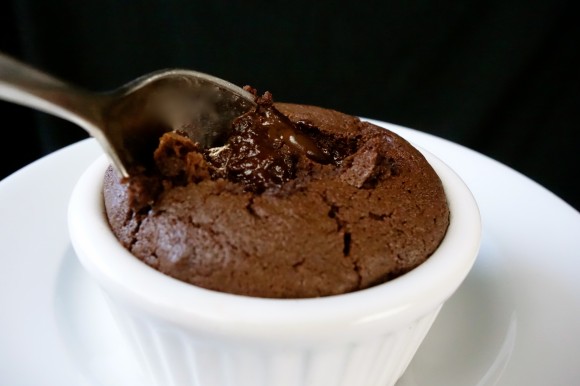 Tags: buttermilk, cake, cayenne, chocolate, dessert, espresso, georges blanc, Jimmy Murphy, lava cake, spice, spicy, valentine's day