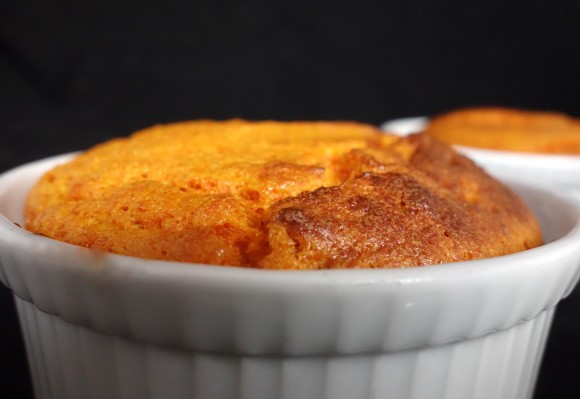 making carrots count and thank you chef Trotter
recipe: carrot soufflé
This week we bring to the table another side for Thanksgiving: carrot soufflé. I wrote this recipe long ago and have used it for various occasions and events. While it was inspired by a visit to Paris in my twenties, I dedicate it to chef Charlie Trotter who left us this week. 
Paris in the nineties. I was about twenty-five. My then-boyfriend and I stayed in a friend's apartment in the Marais. We were on a limited budget and borrowed time. 
One night we found a quaint bistro down the street on the corner. With my steak au poivre came carrots. I was apprehensive. 
I never liked carrots. Growing up, my father would tell me that I should eat my carrots because they are good for my eyesight. Sigh. "You never see rabbits wearing glasses do you?" he said. Bigger sigh. An argument regarding the carrot's taste may have persuaded me to try them but the "good for my eyes" argument was not persuasive. Accordingly, if a carrot was involved in the meal, dinner became a struggle between my stubbornness versus the extent of my parents' patience. Truthfully, it really was a matter of how long I would sit at the dinner table, staring at the carrots, before I was dismissed out of sheer annoyance (because my parents wanted to go to sleep).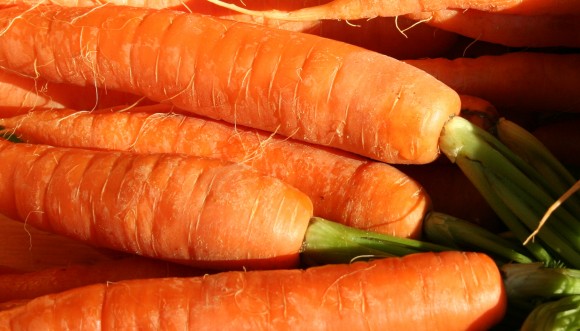 Then came this carrot purée in Paris. The purée was so creamy and flavorful that it forever elevated carrots beyond the rabbit food status of my youth. Merci, Paris.
When I returned to the States, I made my own carrot purée and then decided to take it to a higher level (literally) making it a soufflé. Soufflé is nothing more than a sweet (chocolate) or savory (fruit, vegetable or cheese) base elevated in height and texture due to whipped egg whites.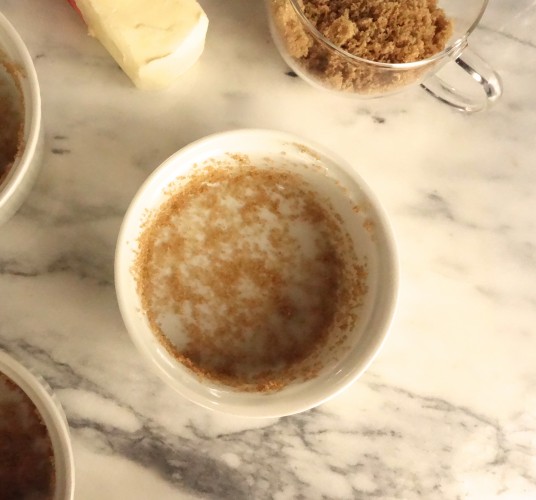 This soufflé can make a great side for Thanksgiving (or throughout the year). For those who do not like winter squash, it is a good alternative. Also, carrots are inexpensive, store well, and something everyone seems to have in their refrigerator. The soufflé pairs well with a variety of proteins (poultry, beef, duck, seafood) and goes nicely with a green salad. 
While soufflés may sound complicated, they are not. If you follow the recipe, the only way the soufflé will not turn out as delicious as hoped is if you forget to turn on the oven (remember the scene in the movie Sabrina when Audrey Hepburn takes the soufflé out of the oven in cooking school?)
***
On a sadder note, I cannot put up a post this week without mentioning the passing of chef Charlie Trotter two days ago. He was only 54 years old.
Chef Charlie Trotter never went to culinary school. This self-taught chef went on to receive a James Beard award ten times, wrote ten cookbooks, had a television show, and his Chicago restaurant (which was open for 25 years) was credited with putting Chicago on the culinary map. He was an incredible talent. 
A political science major of the University of Wisconsin, Trotter was drawn to the culinary field for its generosity, a characteristic which he himself exhibited in his own cooking as well as his philanthropic work (such as the Charlie Trotter Culinary Education foundation). He would bring disadvantaged children to his restaurant every week to learn about food.
Last year (August 2012) Trotter closed his restaurant (with plans to return to study philosophy). 
Chef Trotter once said:
"You have a finite number of mouthfuls in your life. I want to make every one count."
He did. I dedicate this week's recipe to chef Trotter with gratitude for his culinary generosity which enriched the lives of so many, one mouthful at a time.
LM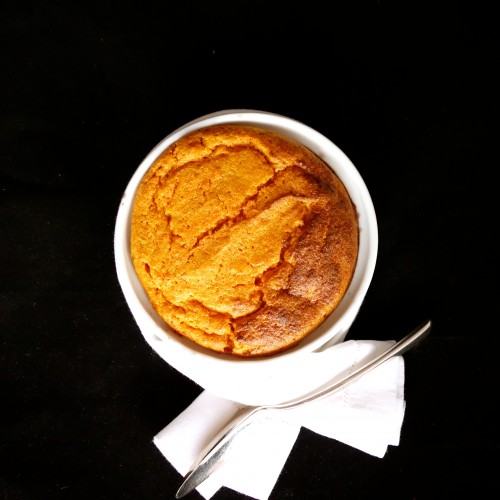 carrot soufflé
The base of the soufflé can be made in advance and stored in the refrigerator. The day you want to bake the soufflé, bring the base to room temperature, whip the egg whites,
and then fold the whites into the base The soufflé should be baked right before you plan to serve it.
This recipe serves a lot of people and it makes good leftovers too (if you happen to have any). 
serves about 14 (as a side)
what you need:
two 6"ramekins (for a family style service)
or eight  4" ramekins (for individual lunch portions with a salad)
2 cups carrot juice
1 pound (yield) sliced carrots 
¼ cup light brown sugar 
3 tablespoons unsalted butter
¼ cup + 2 tablespoons all purpose flour (I prefer King Arthur)
¾ teaspoon freshly ground nutmeg
¼ teaspoon freshly ground black pepper
a pinch ground allspice
4 large egg yolks
¾ cup milk (I use 2% organic)
a pinch of kosher salt
¼ teaspoon fresh lemon juice
6 large egg whites
¼ cup granulated sugar
unsalted butter (as needed for dishes)
granulated or light brown sugar (as needed for dishes)
how to:
Oven.

Preheat oven to

400 degrees Fahrenheit.
Prepare Dishes

. Butter the interior (sides and bottom) of the ramekins. Dust lightly with sugar. Set aside.
the flavor
Carrot Pureé.

Wash, trim, peel, and slice carrots. Weigh. Place the carrot slices in saucepan. Add the cold carrot juice. Bring to a boil. Reduce heat. Cook, uncovered, until the carrots are soft. Remove pan from heat. Place a strainer over a large measuring cup. Pour the carrots and juice into the strainer. The liquid will pass to the measuring cup.  If the carrot juice measures more than 1 cup, return it to the saucepan and continue to reduce until you have 1 cup of juice. Place the cooked carrots in in a food processor. Purée the carrots until smooth. Pour in the reduced juice through the top of the food processor while you continue to purée. Set aside.
the base
Milk.

Place the milk, sugar, pepper, allspice, and nutmeg in a saucepan. Bring to a scald. Turn off the flame. Set the pan aside. 
Roux

. Place a second saucepan on the stove over a medium flame. Melt the butter. Whisk the flour into the melted butter. Beat in the hot milk. Remove pan from the heat.
Egg Yolks

. Slowly add the egg yolks to the hot milk, one yolk at a time, while whisking. 
Add Purée.

When mixture is smooth, whisk in the carrot purée. Add the lemon juice and a pinch of salt. Pour the base into a large mixing bowl. The base can be made ahead of time and stored in the refrigerator in an airtight container.
the rise
Whip Egg Whites.

Using an electric mixer fitted with a whisk attachment, beat egg whites on high speed. Slowly pour the sugar into the mixing bowl and continue to whip the whites until eggs hold stiff peaks. Turn the mixer off. Stir ⅓ of the egg whites into carrot base. Fold in the remaining egg whites.
Bake

. Place the prepared ramekins on a rimmed baking sheet. Spoon the soufflé mixture into the ramekins. Place in the oven. Reduce oven to

375 degrees Fahrenheit.

Bake for about 25-40 minutes (depending upon the ramekin sizes) until the centers are firm and do not jiggle and the tops are puffed and golden brown.  Enjoy immediately.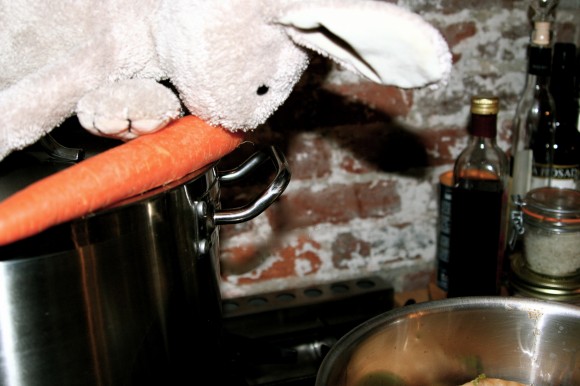 Tags: carrot soufflé, Charlie Trotter, chef Trotter, French Inspired Thanksgiving, Paris (Paris), side, souffle, Thanksgiving