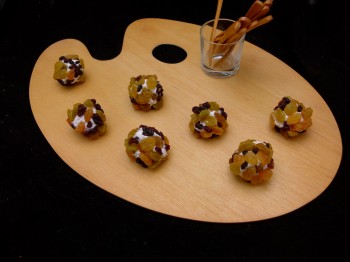 a "palette" pleasing appetizer and adieu to an artist
I was in France last week when I heard the news that Peter Falk had passed. I thought of the first time I met him. It was nearly twenty years ago at his home.  I was scurrying around trying to be helpful and when I turned around, there stood Mr. Falk. I did not recognize him and so I asked him in my most matter-of-fact, grown-up tone, "may I help you?" He smiled at me with that "Columbo" smile and I realized as soon as the clumsy words spilled from my mouth who he was and I felt a little foolish. Peter Falk was charming and kind. He was an incredibly talented actor and artist. I thought of him in his art studio, surrounded by his female sketches. I thought of an artist's "palette " and everyone's "palate" and it is the combination of the two which is the inspiration for this week's simple pleasure: boulettes de chèvre et raisins secs et groseilles (goat cheese balls with raisins and currants). The artist palette serving tray is optional.
I am often asked for "quick appetizer" recipes, particularly before a holiday.  Monday is the Fourth of July, another holiday where people will be gathering, socializing and eating, and the perfect opportunity for me to honor such a request.
In my catering experience, I can tell you one absolute truth when it comes to stationary or passed appetizers: people love anything with cheese or bacon and if you happen to combine the two, tie down the tables because people will dive for it.  It does not matter the occasion, the gender of the guests, their age, economic or social background: cheese is a party pleaser.  In France, "boulettes" are a very common appetizer. Boulettes are typically made of meat or cheese that have been shaped into a small ball and rolled in minced herbs or crushed nuts. Goat cheese, light in texture, smell and taste (and easily malleable) is a perfect candidate for boulettes.
This recipe will take you 5 minutes to make but they are best if you make them one day in advance so the raisins can absorb some of the flavor and moisture of the cheese.  I use sauternes to mix with the cheese, but crème de cassis, kirsch, or muscat are equally as nice. Make sure that you use juicy raisins and currants, not old, really dried-out ones. While you can re-hydrate raisins with a little hot water, hot water is not a miracle worker.  Also, be sure to use a good goat cheese.  There are only four ingredients in this recipe: make sure that every one of them is quality.
In closing, I bid Peter Falk a fond "adieu"and if I were serving appetizers in heaven, I would humbly offer him some on an artist's palette as a symbolic tribute to his talent. Cigars to follow.
To my fellow Americans, I wish you a very happy Fourth of July.
Je vous souhaite un bon appétit !
LM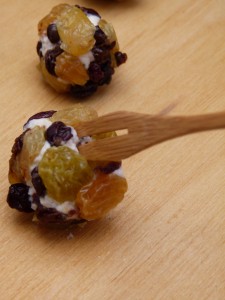 boulettes de chèvre et raisins secs et groseilles
(goat cheese balls with raisins and currants)
Stats:
Yield: 36 boulettes
what you need:
8 ounces fresh goat cheese, room temperature
6 teaspoons sauternes (or crème de cassis, kirsch or muscat)
2 cups of golden raisins and currants
hot water, as needed
how to:
Mix

. Using a spatula, combine the sauternes with the goat cheese until blended.  Do not over-mix.
Chill

. Place the flavored goat cheese in the refrigerator for at least one hour to firm up.
Shape

. Remove from the refrigerator. Take about 1 teaspoon of cheese and roll it into a small ball. Repeat until you have used all of the cheese.
Roll

. Mix the currants and raisins together.  If the raisins/currants are dry, re-hydrate them by pouring hot water over them.  Do not let them sit in the water longer than 2 minutes. Drain and dry. Gently press the raisins and currants into the cheese balls.
Rest.

Place the cheese balls on a tray and cover with plastic wrap.  Let them set in the refrigerator overnight or for at least four hours.
Serve.

Let the cheese balls come slightly to room temperature and serve with a glass of champagne or other apéritif.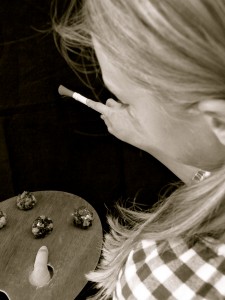 Tags: boulettes, currants, easy appetizers, goat cheese, rasisins, sauternes