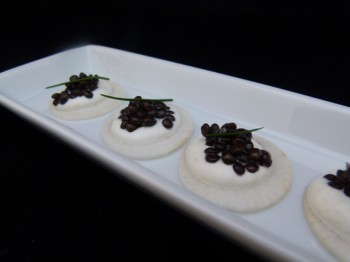 goût de luxe:
caviar taste.  legume budget.  perfect.
Goût de luxe means "luxurious taste" or "taste of luxury."   Sometimes you want to indulge your taste for luxury without paying the monetary price typically associated with it.   So what is easy to do that tastes expensive, but isn't?  Beluga lentils and that is why a Beluga lentil hors-d'oeuvre is this week's simple pleasure.
Lentils are a legume   (which is a fruit with edible seeds in a pod).  Other legumes include soybeans, green beans,  fava beans, garbanzo beans, and peanuts.  Legumes are full of dietary protein and fiber  (both soluble and insoluble) and are often used as a meat substitute.   Legumes are not only good for your health but a delight for your budget (compare one pound of organic aged beef which can cost around $22-24 per pound with a pound of heirloom beans for about $3-4).
When we think of lentils, generally most people think of the dark green Puy lentils from Velay, France (which admittedly are wonderful).  These green lentils are commonly prepared creamy-style or served in a salad (often with roasted red beets).  However, lentils come in a variety of sizes and colors, including red, orange, ivory, canary yellow, various shades of green and brown, and black.  The green, brown, and black varieties retain their shape better then the orange, red and canary colored varieties.  The orange, red and canary colored lentils are often found in Indian cuisine and take on a very creamy consistency when simmered.  Lentils (eaten out of the pod) do not need to be rehydrated and take only 20-30  minutes to simmer.
Beluga lentils look exactly like the famous caviar for which they are named.    They are shiny, dark black, small, and round.  Beluga lentils are delicate and mild-flavored.  They can be prepared al dente or simmered longer for a creamier texture.  They are wonderful additions to soups and salads and they pair well with fleshy white fish (i.e., Sea Bass or Cod) as well as with pork and game (including two of my favorites:  wild boar and crispy pork belly).   Beluga lentils are also good puréed.
This Beluga lentil hors -d'oeuvre is true to the caviar theme.  Beluga caviar is typically served with sour cream on top of halved boiled new potatoes (and accompanied by a bottle of ice-cold vodka encased in ice).  Here, instead of sour cream, we use crème fraîche with freshly grated horseradish.  Instead of potatoes or toast points, we use thinly sliced raw turnips.   Instead of water or vegetable stock (which is the typical fare in which to simmer lentils), we use white wine and fish stock, keeping with the caviar theme and giving the lentils a slightly salty, seafood boost.
This hors -d'oeuvre takes about 20 minutes active time.  It can be prepared in advance and tastes best when it has chilled overnight.  The crème fraîche and the turnips can also be prepared in advance.
So fancy, here is to your luxurious — budget and health conscious —  taste.   The chilled vodka is optional.
Je vous souhaite un bon appétit !
LM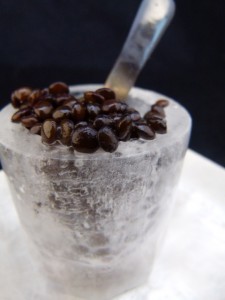 beluga lentils on turnip slices
with horseradish crème fraîche, chives, and black sea salt
stats:
yields approximately  2 dozen
what you need:
2 teaspoons rendered duck fat or unsalted butter
1/2 pound (8 ounces) Beluga lentils
2 cloves of garlic, finely minced
1 tablespoon shallot, finely minced
1/4 cup dry white wine
1 bouquet garni (leek, fresh Italian parsley, fresh bay leaf)
2 1/2 cups quality fish stock
1 teaspoon kosher salt (and to taste)
freshly ground black pepper (to taste)
1/2 cup (4 ounces) crème fraîche
4 teaspoons freshly grated horseradish
4 small turnips
garnish
black sea salt,  as needed
fresh chives, as needed
how to:
lentils
Sweat Mirepoix And Pearl Lentils

.  In a saucepan over high heat, add butter or duck fat.  Once fat is warm, add garlic and shallots.  When  translucent, add lentils.  Toss to coat in fat.
Deglaze.

Add white wine to lentils.  Reduce au sec (until wine is cooked out).
Add Flavoring

.  Add bouquet garni and warm fish stock to the lentils.
Simmer.

Once a boil begins, reduce to a simmer.  Simmer until lentils are

just

cooked but still hold their shape.
Adjust Seasoning

.   Salt and pepper to taste.  Remove bouquet garni.  Drain lentils if there is excess stock.  Place lentils in the refrigerator overnight (or for at least 4 hours).
Cream Horseradish

.  Using a fine grater or microplane, grate horseradish.  Add horseradish to crème fraîche and stir to combine.  Chill.
Prepare Turnips

.  Peel turnips and remove greens.  Using a mandolin or chef's knife, thinly slice turnips.  Chill turnips on ice until service .
Serve

.  Add a dollop of crème fraîche to a turnip slice.  Top with lentils.  Garnish with fresh chives and black sea salt.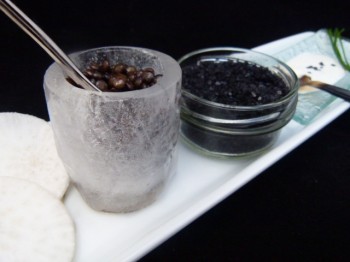 food for thought
In France, "legumes" are vegetables.
Tags: appetizer, Beluga lentils, crème fraîche, easy, french cooking recipes, goût de luxe: caviar taste. legume budget. perfect., legumes, lentil, lentils, paris markets, Puy, starter, turnips