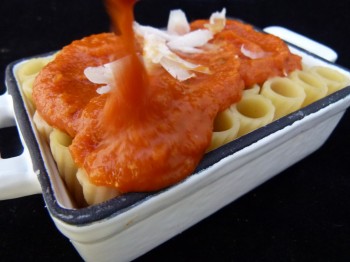 classic tomato sauce
stats:
makes 6 cups
what you need:
2  28 ounce cans of San Marzano plum tomatoes with juice
(or in the summer 4 pounds fresh Roma tomatoes from your garden)
olive oil (as needed)
1/2 cup diced pancetta (or ground veal)
3 garlic cloves, minced
1/2 cup diced onions
1/4 cup diced carrots
1/4 cup diced celery
1 tablespoon sea salt
1 sachet (1 bay leaf, Italian parsley, 5 peppercorns)
1/4 cup olive oil
2 teaspoons kosher salt (or as needed)
1/2 teaspoon fresh ground pepper (or as needed)
for your pasta
fresh egg pasta (as needed)
fresh basil chiffonnade (optional)
freshly grated aged Parmesan cheese (optional)
crushed and dried Pepperoncino flakes (optional)
how to:
Prepare Tomatoes

.  Place tomatoes in a food mill fit with a fine disc.  Set aside.  Discard seeds and skins.
Render Fat.

In a stockpot or large saucepan over a medium-high flame, add pancetta and cook until fat is rendered.  Drain off excess fat. If you eliminate the pancetta, heat about 1 tablespoon of olive oil in the pan.
Sweat Aromatics.

Add garlic. Once fragrant, add the onions, carrots and celery.  Cook until tender.
Simmer.

Add the tomatoes and juice that were passed through the vegetable mill.  Add olive oil, salt and sachet.  Bring to a boil and then reduce to a simmer.  Simmer until it reduces to the consistency you want (about an hour).  However, do not over-reduce
Purée

.  Remove sachet and discard.  Use a blender or immersion blender to purée sauce.
Adjust Seasoning.

Taste.  Add salt and/or freshly ground black pepper as needed.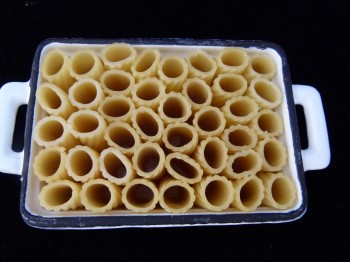 Tags: mother sauce, pasta, tomato sauce