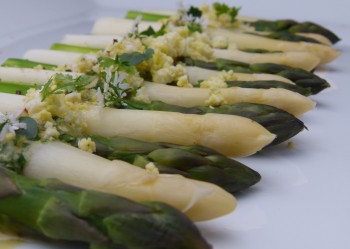 what to do with all of those Easter eggs:
asparagus à la flamande
(à ma façon)
Spring brings an abundance of delicious asparagus (white, green and purple) and Easter leaves us with an abundance of hard-boiled eggs.  This dish is a way to use both.  You can serve it as a sidedish or add a pan-seared salmon filet and make it a meal.  Either way it is delicious and that is the reason asparagus à la flamande is this week's simple pleasure.

Asparagus à la flamande is generally made with boiled asparagus, melted butter and sieved egg yolks and parsley.  I modified this traditional French dish and made it a little Californian. First, I use both the egg whites and the yolks (using more whites than yolks). Second,  I blanche the asparagus leaving it al dente.  Lastly, I eliminate the butter but dress the asparagus in a lightly spicy mustard vinaigrette and top it  with fresh herbs and the sieved eggs. The recipe takes 10 minutes of your time.
A couple of production notes.  Make sure the eggs are hard-boiled and not soft-boiled or they will be too wet and sticky.  If they are hard-boiled the sieved eggs will be nice and fluffy.  Also, do not use a grater instead of a sieve or your fluffy eggs will resemble lice (sorry, but it is true).
Use the freshest asparagus and only quality ingredients for your dressing.  I like to use Pommery's Moutarde des Pompiers (Fireman's Mustard) it is a little spicy.  If you cannot find this, use a quality Dijon from Edmond Fallot or Maille.  Also, I provide a sliding scale for how much salt to add because the amount will depend upon the mustard you use.
For those of you who would like to make a full meal of this, I add instructions for searing salmon as well.
Je vous souhaite un bon appétit
LM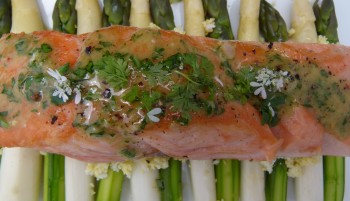 asparagus à la flamande (with salmon)
stats:
serves: 4
what you need:
8 ounces  asparagus spears, peeled and trimmed
2 large hard-boiled eggs
dressing
1 tablespoon quality white wine vinegar  (i.e., Pommary)
1 teaspoon quality mustard (i.e., Pommary or Edmond Fallot))
3 tablespoons grapeseed oil
1 tablespoon flat parsley, minced
1 teaspoon minced shallot
1/4 -1/2  sel de Guérande
1/8 teaspoon piment d'espelette
garnish
fresh minced Italian parsley
fresh chervil leaves
freshly ground black pepper
salmon (optional)
4  4 ounce wild salmon filets
olive oil (as needed)
kosher salt (as needed)
freshly ground pepper (as needed)
how to:
Hard-Boil Eggs.

Place eggs in a saucepan filled with cold water.  Place over high heat and bring water to a boil.  Reduce to a simmer and simmer for ten minutes.  Remove pan from heat.  Cool.
Blanche Asparagus

.  Place asparagus in a pot of salty boiling water.  Boil asparagus for 2 minutes.  Drain.  Place asparagus in a ice bath water to cease the cooking.  Drain.  Set aside.
Sieve Eggs

.  Peel eggs.  Pass egg whites and yolks through a sieve.   Set aside.
Prepare Dressing

.  Place the vinegar, mustard, shallots in a bowl with the parsley, piment, oil, and salt. Use immersion blender or blender to create a good emulsion. Adjust seasoning to taste.  Set aside.
Plate

.  Arrange asparagus spears in a decorative fashion on a plate.  Pour the dressing over the asparagus.  Using a spoon, sprinkle sieved eggs over the dressing and the asparagus.  Garnish with fresh herbs.
optional salmon
Season  Salmon

.  Season salmon with salt and pepper.
Sear Salmon.

Place a cast-iron pan or sauté pan over a high flame.  Add about 1 tablespoon of olive oil and heat the oil.  When the oil is hot, add the salmon skin side up.  Reduce heat slightly. Sear until the flesh is lightly browned and releases from the pan.  Use a fish spatula to flip the salmon in the pan (now skin side faces down).
Finish In Oven

.  Place the entire pan in an oven preheated to

350 degrees Fahrenheit.

Salmon is done when it is medium rare and still pink in the middle (this should take only 5-7 minutes depending upon the thickness of the filets). Do not overcook.
Plate.

Carefully remove pan from the oven. Remove the fillets from the pan and place directly over the dressed asparagus.
Tags: asparagus a la flamande, Easter hard-boiled eggs, mustard, salmon