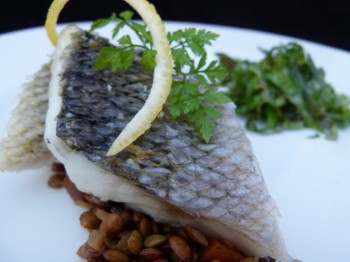 crispy and shiny loup de mer with Umbrian lentils
stats
serves 4-6
what you need:
fish
4 fillet of loup de mer (or rouget), skin and scales on
kosher salt, as needed
freshly ground pepper, as needed
olive oil, as needed
lentils
1 ounce lardon, small diced
1 garlic clive, minced
2 teaspoons minced shallots
1/4 cup small diced carrots
1/4 cup small diced onions
1/4 cup dry white white
bouquet garni (1 bay leaf with fresh Italian parsley)
1/2 cup Umbrian lentils
1/4 cup warm fish or seafood stock
1/2 cup warm (or more as needed)
1/2 teaspoon kosher salt (and to taste)
how to:
lentils
Render Lardon

.

In a saucepan over high heat, add lardons and render fat. Once lardon is cooked (but not crispy), remove lardons and place on a paper towel. Pour off excess fat and dispose. Return pan to stove.
Sweat Mirepoix And Pearl Lentils.

Add a little olive oil to coat the bottom of the pan. Add garlic. Once fragrant, add shallots. Once shallots are translucent, add onions and carrots. When onions and carrots are tender, add lentils and lardons. Toss to coat in olive oil. Add salt
Deglaze.

Add white wine and reduce au sec (until wine is cooked out).
Add Flavoring

. Add bouquet garni, warm fish stock, and water to the lentils.
Simmer

. Once a boil begins, reduce to a simmer. Simmer until lentils are just cooked but still hold their shape. Add more water if necessary.
Adjust Seasoning

. Salt and pepper to taste. Remove and discard bouquet garni. Drain any excess stock/water. Cover the pan with a lid to keep warm. The lentils can be made in advance.
fish
Prepare Fish.

Season fish fillets with salt and pepper
Add Fish

. Place a sauté pan or skillet over a medium-high flame. When the pan is hot, add enough olive oil to lightly coat the bottom of the pan. Once oil is hot, add the fillets by placing them skin side down in the pan.
Reduce Heat

. Immediately reduce the heat to medium flame. Cook fish until the skin is crispy and browned and no longer sticks to the pan.
Finish Cooking

. Carefully flip the fish fillets onto the other side. Remove the pan from heat and turn off flame. Place the fish and the pan in an oven preset to 350 degrees Fahrenheit. The fish is done when it is opaque. Do not overcook it…it will only be in the oven for a few minutes (you also can let the residual heat in the pan finish cooking the fish if the fillets are thinner or you are worried you will forget it in the oven ).
Serve

. Serve fish immediately while hot with the skin/scale side up. Drizzle a little oil olive over the fish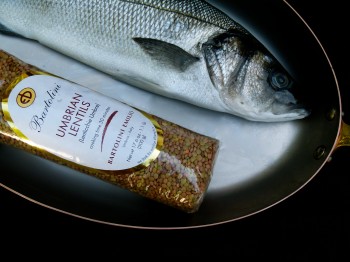 Tags: fish, fish scales on, french cooking recipes, lardon, loup de mer, Paris (Paris), scales, simple pleasures, Umbrian lentis