a fish, a bag and all that Paris glitter:
crispy, shiny loup de mer with Umbrian lentils
Los Angeles children are very en vogue. For the last few months teens, tweens and even the little ones younger have clamored for "a feather" in their hair and for shirts with sequined patches and logos. At the same time on the old continent, Paris nightlife is all about burlesque and la tendance in fashion is feathers and sequins. It is Moulin Rouge with the sleekness of the 21st century. With the exception of a fashion model's diet, there is often a connection between fashion and food. In Paris I found a fish handbag made of sequins, representing the fish's scales. As I look at the purse I see no reason why that Parisian fashion glitter and glamour cannot be on our dinner plates as well. It can. So inspired by this sequin fish purse, shiny loup de mer on a bed of Umbrian lentils is this week's simple pleasure.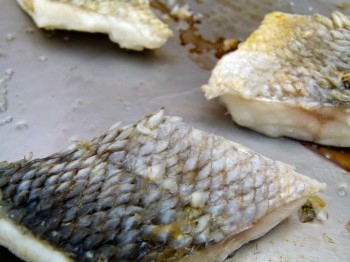 Although you can, I rarely see someone eat fish skin. However, it is protocol to serve the fish with its skin and we have special utensils for the very purpose of removing the skin à la table. Since we are not eating the skin, let's leave the fish scales on and make our fish as glamorous as our attire. While I realize that the concept may turn a few heads, that is okay, cooking is supposed to be fun and, in all honesty, this is the perfect solution for me personally as I have not been very lucky with sequins or fish scales (and since you tell me in emails you like my silly stories, I will tell you why).
Episode One: When I was a University student I attended a program in Sacramento where students were able to meet real working politicians and the weekend began with a "mixer" to break the ice between the two groups. Neither I nor my two friends had been to an event like this before so we wanted to make sure we were appropriately attired. We were told to wear "cocktail" attire, so given the fashion-conscious adolescent women we were we wore little black dresses and given the time period the dresses were adorned with various embellishments. Let's just say that mine had a lot of sequins and my friend's had a large flower or two. While we would have been perfectly dressed for a cocktail party we were not dressed for a political cocktail party and everyone, but us, wore suits (very conservative, navy blue or grey suits). We stuck out to say the least. When our professor introduced us to our first senator, the senator backed away from us and "jokingly" asked where the cameras were (you see, he apparently had gotten into trouble recently with some ladies and the implication was that the professor was playing a joke on him or trying to set him up). The protest from our professor – "no senator, they really are my students" – only amplified my embarrassment. Not only were my friends and I not taken seriously but the senator thought he was getting a date. Perhaps it was fate's way of telling me I should stay in the kitchen. In any event, I gave away the dress that I saved and paid so much money for and it has taken me twenty years to buy anything with sequins since.
Episode Two: Cut to culinary school years later. It was fabrication class where at 6 o'clock in the morning my classmates and I would french the ribs of rabbits, hack-saw through the backbones of lambs, and draw and scale fish (which can be pretty messy despite drop-cloth precautions and aprons). When class ended at 11 o'clock, I hauled my booty across Los Angeles (no small task given L.A. traffic) to serve hot lunch at my childrens' school and began the next phase of my day. Often I changed a quick five minutes in the bathroom or peeled my culinary layers off in the car en route. One day in particular, while I was talking to another mother at the childrens' school, she stared at me and then carefully reached over and picked fish scales out of my hair.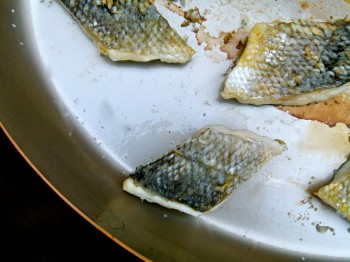 Leaving the scales on will avoid such mishaps for me, and you. Thanks to a hot pan and minimal olive oil, you can turn an ordinary fish dinner into a shiny and crispy, fancy and tasty healthy meal. Loup de mer is the perfect fish for this because it is small enough that it is generally sold whole and not yet cleaned or scaled. It is also a light and very flavorful fish, perfect for summer. I chose Umbrian lentils to pair with the fish because of their rich, yet light flavor and it goes well with this simply prepared Mediterranean fish. Lentils are also a calorie dense protein and a good choice to add to this healthy meal which does not need butter or a sauce for flavor. You can substitute white lentils or Puy lentils, or even brown rice if you prefer.
A few production notes, when you place the fish in the pan, make sure your pan is hot and place it skin side down. Also, do not move the fish prematurely, let it naturally release from the pan or the skin and scales will stick to the pan and your your presentation will look sloppy.
If you are going to Paris, pack your sequins and feathers. Below are the names of a few nightclubs which are la tendence right now (although do not go before 11:30 p.m.). In the meantime, bring a little Parisian glamour to your own kitchen (of which our daughters have already tapped into) and ask your fishmonger to leave the scales on.
The recipe is posted in a companion blog for your printing ease. Les boîtes de nuit are below.
Je vous souhaite un bon appétit !
LM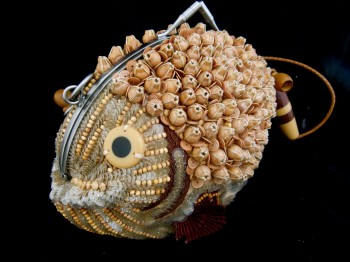 where to wear your sequins and and shake your tail feathers in Paris
Matignon
(on the Champs Elysees)
3 avenue Matignon
75008 Paris
(33) 01 42 89 64 72

L' Arc
(located where L'Etoile used to be)
12 rue de Presbourg
75016 Paris
(33) 01 45 00 78 70
Chez Raspoutine
58, rue de Bassano
75008 Paris France
(33) 01 47 20 04 31
Black Calvados
(Chris Connell's redo of this 60's place)
40 avenue Pierre 1er de Serbie
75008 Paris, France
(33) 01 47 20 77 77
Tags: Black Calvados, Chez Raspoutine, feathers, fish, fish scales, french cooking recipes, hand bag, les plats, loup de mer, L' Arc, main course, Matignon, Paris (Paris), sequin, simple pleasures, Umbrian lentils