croque-monsieur: a movable feast
Ernest Hemingway said that "[i]f you are lucky to have lived in Paris … then wherever you go for the rest of your life, it stays with you, for Paris is a movable feast." He was right. Even if you are not as fortunate as Mr. Hemingway to live in Paris, Paris does not have to be far from you. This week for me was no exception and it inspired this week's simple pleasure and movable feast: a croque-monsieur.
It is Spring Break for many students, including my children, so I packed up the children, our seventeen year-old Yorkie, my chef's knife and immersion blender and put them all in a Recreational Vehicle ("RV") headed for one of the seven wonders of the world: the Grand Canyon.  For those of you who know me, please contain your laughter at the thought of me driving and cooking in an RV.  I am pleased to say that we did so without incident and had a wonderful time.  In truth, however, I did not have to drive 1,200 miles to please the children because they were perfectly content with the accommodations: sleeping in hidden bed they had to climb into (outfit with a privacy curtain) and traveling with a kitchen loaded with their favorite foods.
The beauty and grandeur of the Grand Canyon is beyond compare.  One day after our excursions, we hungrily returned to our movable, temporary home where I made croque-monsieur. As I watched my children gobble down their sandwiches, I could not help but think of Paris, the first time they enjoyed these sandwiches in Paris, the first time I did, and all the times in my life I have a croque-monsieur.  I stopped counting around 30.
The croque-monsieur is as synonymous with Paris as the Eiffel Tower, crêpes, croissants, and baguettes. First served in a Parisian café in 1910, the croque-monsieur continues to be served in cafés, brasseries, and snack bars. Every tourist has tried one at least once. The classic croque-monsieur calls for the use of pain de mie, ham, and Gruyère. If you top it with a fried or poached egg (giving the sandwich a hat they say) then you have created a croque- madame. It is generally served open-faced.
The attached recipe is the one that I have used for events and the one I made in our RV. It can be a main course or cut-up into bite-size squares (garnished with a French-flagged toothpick if you want) and served as canapés. Typically, I make this as an open-faced sandwich (which also cuts down on the fat content and calories), but the two slices make it easier to eat as a finger food (for children or as a canapé).
A croque-monsieur is simple to make, but I have had my share of terrible ones.  Here are a few production notes so your croque-monsieur does not end up in the  "terrible" category.
First, I use a combination of Comté and Gruyère cheese, it cuts the higher fat content of Gruyère and gives the sandwich a little tang.  Both are good melters. Second, although you will be tempted to use fancier breads, the sandwich is best on a pullman or pain de mie, a sandwich bread with a thin crust and nice crumb.  However, use a quality bread (not that airy, sugary sandwich bread with no substance that will stay fresh for a month sitting on a warm kitchen counter).  Also, do not use a baguette or sourdough, the result will be chewy because the crumb is usually too dense and/or the sour flavor will detract from the sandwich.  I leave the crust my croque-monsieur because the extra crunch goes nicely with the creamy fillings and crisp salad.
Third, while some versions only butter the bread, in my opinion, béchamel is best because buttering the bread can make the sandwich too greasy.  I use béchamel as a dressing.  Béchamel is a roux-based sauce with infused milk and  is one of the foundational sauces of French cooking (use this as your opportunity to learn how to make this simple, and versatile sauce).  I do not add the cheese to the béchamel because it allows you to control the amount of cheese (as well as sauce) you want on your sandwich.  Moreover, when béchamel is used as a conduit for the cheese rather than a dressing you end up with a gooey, soggy mess because people are trying to get more cheesy goodness over their ham (and technically speaking adding cheese to the béchamel turns it into a Mornay sauce, a daughter sauce, and is no longer considered a béchamel anyway). Béchamel can be made ahead of time, stored in the refrigerator to be warmed before use and used for a croque-monsieur or other things.
I always top my croque-monsieur with a lightly dressed green salad. In French cafés it is always served with a side green salad and often enjoyed with a glass of light wine such as a rosé, sauvignon blanc or a pinot noir.  This simple and delicious sandwich is one movable feast that can be enjoyed anywhere, even in an RV parked at the South Rim of an American symbol. It is guaranteed to make many "happy campers." à table!
Je vous souhaite un bon appétit !
LM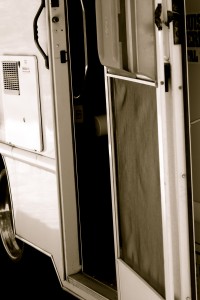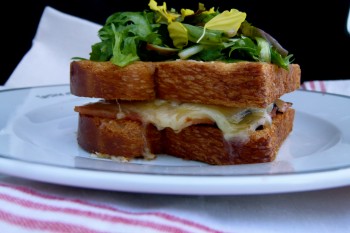 croque-monsieur
stats:
make four sandwiches
what you need:
béchamel
1 /2 ounce (1 tablespoon) unsalted butter
1/2 ounce (about 1 1/2 tablespoons) all purpose flour
8 ounces (1 cup) milk
sachet ( 2 cloves, 1 bay leaf, 1/2 onion, peeled and diced, 2 sprigs fresh thyme)
1/4 teaspoon freshly ground nutmeg
pinch kosher salt
sandwich
8 slices of day old pain de mie or sandwich bread
thinly sliced Neimen Ranch black forest ham (as needed)
8 ounces Gruyère cheese
4 ounces Comté cheese
how to:
béchamel
Infuse Milk.

Heat milk and sachet in a saucepan over medium heat.  Simmer the milk for about 20 minutes until the flavors have been infused in the milk. Remove the sachet and discard.  Keep milk warm.
Make Roux

.  In another saucepan over medium-high heat, melt butter.  Once melted, add flour to butter, using a whisk to eliminate lumps.  Stir for about 2-3 minutes but do not let the roux brown.
Add Milk

.  Slowly pour infused milk into the roux and continue to whisk.  Once all of the milk has been incorporated continue to whisk and simmer the sauce for about 10 minutes until the flour taste has been cooked out.  Remove from heat and stir in nutmeg and salt.
sandwich
Toast Bread.

Place bread slices on a baking sheet lined with parchment paper.  Toast in an oven preheated to 350 degrees Fahrenheit until golden brown (flip during toasting process to toast on both sides).  Remove from oven and set aside.
Assemble.

Spread a thick layer of béchamel on each bread slice. Add a layer of ham to 4 slices.  Add about 1 ounce of cheese on top of the ham.  Add the remaining 4 bread slices to the sandwiches (béchamel-coated side down facing the cheese).  Sprinkle grated cheese on top of the second piece of bread.
Melt Cheese.

Return to the oven and melt the cheese (or you can put the sandwich in the microwave to melt the cheese for 20-30 seconds if your bread is

well

-toasted)
Serve.

Serve with a green salad dressed with vinaigrette.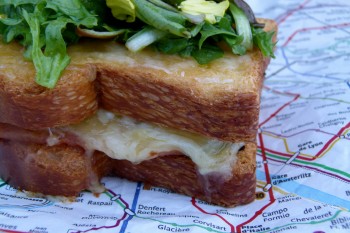 Tags: croque-monsieur, Paris (Paris)