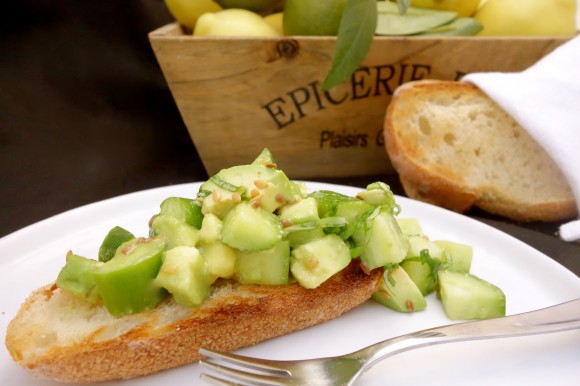 "a pinch" should apply only to seasoning
cucumber and avocado salad
It was the threat of a Saint Patrick's Day pinch which inspired this week's simple pleasure: avocado and cucumber salad.
Saint Patrick's Day is coming up and the saying goes that if you are not wearing green, then you are going to get pinched. Personally I would like to avoid this. I also would like to avoid the burden of remembering to wear something green (which will definitely slip my mind). However, eating something green is effortless (and delicious) and in my mind I think that if "you are what you eat" and you eat something green, then aren't you Saint Patrick's Day compliant? Sounds good to me and being partly Irish, I feel the argument is credible (giggle).
Traditionally, when we think of Saint Patrick's Day food, we think of corned beef and cabbage and/or something green to put into your beverage of choice. When we hear the word "salad" we thing of lettuce. However, this week's simple pleasure is neither.
In France, the term "salade" describes the raw preparation of fruits/vegetables and lettuce is included only if it is a "salade verte" (green salad). In fact, the simply grating of raw carrots is considered a carrot salad.
This week's simple pleasure is an easy salad inspired by the French use of the word and the green of Saint Patrick's Day. This salad can accompany (and lightened) your corned beef but also is a nice accompiament to many proteins including eggs, chicken, fish, beef, or even tofu. You can also serve it with your favorite green soup for a light warm-weather lunch or serve it on top of toast for a tartine or quick snack. The fun does not stop there. Hollow out a halved cucumber and place some of the salad inside and you have a fun hand-held snack for children in their lunch or after school. Think of it like a healthy (cucumber) hotdog.
As a runner, I like this salad because it is a quick boost perfect for my joints and heart and will not slow me down.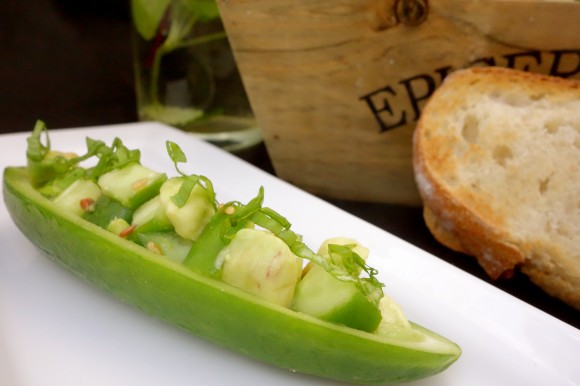 If you are what you eat, then you are fresh, light, filled with heart-healthy fats and fiber, and Saint Patrick's Day compliant. Making something delicious that is great for you in 5 minutes is like finding the Leprechaun's pot of gold on your own plate. No pinch here. Because the recipe is so short, I have attached it below.
mangez bien, vivez bien, et bon appétit (eat well, live well and enjoy) !
LM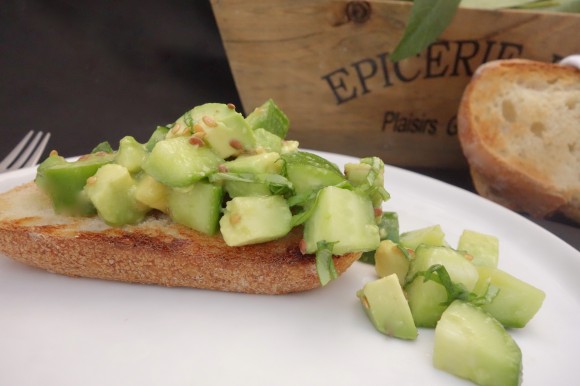 avocado and cucumber salad
serves 4
what you need:
4 Persian cucumbers (or 2 cucumbers), washed

1 ripe avocado, diced

1½-2 tablespoons fresh lime juice

1½ tablespoon sesame oil

½ teaspoon gros se de Guérande (or sea salt)*

½ tablespoon flaxseeds
if you use kosher salt or table salt, use less because it is smaller. Try ¼ teaspoon first and then taste it.
how to:
Dice.

Cut avocado in half. Remove the pit (carefully). Peel. Dice. Cut the ends off of the cucumbers. Leaving the peels on, dice the cucumbers (if you are not using Persian cucumbers, scrape out the seeds of a larger cucumber with a spoon). Place diced cucumbers and avocado in a bowl.
Dress, Season & Toss.

Add the oil, lime juice, seeds, and salt. Season to taste. Add more lime juice if desired. Serve chilled. Will store in the refrigerator in an air-tight container for a few days.
Tags: appetizer, cucumber. avocado, flaxseed, green, healthy snacks, salad, st. patricks day, vegetarian