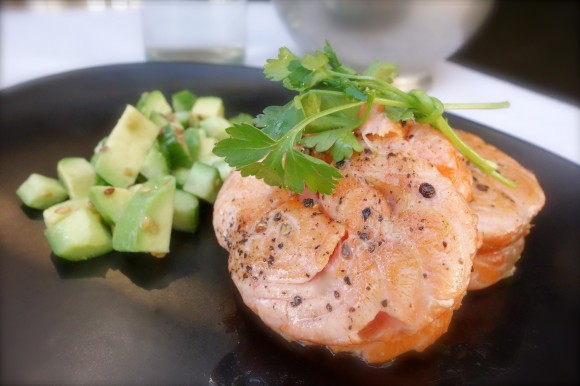 turning dinner around one steak at a time
pan-seared salmon circles
(tournedos de saumon)
Taking the same old and making it new is the inspiration for this week's simple pleasure: pan-seared salmon circles (tournedos de saumon).
We all know how good salmon is for our health. In America, it is probably the second most consumed fish (tuna being number one). Why? Because it is familiar, mild in taste, and widely available. However, I believe the saying goes that familiarity breeds contempt (if I have the saying correct).
This week's recipe takes the familiar salmon steak and turns that boredom around. This recipe is not complicated. It does not take a lot of your time. It requires no more than quality salmon, olive oil, salt and pepper, and one clove of garlic. The salmon circles can be pan-seared (as written) or grilled. The salmon circles can be served warm or at room temperature. They can be the center of your salmon burger or served with your favorite starch ( i.e., rice, potatoes) or something green for dinner or lunch. If you are observing Lent, here is your new Friday fish. The skin and bones are removed so this new presentation is child-friendly as well. Beyond nutritious and delicious, this recipe is fun.
So try a pair of red heels with that little black dress or wear a colorful tie with that familiar suit. You understand the analogy. Give your dinner plate a new presentation and your dinner guests a new perspective and appreciation of salmon.
The recipe (with instructional photos), is below.
Mangez bien (eat well), vivez bien (live well), et bon appétit (enjoy) !
LM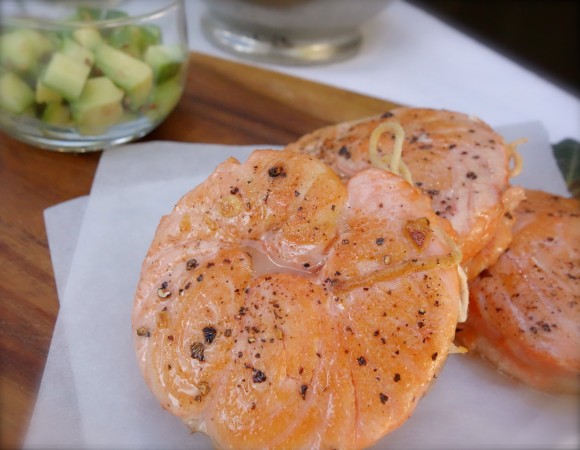 pan-seared salmon circles
(tournedos de saumon)
makes 4
what you need:
2 salmon steaks

kosher salt (as needed)

freshly ground pepper (as needed)

olive oil (as needed)

1 garlic clove, thinly sliced

kitchen twine (as needed) or 4 toothpicks or skewers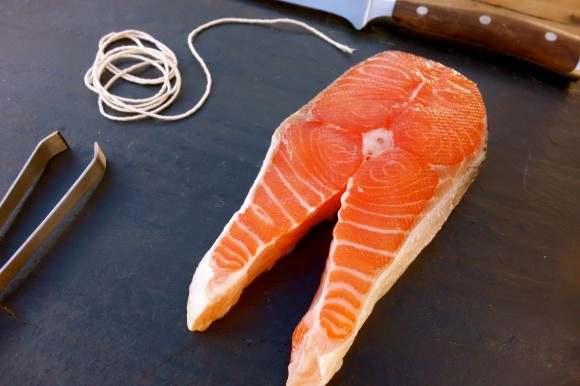 how to:
Preheat Oven

.

Preheat oven to 350 degrees Fahrenheit.
Prepare Circles.

Remove skin from salmon steaks (or ask your fishmonger). Remove the center bone and remove any bones in the steak (you can feel them by running your fingers along the flesh). Roll each side of the steak from the bottom (thin part) upward, as indicated, into a circle shape. Secure closed with kitchen twine (or toothpicks). Season each side with salt and pepper

.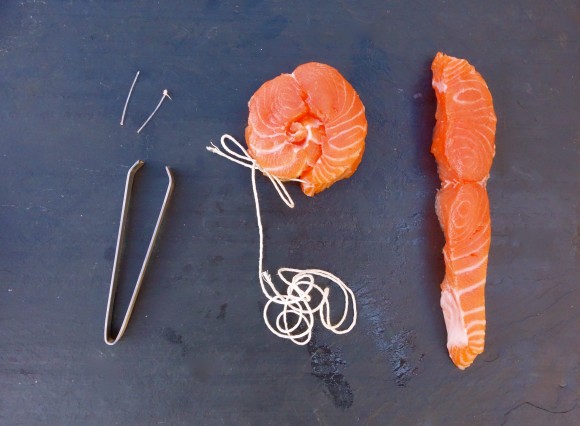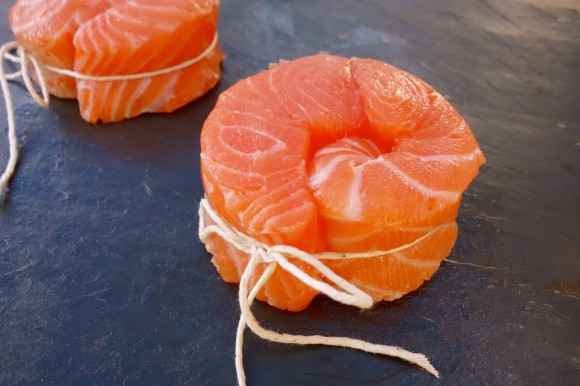 Pan Sear.

Place an ovenproof pan over a medium flame. When warm add oil. When olive oil is hot, add garlic slices. When garlic slices are fragrant, carefully remove the garlic from the pan, leaving the oil (now infused with garlic) in the pan. Place pan back over flame and add the salmon circles (it should sizzle if the pan is hot enough). The bottom side of the fish is done when it is lightly browned and it can be easily removed without sticking from the pan with tongs.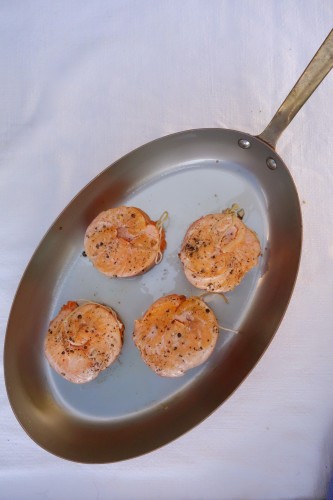 Finish In Oven.

Turn off the flame. Use tongs to flip the salmon circles on to the other side. Place the pan in the oven. Cook for about 7 minutes in the oven until the salmon circles are done but still a deeper pink in the middle (do not over-cook).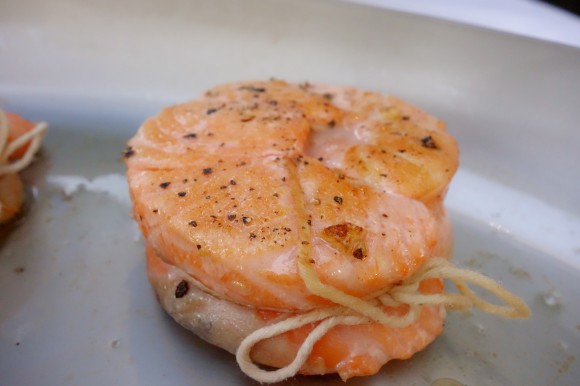 Serve.

CAREFULLY remove the pan from the oven and let the circles cool a bit. Once slightly cooled, remove the kitchen twine. The salmon circles can be served warm or at room temperature. If the circles get cold you can rewarm them in a hotpan (1-2 quick minutes each side).
Tags: easy dinner, salmon, simple pleasures, tournedos de saumon