Forget about Halloween? Not a ghost of a chance!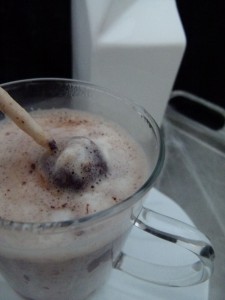 chocolat chaud du fantôme (ghostly hot chocoalte)
and
œufs fantômes à la macédoine de légumes (deviled egg ghosts with vegetables)
The French are crazy about eggs … and chocolate. This week we take both of these passions and bring them to your home in Halloween form (this week it is ghosts; next week it is witches and skeletons). Wrapping a white napkin around a teaspoon gave me the inspiration for the first recipe: it is a chocolate ghost "spoon" that "disappears" in hot milk making a perfect cupful of chocolat chaud (hot chocolate). The second recipe "revamps" a classic French recipe using hard-boiled eggs and vegetables creating a healthy, yet ghostly snack. Treats are simple to prepare and are sure to delight your little ghosts are this week's simple pleasure(s): chocolat chaud du fantôme (ghostly hot chocolate) and œufs fantômes à la macédoine de légumes (deviled egg ghosts with vegetables).
chocolat chaud du fantôme
(ghostly hot chocolate)
This is quality chocolate on a stick that when swirled in hot milk, creates creamy hot chocolate. Easy. You can garnish the chocolate ball with mini marshmallows for an extra treat. When the chocolate ball is wrapped and tied in paper, it resembles a ghost. Whether tired from carving pumpkins or cold from their trick-or-treating adventures, a creamy, extra chocolaty mug of hot chocolate will hit the spot. These cute little ghosts almost make nice party favors for your Halloween party.
There are only two (or three) ingredients in this recipe so make sure you use quality chocolate and milk. I use bittersweet chocolate which has a cocoa content of 70 percent. It makes a rich hot chocolate that has less sugar than milk chocolate. I also use couverture chocolate, which is chocolate that has a higher concentration of cocoa butter. I use couverture chocolate for three reasons: (1) it allows these small molds to set easier (you will not have to temper the chocolate); (2) it contains no vegetable oils (which you do not want in your chocolate); and (3) the extra cocoa butter makes the hot chocolate extra creamy (trust me on this one). Couverture chocolate is sometimes mistakenly identified in stores as "tempered" chocolate.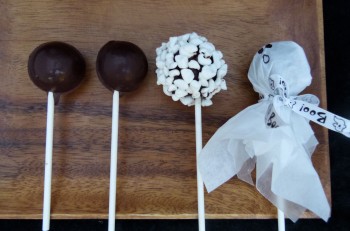 I use 1% milk. The extra cocoa butter gives the hot chocolate a bump in fat content so you do not need it in your milk for texture, flavor, or calories.
For the mold, use a hard candy or lollipop plastic mold which can be found at craft stores, baking and candy supply stores, and on the internet (alternatively you could use a small muffin metal mold). The plastic candy molds cost about $1-2 and are great because the chocolate, when cooled, will pull away from the mold and the balls can easily be dislodged from the plastic without fuss or breaking the chocolate (unless your mold is scratched). Lollipop sticks (or skewers) can be found at these places as well. (although you could substitute the sticks for teaspoons if you want).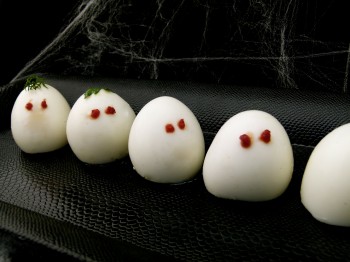 œufs fantômes à la macédoine de légumes
(deviled egg ghosts with vegetables)
This recipe takes flavors children love and puts them in Halloween form: hard-boiled eggs with carrots, and peas. Oeufs à la macédoine (hard-boiled eggs with vegetables) is a typical french dish where both ends of the hard-boiled egg are removed and the yolk is mixed with mayonnaise, egg whites, and tomato paste. The phrase, "à la macédoine" (which you have probably seen on French menus), simply means that the dish is accompanied by a vegetable mixture of carrots, turnips (or potatoes), and peas cut " (small dice) and mixed with mayonnaise. It is a French classic.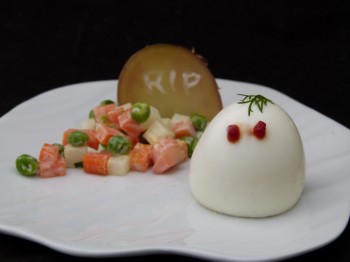 Here, after boiling the eggs, we remove only one side of the eggs. The egg white ends and yolks are combined with a fresh herb and crème fraîche mixture and stuffed back into the egg whites. The eggs standing upright resemble ghosts in a graveyard of vegetables. Sliced, boiled potatoes can serve as headstones. Epithets are written in tomato paste. The vegetables are bound with fresh mayonnaise, but I wrote the recipe to use very little mayonnaise (only 1 tablespoon of mayonnaise for every 1 1/2 cup of vegetables).
Just a couple of ingredient notes: First, use only fresh eggs. You can tell if an egg is fresh if it is heavy (in salted water it will sink to the bottom). Old eggs lose their density and become lighter with age. If you crack the egg open, the yolk in a fresh egg will be firm and upright and stay in the center of the white. In older egg ,the yolk will travel to the side of the white and often the yolk itself will spread.
Second, even though we use a minimal amount of mayonnaise, try to use homemade mayonnaise. Homemade mayonnaise does make a difference and if you do it with a food processor, large or small, it is really simple. If you do not want to use mayonnaise at all (the whole recipe only calls for 2 tablespoons), substitute crème fraîche.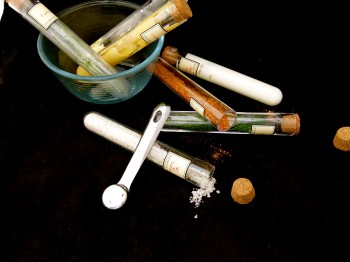 Both recipes are posted separately for your printing ease.
"bone appétit !"
LM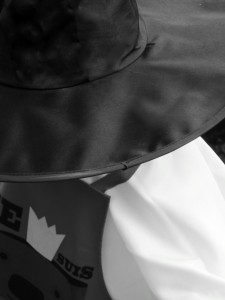 Tags: bittersweet chocolate, chocolat chaud, cooking with chi, Couverture chocolate, deviled egg, ghosts, Halloween, halloween snacks, hot chocolate, Oeufs à la macédoine, œufs fantômes à la macédoine de légumes