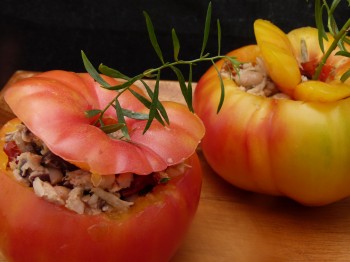 fresh stuffed heirloom tomatoes with tuna, Cannellini beans and tarragon
stats:
serves 4
what you need:
4 beautiful heirloom tomatoes, hollowed
1 cup Cannellini Beans
water (as needed)
2 cloves of garlic, smashed and minced
1 bouquet garni (made of 1 bay leaf, Italian parsley, thyme)
1 teaspoon fresh lemon juice
1 teaspoon Xeres (or Spanish) vinegar
1 teaspoon dijon mustard
2 teaspoons olive oil (more if needed)
1 tablespoon quality mayonnaise
2 cans tuna, packed in olive oil
1 ripe Haas avocado, diced
1/4 cup small diced white onion
1/4 cup diced black olives, depitted
1 tablespoon chopped sun-dried tomatoes, oil drained
3 tablespoons fresh tarragon leaves
1 tablespoon fresh minced Italian parsley
kosher salt (as needed)
freshly ground black pepper (as needed)
how to:
Rehydrate Beans

. Place beans in a pot and add water 3 times their level. Soak overnight. (alternatively, if in a rush, bring water to a boil and once a boil is reached, remove pot from heat and cover for about 20 minutes). Either way, rinse and drain.
Simmer.

Return beans to the pot and add beans, garlic, water, and bouquet garni. Bring to a boil and reduce heat. Simmer gently until beans are soft. Remove from heat and drain any excess water. Let beans cool to room temperature.
Season

. Once cool, remove bouquet garni and discard. Beans can be made the day in advance.
Make Dressing

. Place lemon juice, vinegar and mustard in a bowl. Whisk in olive oil and mayonnaise.
Make Farce.

Drain olive oil from tuna. Place tuna in a bowl and break it into smaller chunks with a fork. Combine tuna with avocado, beans, onions, olives, sun-dried tomatoes, parsley, tarragon, and dressing. Season to taste with salt and pepper.
Prepare Tomatoes.

Cut the tops off of the tomatoes. Use a melon baller or a spoon to remove the seeds and the interior of the tomatoes.
Stuff

. Place about 1/2 half cup of tuna stuffing into each tomato. Garnish with fresh herbs.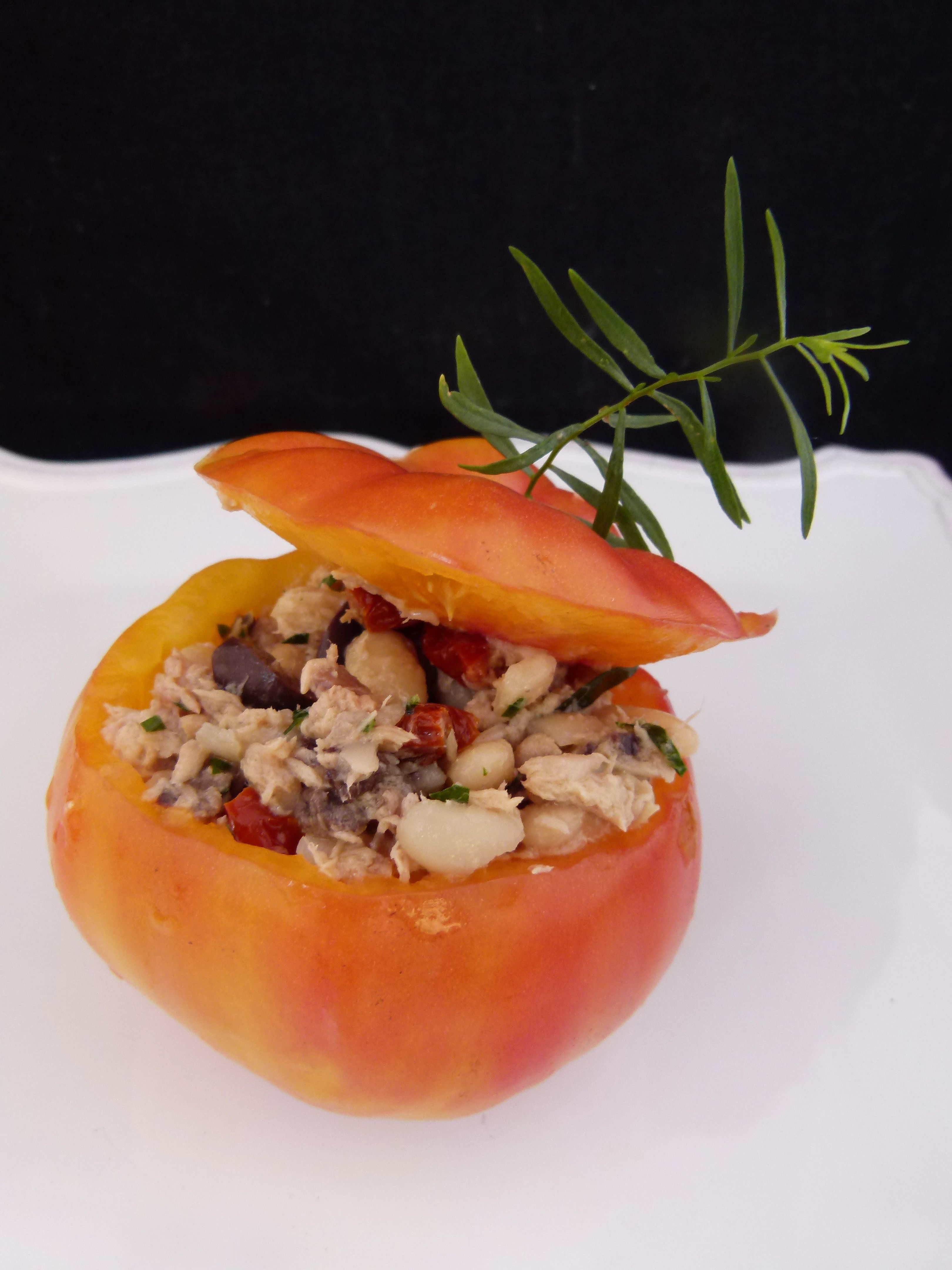 Tags: avocado, bouquet garni, Cannellini beans, farce; stuffed fresh tomatoes, fresh herbs, heirloom tomatoes, simple pleasures, stuffed tomatoes, tarragon, tuna