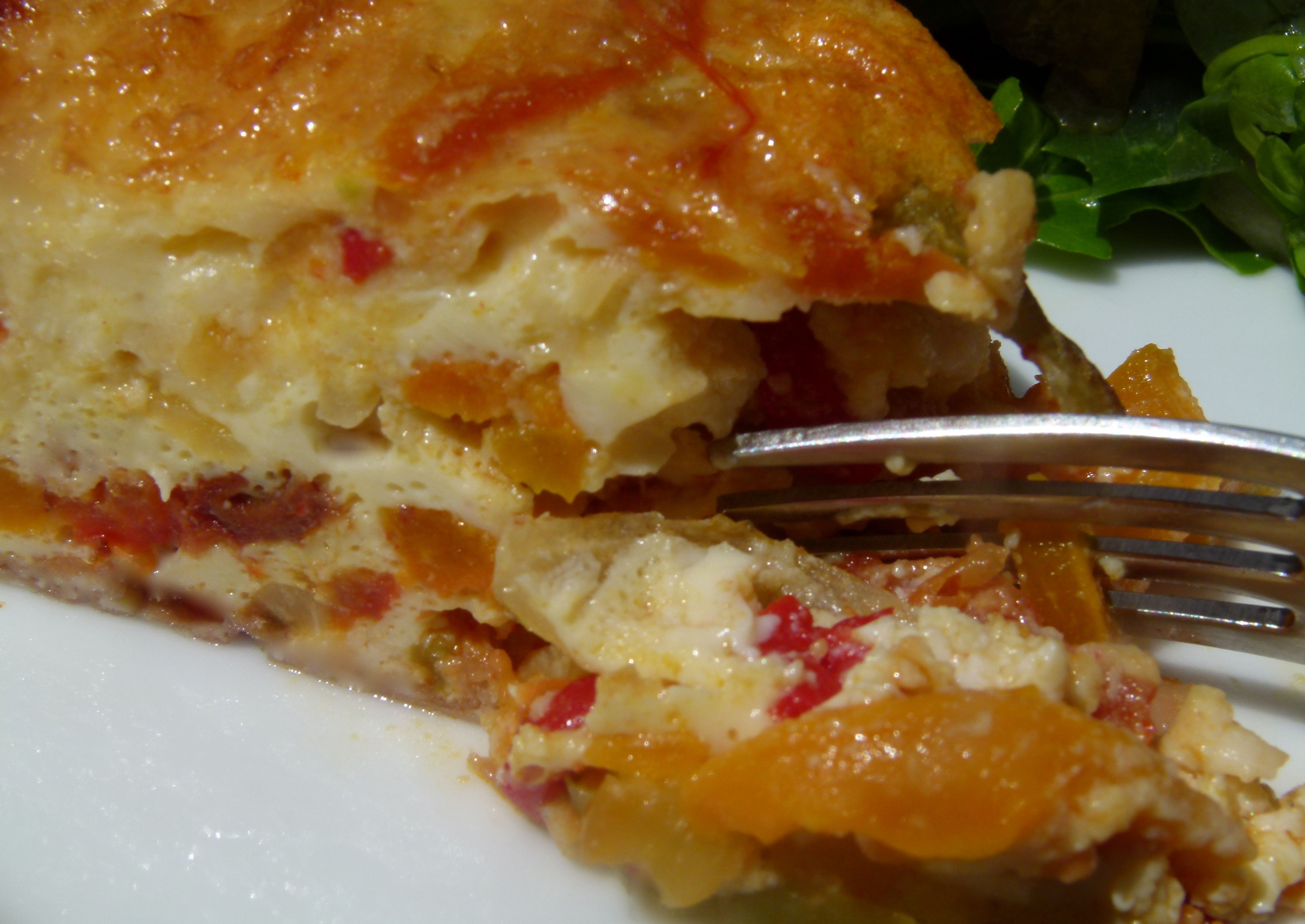 Ladurée, piperade and deferred gratification realized: piperade crustless quiche
Call me farmer Lisa but I have chickens and a garden. My children agreed to the poultry addition to our family on the condition that the chickens would not become "poule-au-pot." When I inquired as to the source of their fear they cited the example that I recently gutted and cleaned fish in front of their friends on a playdate. Point taken. I assured them that my interest in having chickens was solely for the eggs so they acquiesced. Inspired by the beautiful peppers in the market and these chickens, piperade crustless quiche is this week's simple pleasure.
Chickens do not lay eggs until they are about 6 months old and they only lay eggs until the age of 2 when they retire either to a pot ("poule-au-pot") or a poule rest-home where the caretaker is tender-hearted enough not to tenderize the aged female bird in a braise.
I am not known for my patience. For months, I watched these chickens roam the hillside, scratching and wildly flinging dirt, squawking, leaping from urns to patio furniture, and eating practically everything in sight, including my herb and vegetable garden (twice). I do not know if it was hunger or revenge but I caught myself imagining how these pampered, free-range organic birds would taste as I watched them nibble the lavender and olive branches and then to a healthy dessert of strawberries.
Overall, here is a short list of what our chickens ate and did not eat in a few months:
LIKES: Cabbage (all kinds), Italian parsley, thyme (all kinds) , tarragon, dill, chervil, coriander, strawberries (all kinds), tomatoes (particularly cherry), Thai basil, broccoli, lavender, olive branches, Bibb lettuce, red oak lettuce, frisée, spinach (actually every kind of greens minus the spicy ones), and violets.
NOT SO MUCH: Rosemary, oregano, rue, arugula, rhubarb, zucchini, peppers of any kind, Thai basil, eggplant, lemon verbena, and cucumber.
Given their diet I was anxious for the eggs.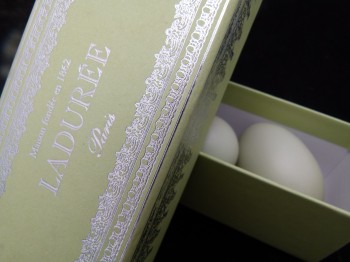 The day finally arrived and we received the oval treasure we had eagerly anticipated with a wonderful "french" surprise: it was a perfect oval egg in the color of Ladurée (the famous French tea and macaron house). I think you can imagine my glee. The saying goes that the 100 folds in the toque of a chef's hat represent the 100 ways to cook an egg (at least that is what I was told in school as we cooked eggs, eggs and more eggs). My mind raced wildly as what to do with this beautiful egg and the others that would follow. While the possibilities are numerous, one thing came instantly to mind: fresh eggs with piperade !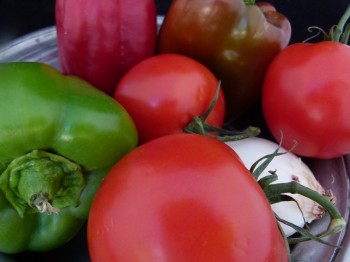 Piperade, a speciality of the Basque region of France, is a melange of sautéed green and red peppers, onions and tomatoes (the colors represent the Basque flag) spiced up with a little piment d'Espelette. Now is the best time to buy peppers after they have grown under the summer sun. Piperade is generally served with eggs, soft scrambled or poached. Often a salt-cured ham either Bayonne ham (from the city of Bayonne in South-West France) or Jamón Serrano ham (the Spanish equivalent) both which are prevalent in Basque.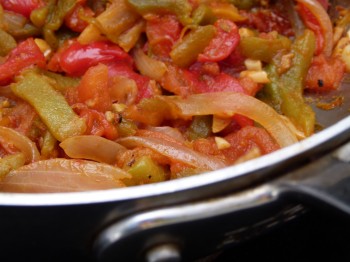 A quick note on the Espelette pepper. Espelette is the only pepper in France given an A.O.C. status. It is one of my all time favorite ingredients to cook with. While the pepper can be purchased fresh, piment d'espelette (the dried pepper ground into a powder) is more commonly use. It is used liberally used in Basque cooking and extremely prevalent in Spanish cooking. It is not very spicy (it registers about 4,000 on the Scoville scale) but it adds a nice kick to sauces, soups, eggs, vegetables, and meats (compare with cayenne pepper which is 30,000-50,000 on the Scoville scale). Piment d'Espelette can be purchased on the internet or specialty stores. If you do not have piment, I would substitute paprika.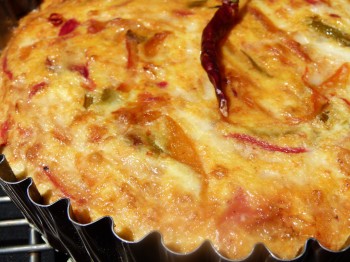 This week's recipe is a quiche without the crust or heavy cream. I add Ossau-Iraty sheep's milk cheese (also from the Basque region) which adds creaminess to the quiche and cuts the spiciness of the piment. I modified the classic piperade by roasting the peppers first as well as adding a dash of sun-dried tomatoes both which compensate for average tomatoes (as it is likely you will not find tomatoes as sweet as those you would find in Basque). It also eliminates the use of sugar to neutralize any acidity in the tomatoes. This quiche is best served warm as a starter or as a meal. It also makes great left-overs.
Je vous souhaite un bon appétit !
LM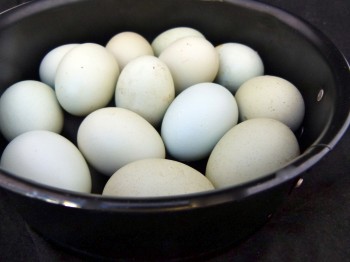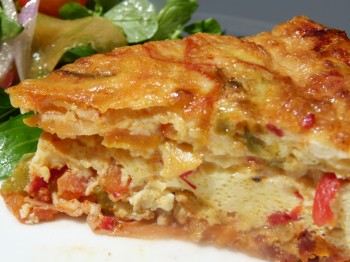 piperade crustless quiche
stats:
makes 1 quiche 8" tart pan (2" deep)
what you need:
1 tablespoon olive oil
1 tablespoon smashed and minced garlic cloves
1/2 teaspoon piment d'espelette
1 small white onion, thinly sliced
2 tomatoes, concassé
1/2 teaspoon kosher salt
3 red peppers, roasted
3 green peppers, roasted
2 1/2 ounces grated Ossau-Iraty Brebis cheese
8 large very fresh eggs, mixed at room temperature
unsalted butter (as needed)
how to:
Roast Peppers

. Cut the stems and tops off of the peppers. Remove seeds and membranes. Place peppers on a grill (or over a range) and roast until the skins are blistered on all sides. (Alternatively, you can blister the skins with a kitchen torch by placing the peppers cut side down on a metal baking sheet and hold the torch 2-3 inches from the peppers, blistering all sides).
Peel.

Place peppers on a plate (or in bowl) and cover with plastic wrap. Set aside for at least 20 minutes so the steam will loosen the blistered skins. Once cool, remove skins and discard. Slice into strips 1/4 of an inch wide.
Concassé Tomatoes.

Where the tomato was attached to the vine, score the tomato skin with an X. Bring a pot of water to a boil. Place the tomatoes in the boiling water for 1-2 minutes. Remove tomatoes and place in an ice bath to cease the cooking. Drain. Once cool, remove the skins from the tomatoes. Cut tomatoes in half and scoop out the center and the seeds (you can use the tomato juice for something else). Cut the tomato into strips 1/4 of an inch in width.
Slice Onion.

Slice onion in strips a maximum of 1/4 of an inch in width.
Sauté.

Place a large sauté pan over medium-high heat. Add olive oil. Once olive oil is hot, add garlic and piment. Toss to coat. When garlic is fragrant, add onions. Cook onions until they are translucent and slightly golden. Add concassé tomatoes. Cook tomatoes until half the moisture has been cooked out (they still look a little wet). Add peppers, salt, and sun-dried tomatoes. Cook until the pepper mixture begins to stick to the bottom of the pan. Remove from heat (this can be done the day before and stored in the refrigerator).
Combine And Assemble.

Butter the inside of a tight spring form pan or a pie/tart pan. Use 1/3 of the pepper mixture and press in the bottom of the pan (if using a tart pan, try to create a seal or some of your eggs will leak out of the pan). Combine eggs, cheese, and the rest of the pepper mixture in a bowl. Pour egg mixtures into the pan over peppers.
Bake.

Place the pan on a baking sheet. Bake quiche in an oven pre-heated to 350 degrees Fahrenheit for about 30-40 minutes. The quiche is "done" when it is puffed up, golden brown in color, and the custard is set but not dried out.
Tags: Basque cooking, bell peppers, chickens, Concassé Tomatoes, french cooking recipes, fresh eggs, Ladurée, Ossau-Iraty Brebis cheese, piment d'espelette, piperade, roast peppers, roasted peppers, simple pleasures