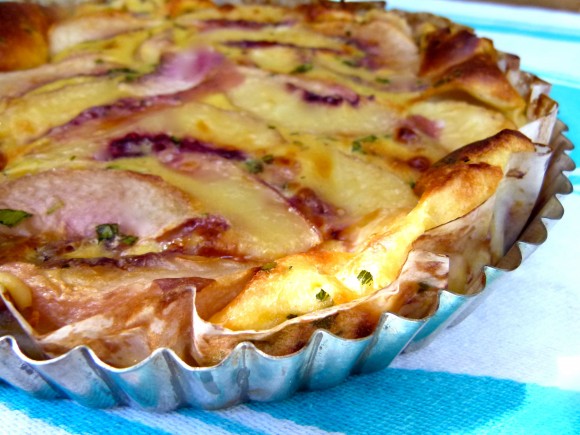 peach and tarragon clafoutis
(clafouti aux pêches et estragon)
Clafouti is a custard fruit dessert made popular in Limousin, France (central southwest area of France). Clafouti aux cerises is made with cherries, which are plentiful in Limousin, and the dessert always signals the beginning of summer and the warm months to come. The pits are left in the cherries imparting an almond flavor to the cherry custard.
Here, we are cherishing the end of summer (but keeping the almond flavor). In this recipe we use end of the summer peaches with a little fresh tarragon and almond extract (which pairs well with the peaches and buttermilk). If you do not have almond extract (or do not care for almonds) use Kirsch (typically used in Clafouti) or vanilla extract instead. Also, you can swap the buttermilk out for whipping cream or fromage blanc if you prefer. However, there is little sugar in this recipe (less than typically used) so make sure to use flavorful, sweet peaches because if you use flavorless ingredients your clafouti will be flavorless as well (and who wants that?)