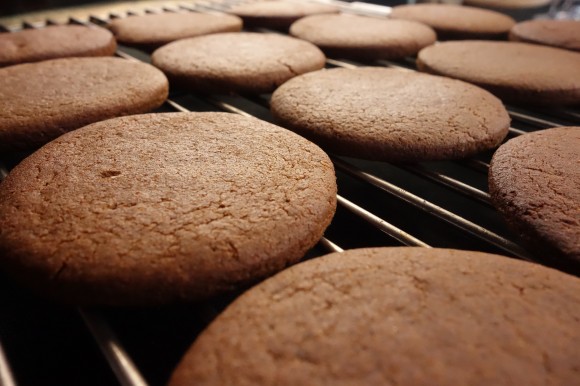 a little holiday spice
gingersnap cookies
Bonjour. It has been a little longer than usual since I have written.  My time has been dominated by publishing deadlines and Paris apartment disasters (although I am learning that the words "disaster" and "Paris" are commonly used together when you live there). 
Thanksgiving left as quickly as it arrived. This year it was at our home in L.A. We ate a late dinner because many guests were coming to Los Angeles from out of town. Throughout the day I was cooking and my friend Celine was in the kitchen with me. When I reached in the baking pantry for something, I saw the molasses and the muscovado sugar. I grabbed them.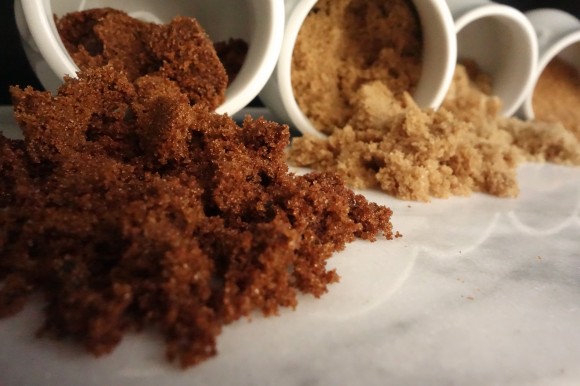 Then I saw some dried ginger. Grabbed that too and ground it up.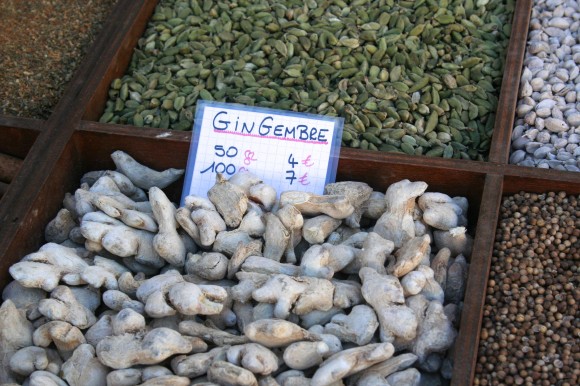 I was already over Turkey and the trimmings before we sat down to eat. In between finishing Thanksgiving side dishes, I baked some gingersnap cookies. The spicy smell filled the air with a festive flair. They were an addictive hand-to-mouth treat. They also went nicely with the Champagne.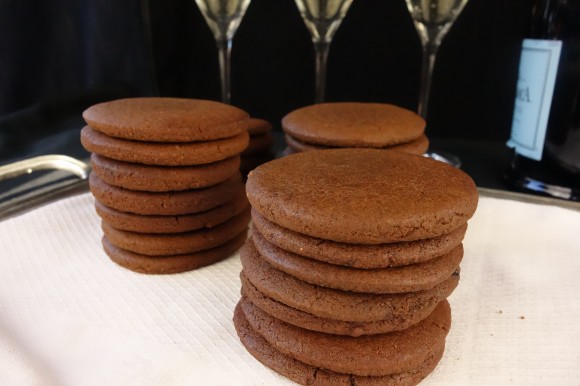 I set the cookies on a plate in the kitchen and every time someone passed by, they grabbed one or two off of the counter. Admittedly I was quite guilty of this too and wished my run was longer.
Later, three generations, ages spanning from 83 to 5, sat at the table to eat. I would like to say that the food was passed in an orderly fashion, but it wasn't. Milk was split. Adult beverages flowed. Several plates and conversations were exchanged at the same time. Perhaps this sounds familiar ?
As the littlest ones began to get full and wander off looking for something sweet, my eight year old niece declared at the table: "I really like twerk – ey." To the majority of the table, it sounded like she said, "I really like twerking." 
By now, I think most everyone is aware of a certain former Hannah Montana exhibiting her controversial techniques at the VMAs. The exact display of her talents is not really the point. However, quicker than the gravy was gone, a Seinfeld episode unfolded at the table. Rapidly fired remarks and laughter were shot back and forth which went something like this:
 "Twerking?"
"Did you say twerking?"
"What's twerking? my father asked.
"Turkey." reiterated my niece.
"No, twerking."
"It's a word now." Chimed in a little one.
"What is a word now?" my mother asked.
"Twerking."
"What are you guys talking about?"
"You don't know?"
"About turkey..?" said my niece.
"No, twerking."
"I'll show you,"announces a child (I think one of mine).
"Excuse me?" I interject. "You sit down…"
"Mom...I'm not going to do it … I'll show them the video."
"What? What video…"
"I still do not know what you are talking about," says my father.
"It's a dance," says someone.
"It's NOT a dance."
"What's twerrrrrrk-ing?"
Armed with iPads, the tweens educate the elders with the mixed blessings of YouTube. There I sit in stunned silence, grabbing the linen napkin in my hand as I nervously witness my parents (and other adults, but I was focused on my traditional parents) watching Ms. Cyrus display her skills.  I looked for a defibrillator. I passed the wine. The silence was broken by my mother:
"Oh my goodness … Where was this?"
"The VMAs."
"How do you kids know about this?"
"Everybody has seen this video Grandpa."
There you have it. That is how the simple proclamation of my niece's adoration of the nation's beloved Thanksgiving bird  turned into verbal chaos at the dinner table.
The holidays are not the holidays without a touch of spice, particularly when it comes to food. Gingerbread houses, pain d'épice, spiced wine cider, spiked eggnog. 
If you are looking for a little spice this season, these cookies have it. I made them with a molasses that has a particular sharpness to it (if you want something less spicy, try Grandma's Molasses). These cookies also have  three types of sugar, including rich muscovado sugar. 
Were the snappy cookies responsible for the spicy dinner conversation at my house?  Any causal connection is speculative at best. Why did I tell you such a ridiculous, unimportant holiday story? I did so because it is the holidays. With our endless holiday "to do" lists and the traffic , we can all use a bit of ridiculous levity and a good spicy cookie.
à table (come to the table)
LM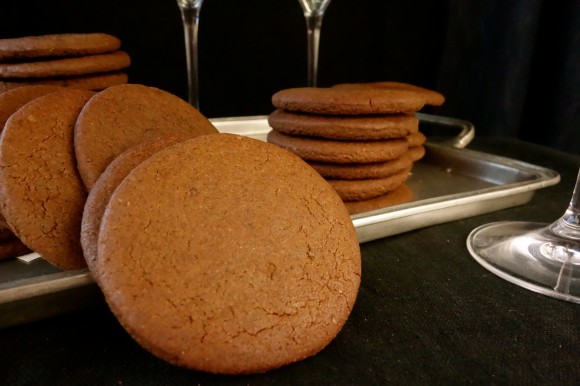 gingersnap cookies
makes 3 dozen
you need:
2½ cups all-purpose flour (I use King Arthur)
1 teaspoon kosher salt
1¾ teaspoon ground ginger
2 teaspoons ground cinnamon
¼ teaspoon ground allspice
½ teaspoon freshly ground nutmeg
½ teaspoon baking soda
pinch ground cloves
pinch freshly ground black pepper
8 tablespoons unsalted butter, room temperature
¼ cup packed muscovado sugar
½ cup packed dark brown sugar
¼ cup granulated sugar
½ cup unsulphured Molasses (I use Wholesome Sweeteners)
2 tablespoons buttermilk, shaken
how to:
Dry Ingredients

. Combine dry ingredients in a bowl. Set aside.
Wet Ingredients

. In the bowl of a stand-alone mixer fit with the paddle attachment, mix together the butter, molasses, buttermilk, and the three sugars. Combine. Add dry ingredients. Combine well (the dough should be gathering around the paddle). 
Oven

. Preheat oven to 375 degrees Fahrenheit.
Roll Out Dough.

Place the dough in between two sheets of parchment paper on a flat surface (it is advisable to roll out half of the dough at a time because it is easier to work that way). Using a rolling pin, roll out the dough until the dough is ¼" thick. Pull the top parchment paper away from the dough. Place the parchment paper back on top of the dough. Flip the dough and the paper over (the parchment paper you separated temporarily from the dough should be on the bottom). Pull away the top piece of parchment paper and discard. The dough should be cool but not too soft. If it is feeling too soft, chill it for a bit in the refrigerator. Use a 2 inch round biscuit or cookie cutter to cut out the cookies. Repeat this process until you use all of the dough.
Pan

. Place cookies on a baking sheet line with silplat or parchment paper (I find the cookies maintain their shape better if you pull the paper from the cookies rather than use a spatula. 
Chill.

Chill cookies in the refrigerator for at least 15 minutes before baking.
Bake.

Bake in the oven at 375 degrees Fahrenheit for 8-9 minutes. 
bon appétit !
Tags: cookies, ginger, gingersnaps, holidays, muscovado sugar