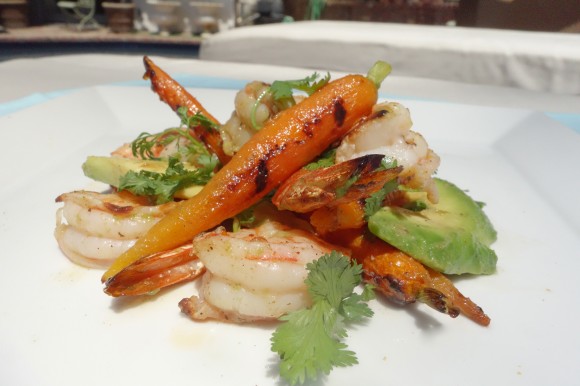 shrimp on the bar-b and a little al fresco dining
grilled baby carrots and shrimp with cilantro, avocado and lime
I could say that I fired up the grill this weekend because of the Los Angeles sun. However, that is only partially true. It was also the Target run. Yes, Target. You see, I set out to buy school necessities for my children and then could not resist two hurricane lamps perfect for the patio table. This led to the desire to grill which led to an easy al fresco dinner with items in my refrigerator which resulted in this week's simple pleasure: grilled baby carrots and shrimp with cilantro, avocado and lime.
It was an impromtu outdoor dinner fueled by my desire to eat with my family around these new hurricane lamps I found at Target. It sounds frivolous perhaps, but the weather was gorgeous, we were outside all day, and dining outside seemed the perfect way to end the weekend. Dinner outside necessarily requires grilling (cooking indoors just seems inconsistent with the idea of enjoying the weather).
I have been cooking so much lately that the last thing I wanted to do this Sunday was to spend anymore than 30 minutes preparing dinner in my "off" time. I assessed the things in the refrigerator and did a checklist in my head of things my family likes. Carrots. A lone avocado. Shrimp. Ten minutes prep time. Five minutes grill time. An extra fifteen minutes to chill a rosé. The plan worked brilliantly (and deliciously), so I share it with you.
If you have fifteen minutes this week's simple pleasure can be yours. It requires only three steps: (1) season and grill the carrots and shrimp; (2) make the dressing; (3) toss shrimp and carrots in dressing. This easy refrigerator meal is balanced in texture and flavor: a little sweet from the baby carrots, healthy fats and protein from the solid shrimp and creamy avocados, and a little tang from the fresh lime juice, cumin and cilantro. This is a meal in itself (or serve you can serve it with rice as my children like).
Dining outside in the beautiful, summerlike weather. Hurricane lamps aglow. Dinner simple, easy and delicious. Family Sunday. Beautiful Sunday. Every day should be Sunday.
mangez bien, vivez bien, et bon appétit !
LM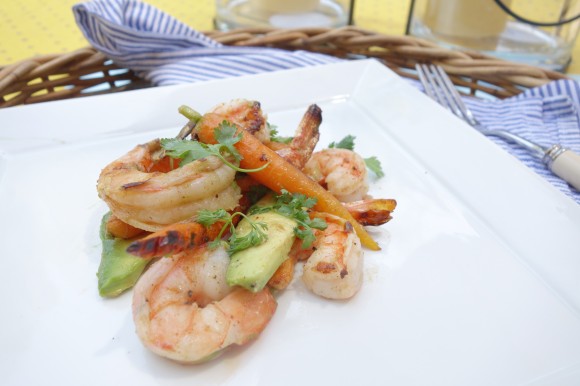 grilled baby carrots and shrimp with cilantro, avocado and lime
serves 4-6
what you need:
16-18 large shrimp, heads removed, cleaned and deveined, tails on
18 small spring carrots, cleaned and trimmed
1 ripe avocado, sliced
fresh cilantro (as needed)
pinch ground cumin
pinch ground coriander
kosher salt (as needed)
freshly ground pepper (as needed)
olive oil (as needed)
dressing
2 tablespoons fresh lime juice
4-5 tablespoons olive oil
½ teaspoon ground cumin
1 teaspoon lime zest
1 teaspoon sel de Guérande (or sea salt)*
pinch piment d'espelette (optional)
* If using kosher salt, use ¼ -½ teaspoon because it is far less dense than sea salt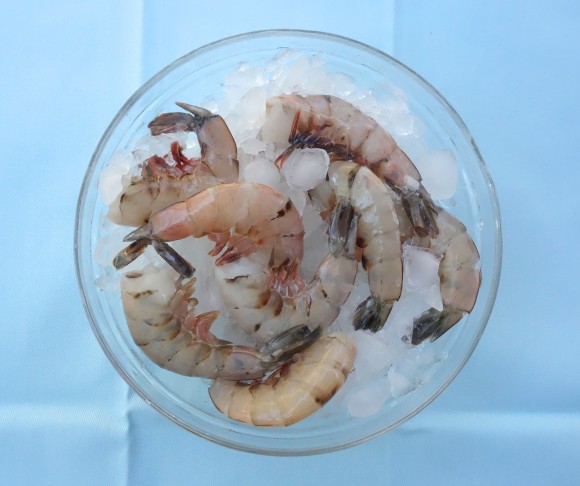 how to:
Clean Shrimp & Carrots.

Trim and scrub the carrots (do not peel). Remove legs, shell, and vein from shrimp. Place carrots and shrimp in a bowl. Season with salt and pepper and pinches of cumin and ground coriander. Add 1-2 tablespoons olive oil. Toss to combine. Set aside.
Make Dressing

. Combine lime zest, lime juice, cumin, olive oil and sea salt in a bowl. Whisk well until you achieve a creamy emulsion. Set aside.
Grill. Preheat grill (or an oven to 375 degrees). Place carrots and shrimp on the grill (or in a ovenproof pan in the oven). Grill for about 5 minutes until shrimp are pink and carrots are soft and golden brown. Use tongs to flip the food to ensure even cooking. The shrimp mayl cook faster than the carrots depending upon the size of the carrots. Remove from heat. Place the carrots and shrimp in a bowl as done and cover with aluminum foil to keep warm.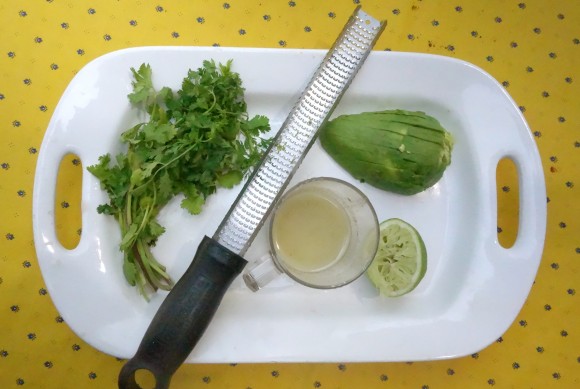 Dress.

Add dressing to warm carrots and shrimp. Toss to coat. Gently incorporate the avocados in the dressing (do this with your hands so you do not mash the avocados). Add cilantro leaves. Garnish with a pinch of piment d'espelette. Serve warm
bon appétit !
Tags: avocado, carrots, easy meals, grilling, shrimp