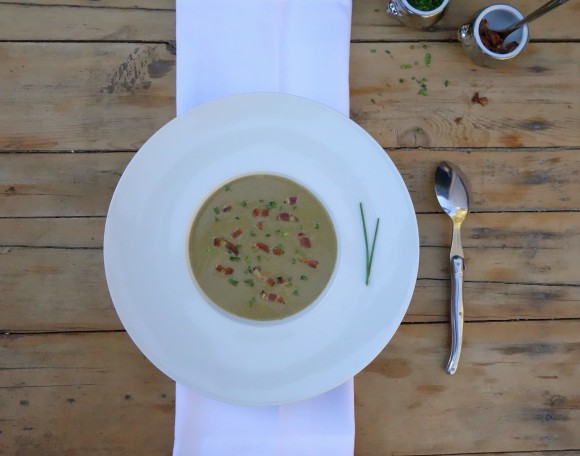 Terrior Parisien® and a little Alléno in your bowl:
lentil and Brie soup with bacon and chives
The favorable buzz was more than I could bear. It proved to be well-deserved. This week we are visiting Yannick Alléno's bistro Terroir Parisien® and our weekly simple pleasure is an adaption of his cream of lentil and Brie soup with bacon and chives.
Due to the remodeling projects in my apartment, I had been eating out more than usual. Sigh. I always keep a short list of new restaurants I want to try. One on my list was Yannick Alléno's Terroir Parisien® in the Latin Quarter of the 5th arrondissement.
Multi-starred chef Yannick Alléno is the Brad Pitt of French chefs. He has earned this reputation due to his talent as well as his "dapper", "movie star appearance." Everything Alléno does — from his publications and tableware to his work at Le Meurice and 1947 — are so carefully and beautifully done it makes one weep with admiration. No doubt, I am a fan of his work. So when he took his concept of the Terrior Parisien® menu — a farm-to-table concept celebrating the agriculture in Ile de France (the department surrounding Paris) — and devoted an entire bistro to it, I had to try it (Alléno announced his departure from Le Meurice to pursue Terrior Parisien® and 2 star 1947 in the Cheval Blanc hotel in Courcheval (in the French Alps)).
Alléno reportedly spent years researching local farms for his products and he was said to visit the farms himself. White asparagus from Arguenteuil. Lamb from Aufferville. Purple cabbage from Pontaise. Watercress from Méréville. Mushrooms from St. Ouen l'Aumône. Houdan hens. The dedication to product detail paid off.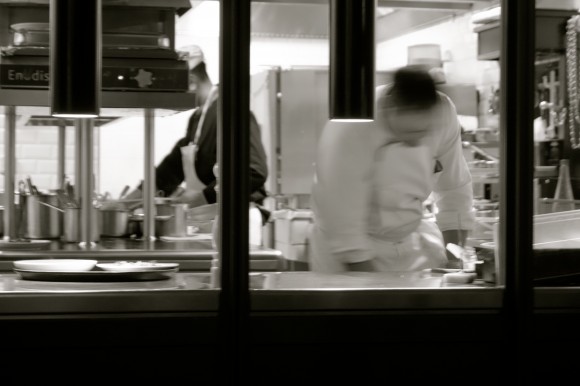 Terroir Parisien® is a sleek, modern bistro with tables as well as a center rectangular bar which opens to the open kitchen. The atmosphere is casual and relaxed. The waitstaff is as easy going and as generous as the food.
Alléno's authentic menu is varied and executed with approachable finesse and innovation. The menu is classic old-style French recipes such as Blood Pudding, leeks in vinaigrette and red wine, chicken liver terrine, pommes allumettes (the matchstick French fries which I am personally addicted to), frisée salad with a soft-boiled egg, roasted duckling with apple, skirt steak with draphin potatoes.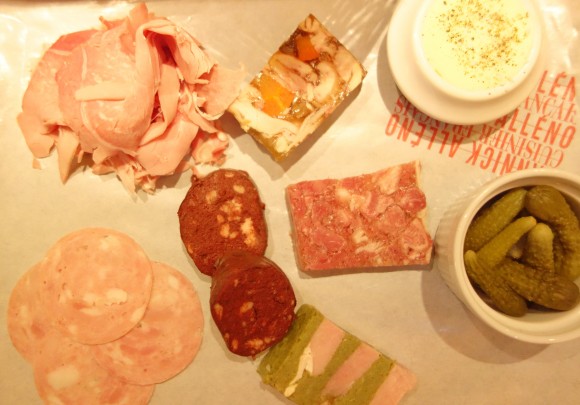 I started with the charcuteries and pâtés board which comes with a selection of five meats, fromage de tête (head cheese), persillé au jambon (terrine of ham and parsley), boudin noir (blood sausage), terrine de pot au feu (think of your pot au feu ingredients in a terrine shape), saucisson a l'ail (garlic sausage), and jambon blanc de Paris (white ham from Paris). It was delicious. I was particularly fond of the terrines.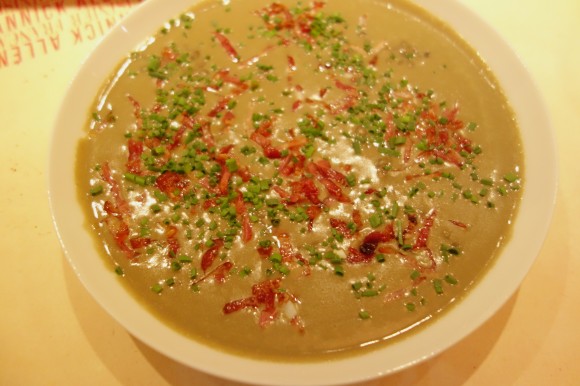 For the entrée (first course) and the plat (main course), my selections were driven by two food items which Ile de France is known for: champignon de Paris (white mushrooms of Paris which ironically are out-sourced usually from Holland); and the Brie de Meaux.
I started with the cream of lentil and Brie soup topped with bacon and chives (crème de lentilles de la Brie aux petits lardons). Thick, smooth, indulgent, and full of flavor. I had to use my greatest sense of self-control not to lick the bowl clean. I am not joking.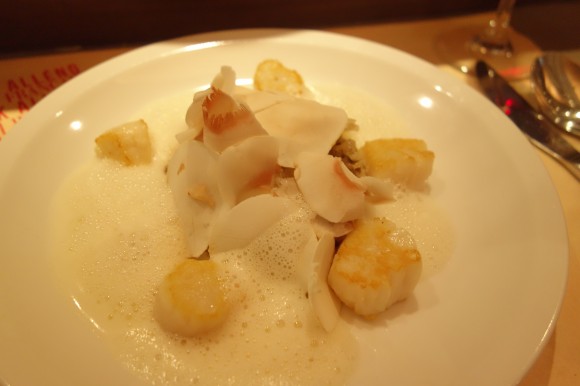 While I could have stopped there (and probably should have) I did not. I ordered the oven-roasted scallops and mushrrom risotto with a celeriac purée. I have to tell you this was the best mushroom risotto I have ever had and while I have refused to make mushroom risotto for some time for reasons of pure palate fatigue, this renewed my interest. I love that they topped the risotto with deli-thin slices of these airy, white mushrooms which felt like delicate, earthy clouds on my tongue, balancing the creamy smooth risotto. Heaven!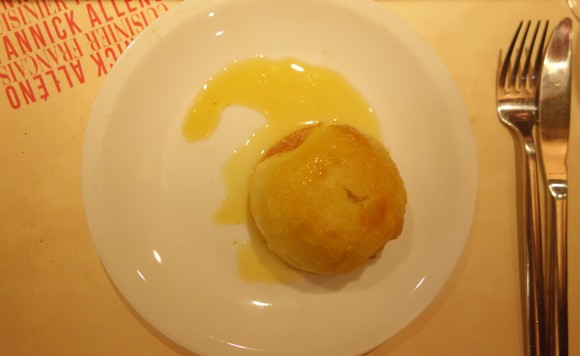 I wanted to bring a little of Terrior Parisien® to your home with my adaptation of Alléno's lentil soup. While the French often incorporate cheese into their puréed soups, Brie is rarely used. Truthfully, I thought of altering the Brie to another cheese or my preference, Greek yogurt, but it seemed disloyal to Alléno's concept of using the Ile de France products (not to mention yogurt, goat cheese and crème fraîche do not have the same warm overtones as Brie). Brie is widely available in markets so you will not have to go on a wild goose chase for ingredients. If you want to achieve the shiny smoothness you see in the restaurant, you need to strain the soup through a sieve to eliminate the lentil skins. It takes work to do this; however, even if you skip this step, the soup will still be delicious just with more texture and a little darker.
I hope you will come to Paris and if you do, you can find Terrior Parisien® at 20 rue Saint Victor in the 5th arrondissement. From a US line: 011 -33-1-44-31-54-54. In the meantime, here is a little Alléno's Terrior Parisen® in your bowl.
You can find my adapted recipe below.
bon appétit
LM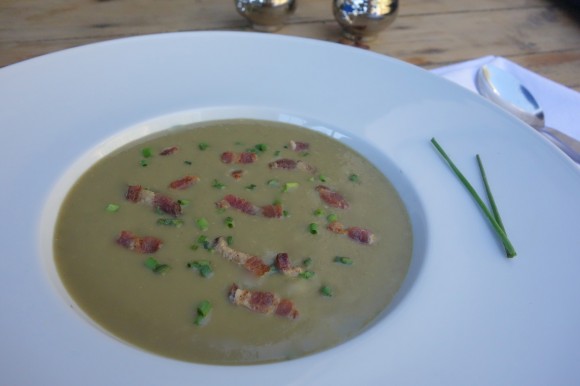 cream of lentil and Brie soup with bacon and chives
serves 4
what you need:
1 tablespoon unsalted butter
⅓ cup chopped leek
1 carrot, diced
⅓ cup chopped celeriac (or celery stalk)
1 cup green lentils
¼ cup white wine
1 bouquet garni (1 bay leaf, fresh Italian parsley, fresh thyme)
3 cups chicken stock
2-3 cups water (and as needed)
kosher salt (as needed, largely depending upon how salty your stock is)
black ground pepper (as needed)
2 ounces Brie cheese
5 bacon slices, cut into matchsticks
4 tablespoons minced chives
how to:
Bacon

. Cut bacon slices vertically so they resemble matchsticks. Cook in a pan until crisp. Remove from pan and sit on a papertowel to absorb excess grease. Reserve.
Sweat

. Place a large saucepan or stockpot over a medium-high heat. Add butter. Once butter is melted, add leeks, celeriac, and carrots. Cook until tender. Add lentils. Use a wooden spoon and combine lentils with vegetables.
Add Wine.

Add and reduce demi sec (meaning that almost all of the wine has been cooked out of the pan).
Add Liquid & Simmer.

Add bouquet garni and chicken stock to the stockpot. Add water, cup by cup. Simmer until lentils are tender.
Purée.

Remove the bouquet garni and discard it. Use an immersion blender or a food processor to purée the soup (in batches if using blender) until very smooth. If you are not straining the soup, you may need purée the soup again with the cheese.
Add Brie.

Stir Brie into hot, strained soup and stir until melted.
Strain

. Pour the soup through a sieve and use a wooden spoon to push the lentils through. Discard any remaining Brie rind pieces and those few lentil skins stuck in the sieve.
Adjust Consistency

. The consistency of the soup should be that of cold heavy cream. If too thick (now or later if you have stored the soup in the refrigerator), add more stock if the flavor needs a boost. If the flavor profile is good but the soup is thick, add more water.
Adjust Seasoning.

Salt and pepper to taste.
Garnish

. Garnish soup with bacon and chives. Serve immediately while warm.
bon appétit !
Tags: lentil and Brie soup, terrior parisien, yannick alleno