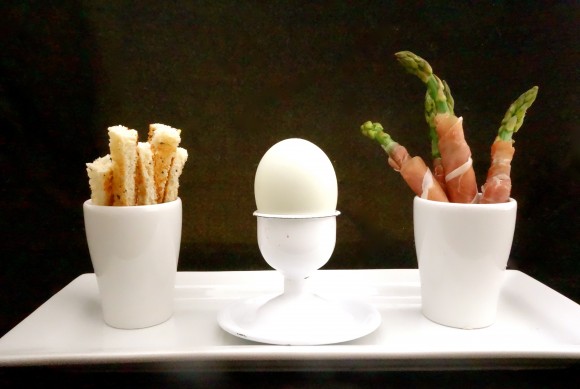 birds, you, and my friend nicknamed Goo
les œufs à la coque (à ma façon)
soft-boiled eggs with toast spears and prosciutto-wrapped asparagus
My friend Celine has a love-hate relationship with birds: they love her; she dislikes them. If there is a bird to be found, Celine will quickly walk the other way. When in Paris, I often photograph the Parisian pigeons (which are everywhere) and email the photos to her with a caption that the pigeons miss her and want her to come home. The joke never seems to get old (at least on my end, but Celine takes it well). Recently, Celine passed through LA and it was her visit which inspired this simple pleasure: les œufs à la coque (with my own twist).
Celine is hands down one of my favorite people and I always look forward to seeing her. When she arrived I directed her toward the room where she would be staying. Celine went into the room and dropped her bag. When she resurfaced, she hesitated and then asked me if the finches in her room were a joke (probably thinking that I had taken my ridiculous pigeon postcard prank up a notch). However, the truth is that my youngest daughter put the finch cage in that room so she could listen to them sing and I had forgotten to take the cage out of the room before Celine arrived. I assured my friend that the cage of birds in her room was a complete accident and I removed the cage. Celine was understanding about the inadvertent welcome package and we both laughed about it.
The next morning we decided to have breakfast outside in the backyard to enjoy the California sun. As we head outside Celine asks me, "Um … Lisa, will the chickens bother us?" I responded that they are a little noisy but they would be nowhere near us. She was not convinced. "Lisa, two of the chickens are out of their cage …"
It was true. Two chickens had dug under the fencing in the chicken run and now were clucking and running amuck in the backyard. Poor Celine. As good-natured as she was about all of this I am sure she was thinking that I was out to get her: first with the finch welcome in her bedroom, and now suggesting breakfast amongst free-roaming chickens.
I hiked up the hill to retrieve the two escapees who were enjoying their freedom as well as my herbs and lavender. Each time I would approach them, they flew away. The direct approach was not working so I appealed to the chickens on a more basic chicken level: I fed the other four chickens inside the coup. It did not take long for the domesticated and spoiled two escapees to realize that life is easier and more delicious inside the coup than outside of it. Soon they were circling the sides of the coup trying to get in. I left two doors open for the escapees to access the coup with "Hansel and Gretel" trails of chicken feed and various treats to lure them back home. The process, however, took quite some time (chickens are not very smart).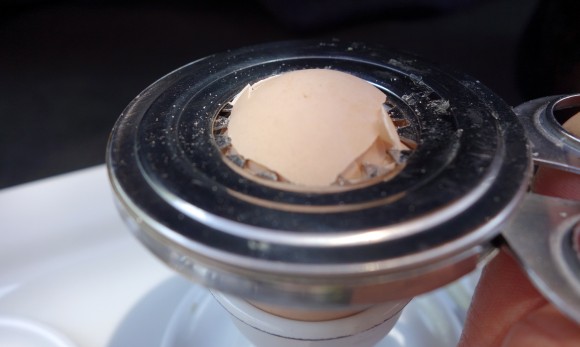 While the great chicken caper was unfolding, Celine made me breakfast. I told you she was one of my favorite people. She had gone to the store for bread, made us coffee and used the fresh chicken eggs to make one of my favorite breakfast things: les oeufs à la coque.
Les oeufs à la coque are soft-boiled eggs served in their shell. The top of the egg (called the "hat") is cut off, and toasted bread is dipped into the creamy, warm soft yolk and a small spoon is used to eat the remaining egg white which is "just cooked." It is delicious and fun all at the same time. In France, it is the way the adults get their children to eat eggs for breakfast. If you have friends who grew up in France I am sure they have childhood memories of this.
Les oeufs à la coque are very simple to make. Boil the eggs for 4 minutes (not 3 minutes) in salted water, cut off the tops, and serve with toasted bread. For this week's recipe I added more protein and something green (and in season) to this classic: asparagus wrapped in slices of prosciutto.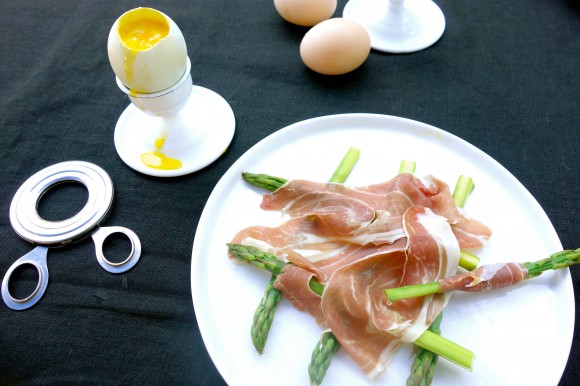 While we enjoyed our les oeufs à la coque, gras de Celine, we watched the escapees from afar and saw that they finally ate the food trail and figured out how to get back in the coup. I closed the doors as the other four welcomed the prodigal chickens home. Celine breathed a sigh of relief. I wiped my plate clean.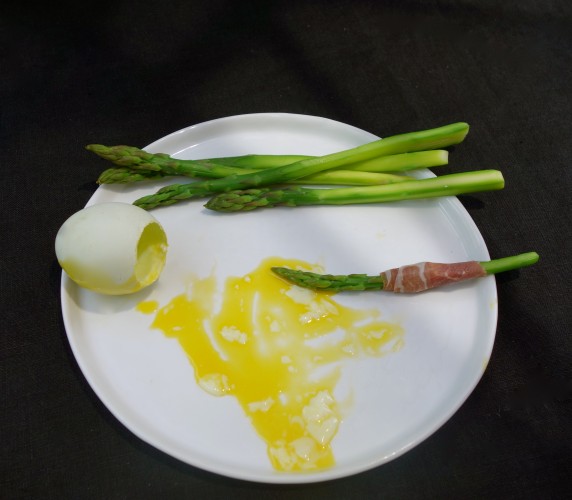 When Celine left, I packed up some fresh eggs for her to take home and I made a mental note to make les oeufs à la coque for my children and to share this classic with all of you as well.
mangez bien, vivez bien, et bon appétit !
LM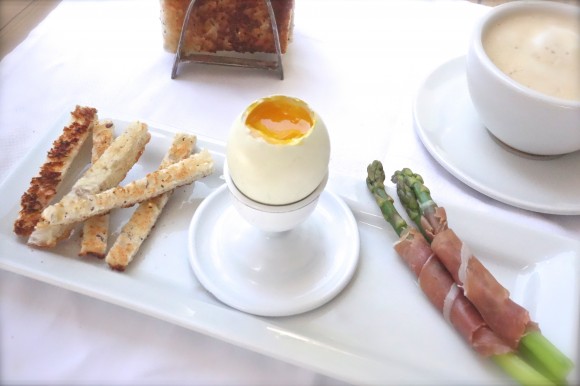 les œufs à la coque (à ma façon)
soft-boiled eggs with toast spears and prosciutto-wrapped asparagus
serves 4
you need:
4 fresh eggs from healthy chickens
4 slices of bread
12 asparagus, trimmed and peeled
12 slices of prosciutto
how to:
Boil.

Place a saucepan filled with water and a few pinches of salt over a medium flame. When the water reaches a boil, add the asparagus and boil for one minute. Remove asparagus from the boiling water with tongs and set aside. Add eggs to the boiling water. Boil the eggs for four minutes. Remove.
Toast and Wrap.

While the eggs are cooking, you can toast the bread slices and then cut them into sticks. Wrap each cooked asparagus spear with ½ to 1 full slice of prosciutto.
Serve

. Cut the tops off of the eggs. Serve eggs warm with the toast spears and asparagus.
bon appétit !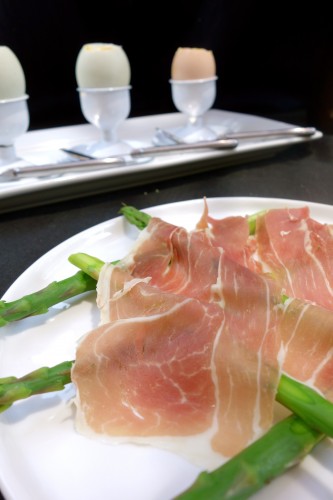 Tags: asparagus, les œufs à la coque, prosciutto