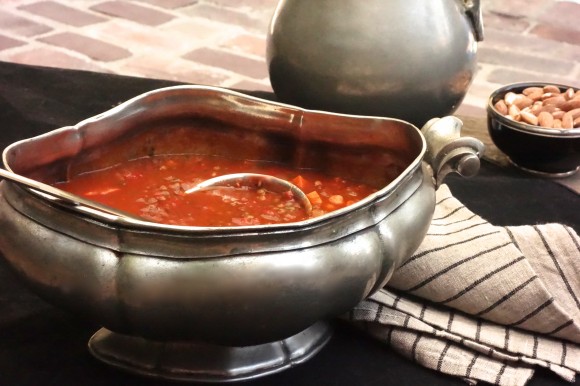 Harira
(hearty beef and lentil soup)
This soup is a tradition in the Maghreb (North Africa). It was Ramadan when we were in Marrakech, a time when this soup is eaten not only to break the fast after the sun has set but also eaten in the morning before the sun rises. My daughters love lentils and this soup was their favorite. The soup is often thickened with flour or eggs as well as rice or vermicelli. I add none of these. Instead, the soup is thickened with the aide of crushed tomatoes (rather than puréed or strained), more beef, and more lentils. I also add fresh herbs (but we all know how I like my fresh herbs). This is a hearty, perfect soup for autumn and winter. It is wonderful because you can also freeze it for those rainy days when you are short on time.
---
serves 8-10
ingredients
1 pound trimmed chuck roast

kosher salt, as needed

freshly ground black pepper, as needed

2 tablespoons olive oil

1/4 teaspoon ground ginger

1/2 teaspoon ground cinnamon

1/2 teaspoon ground coriander seeds

1/2 teaspoon ground harissa

1/4 teaspoon ground black pepper

1 piece ox tail

oil olive, as needed

2 garlic cloves, minced

1 carrot, diced

1 yellow onion, diced

1 celery stalk, diced

1 can crushed tomatoes (~26 ounces)

5-6 cups bottled water

1/2 cup Le Puy lentils

1/3 cup canned chickpeas (garbanzo beans)

bouquet garni of fresh Italian parsley

1/8 cup minced fresh cilantro

1/8 cup minced fresh Italian parsley

1/2 teaspoon sel de Guérande (or sea salt), and as needed

freshly ground black pepper, as needed
Season Meat. Season meat with kosher salt and freshly ground pepper. Wrap in plastic wrap and place in the refrigerator overnight.
Brown Meat. Remove meat from the refrigerator and dice into 1″ cubes. Cut all vegetables as indicated. Place a cocotte or stockpot over a medium high heat. Once pan is hot, add olive oil. Add spices to olive oil and combine. Add ox tail and meat cubes to pan. Brown on all sides, do not crowd the pan (brown in batches if necessary). Remove meat from the pan with tongs or a slotted spoon and set aside.
Brown Vegetables. Return the pan to the stove. Add more olive oil to pan if necessary (only a couple of teaspoons). Add garlic to pan. Once fragrant, add onions. Once onions are translucent, add celery and carrots. Cook until tender. Add tomatoes and scrape all the meat fond from the bottom of the pan. Return all meat to the pot.
Simmer. Add water, bouquet garni of parsley, chickpeas, and lentils. Bring to a boil. Reduce to a simmer. Simmer for about 2 hours until thick (if you do not want to watch something on the stove for 2 hours, use a crockpot on the "low" setting). Taste and adjust seasoning throughout cooking.Remove bouquet garni and ox tail and discard.
Finish. Adjust consistency of soup. If it is too thick, add more water. Adjust seasoning to taste. Add fresh herbs. Serve in a warm bowl.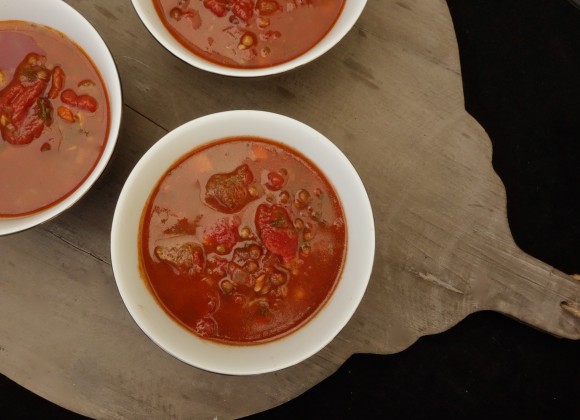 Tags: autumn soup, beef, Harira, hearty, lentils, Marrakech, Morocco, soup, winter soup