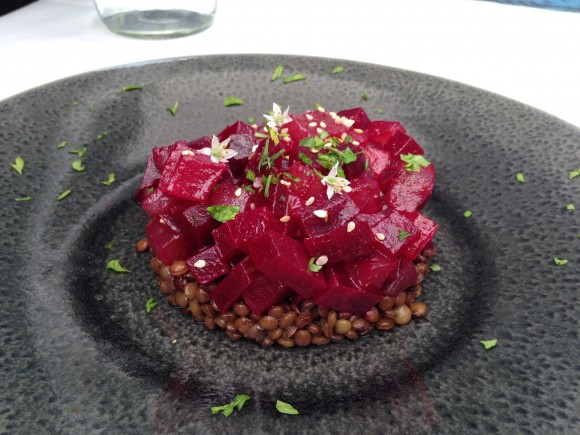 obsessions can be wonderful 
"I don't just like food…I love it"
– Ratatouille 
Sometimes I become obsessed with certain combinations and particular ingredients. When the inspiration comes, I go with it. Sometimes the things you create become favorites that last long beyond the obsession. I think this week's recipe, tuna and roasted beet tartare with lentils, is one of those recipes.
Lately, I have been obsessed with combining healthy grains and legumes with seafood. The combinations are perfect for the hot weather (which, in Los Angeles is certain to last until Halloween). I am also having this mad obsession with yuzu juice. I love this product so much, yes I could marry it as my youngest challenged me. I could commit to yuzu juice. I suspect that this week's post will not be the only one in this vein – seafood, legumes and yuzu – I can almost promise it will not be.
Yuzu juice is from the yuzu fruit, a type of orange used in Japanese and Asian cooking. It looks like a small wrinkled grapefruit or orange. To me, it tastes like an orange and a lemon combined; a little tart, but not too much. It is fresh and boosts the flavor of everything you add it to. If you have had ponzu sauce or eaten in a Japanese restaurant, you have likely tasted yuzu juice. It is rare to find the actual fruit in the States; however, yuzu juice can readily be found in many grocery stores, specialty stores, Japanese grocery stores, and on the internet.
The recipe this week is a keeper. I love the sweet and firm texture of the tuna and beets together, a combination that many chefs have used in various ways including Michel Richard (Central) and Alain Passard (L'Arpége). 
This week we combine tuna and beets with a little yuzu juice and add lentils (another one of my favorites). 
Lentils are routinely used in France and their popularity is gaining here in the States. Lentils are easy to cook and as far as nutrition, they are a good source of protein (27%), iron, and dietary fiber. They fill you up (as they are primarily a carbohydrate) but in a healthy way. While you generally see salmon paired with lentils, I think tuna is an even better pairing. I personally love the meaty, earthy feel and texture of Le Puy or Umbrian lentils and prefer to use them in my cooking. 
bon appétit !
LM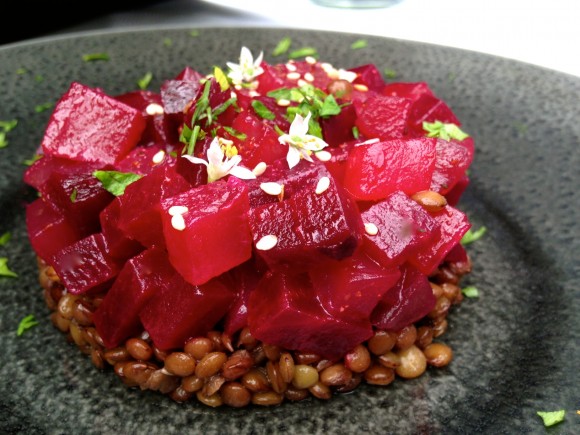 tuna and roasted beet tartare with lentils
If you are in a time pinch, many stores carry pre-roasted beets as well as cooked lentils. However, for the best flavor it is preferable to select your own beets and cook the lentils yourself (this stock is specifically made with minimal garlic and no tomatoes for a subtle flavor). Yuzu is a citrus used in Japanese cuisine. It tastes like a tart orange. I find its fresh zing unparalleled. You are unlikely to find the small, bumpy-skinned citrus in the U.S.; however, you can find the the bottled juice readily online, in speciality store, or Japanese grocery store. 
serves 4
tartare 
2 medium red beets
8 ounces Yellowfin tuna, sushi grade
2 teaspoons quality olive oil
1 teaspoon yuzu juice
pinch kosher salt
1/8 teaspoon piment d'espelette 
golden sesame seeds, as needed
finely minced fresh Italian parsley, as needed
lentils
1 cup Umbrian (or Le Puy) lentils
3 cups vegetable stock (see below)
1 tablespoon minced fresh Italian parsley
1 tablespoon minced fresh chives
2 tablespoons quality olive oil
1/2 teaspoon kosher salt
1 teaspoon yuzu juice
vegetable stock
4 cups bottled water
1 carrot, chopped
1/2 yellow onion, chopped
1/2 celery stalk, chopped
1 garlic clove, peeled and smashed
1 teaspoon kosher salt
10 black peppercorns
handful of fresh Italian parsley
Roast beets.

Preheat the oven to 400 degrees Fahrenheit (200 degrees Celsius). Trim beets and wrap bulbs in aluminum foil. Place on a parchment-lined baking sheet. Roast in the oven until tender a fork can easily be inserted (about 30-40 minutes). Remove the beets from the oven. Let cool. When beets are cool enough to handle, peel the skins from the beets. Discard skins and foil. Fully cool beets. Once cool, dice into small cubes (about the size of a pea). This can be done ahead of time and stored in the refrigerator.
Make stock

. Place all ingredients in a pot over a medium heat and simmer for about 30 minutes. Strain. Discard the vegetables. Reserve the stock (you should yield about 3 cups). This stock can be stored or frozen, but best when used the same day it is made.
Cook lentils

. Place stock in a pot over a medium flame. Bring to boil. Add lentils. Reduce heat. Simmer for about 30 minutes until tender but al dente (still holding their shape). Remove from stove. If there is any stock remaining, strain the lentils and discard the liquid. Fully cool lentils. Once cool, add the olive oil, yuzu juice, and fresh herbs. Adjust seasoning to taste. The lentils can be make in advance and stored in the refrigerator.
Prepare tuna

. Place beet cubes in a bowl. Add yuzu juice. Toss beets gently in yuzu juice. Using a very sharp knife, dice the tuna into cubes the same size as the beets. Add tuna, olive oil, piment, and salt to the beets. Adjust seasoning to taste. 
Assemble

. Divide lentils between the four plates (about 1/3 cup per serving). For a more uniform presentation, you can use a biscuit cutter or circle (or square) form to shape the lentils. Press down on the lentils in the form to hold their shape better. Spoon tartare on top of lentils, dividing the tartare evenly amongst the four plates. Garnish each with a sprinkle of parsley, sesame seeds, and a pinch of piment. 
Tags: beets, Chef Morgan, tuna, tuna tartare healthy recipes lentils, yuzu juice.parisparttime