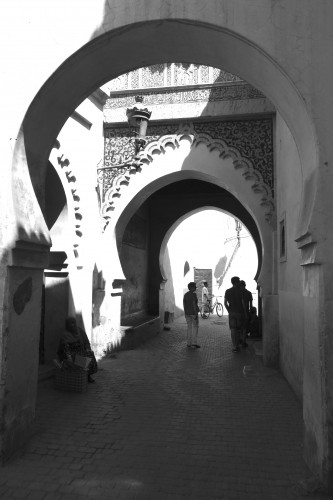 venez avec moi à Marrakech
recipe: Harira soup
When it comes to summer vacation I try to blend new adventures with familiar ones. This summer the new adventure was Marrakech, Morocco. It was a trip that the three of us have discussed many times at the dinner table. With autumn eyes, I give you a summer photo journal and a popular and tasty Moroccan recipe you and your family will love (at least once the weather catches up with the calendar).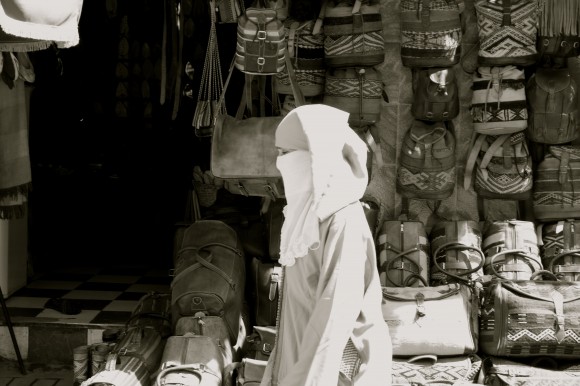 Venez avec moi à Marrakech (come with me to Marrakech).
bisou, LM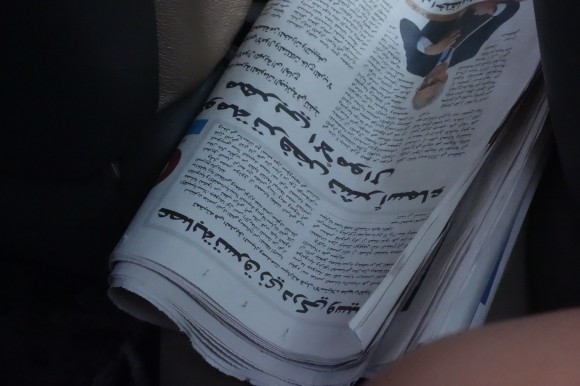 Roughly a three hour flight from Paris, Marrakech is a popular destination for the French. The influences of North African cuisine can be seen in France, particularly so in the south. France certainly has influenced Morocco.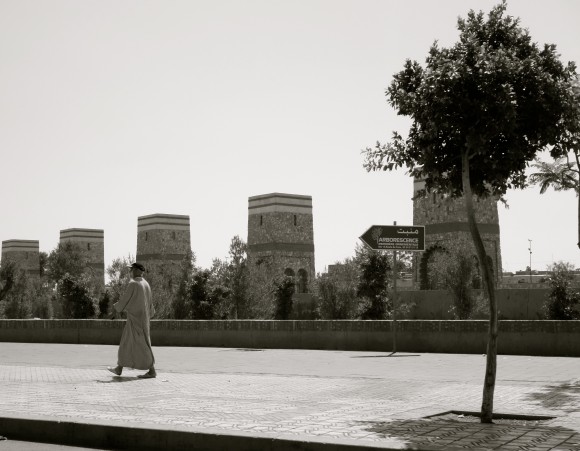 For me, it was the lure of spices, the promise of a real tagine with fluffy couscous (not the heavy, soggy stuff that can dampen any palate), visiting an Argan co-operative, and experiencing a completely different culture. For my daughters, at least one, the draw was the idea of riding a camel. For the other, it was the bucket list item of going to new continent. With our collective interests we enthusiastically set off to discover something new and with that spirit of optimistic adventure, the plane touched down in the Red City.
Morocco lies on the northwestern coast of the African continent next to Algeria and Tunisia. Four languages are primarily spoken in Morocco: Moroccan, Arabic, French, and English (Berber is spoken as well but not as much).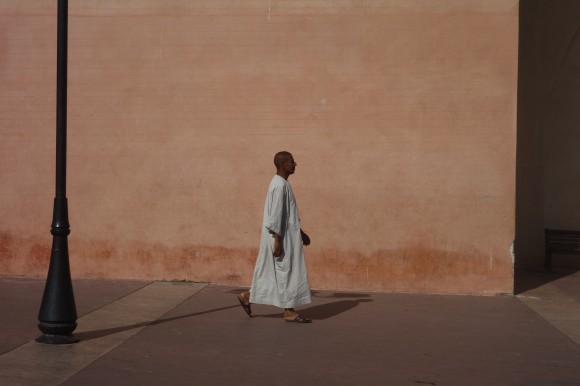 Morocco was a French territory from 1912 to 1956 (thus the French influence). French is widely spoken and most everyone we encountered spoke either French or English (or both).
Three laws govern: Berber law for real property and land use; French law is used for business transactions; and Islam is the law for all civil purposes. For example, during Ramadan it is prohibited for Moroccans to eat from sunrise to sunset.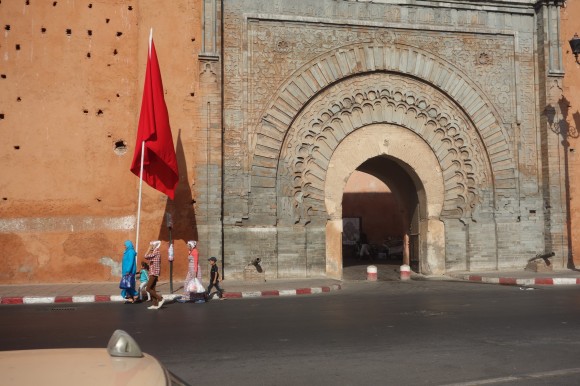 Marrakech is referred to as the "Red City" because of the red sandstone used for the building bricks. In actuality, the red is a terra cotta color with hues of pink and orange. If the red sandstone is not used, the law requires that the buildings in Marrakech be painted this (terra cotta) red.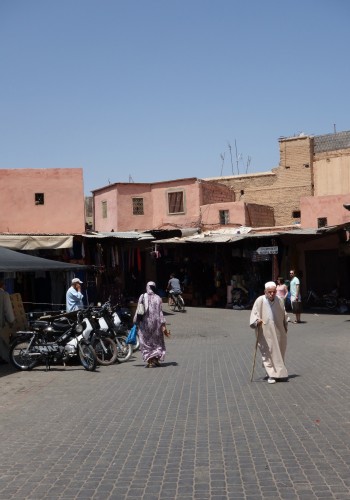 Marrakech is a fortified city meaning that there is a wall (the ramparts) that surrounds the city. The wall (which is being restored) was built in the 12th century. The wall stands about twenty feet high and 12 miles around the city. It is made of the red sandstone (below).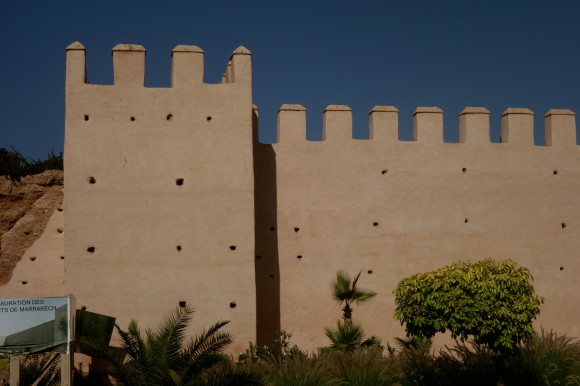 Outside the ramparts lie more modern areas such as the Guéliz where you will find modern shopping and eateries. Inside the ramparts is the old city. Here you will also find the Mellah, the Jewish area where Jews have peacefully lived (I was told) for hundreds of years.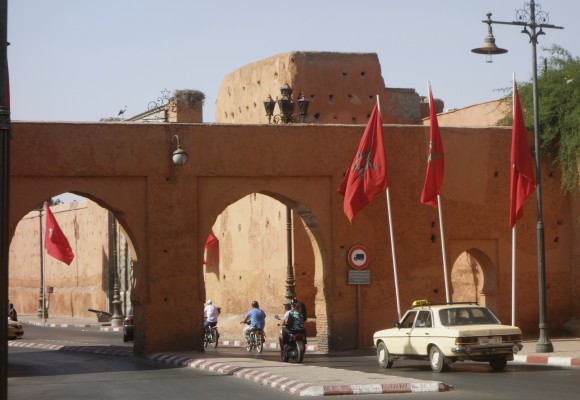 Unlike the White House in Washington D.C. or the Elysée in Paris, the palaces in Marrakech cannot be photographed.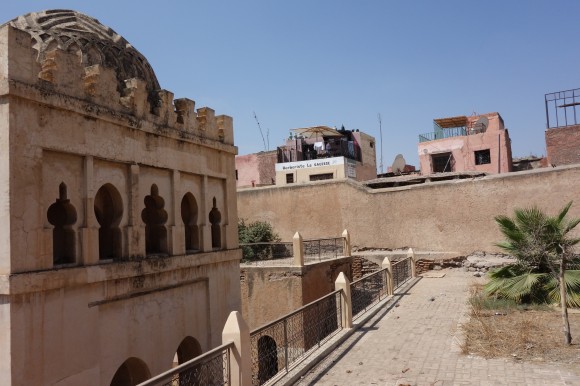 The Medina is the heart of Marrakech and the oldest part of the city. It includes the "souk" (as derived from Berber custom).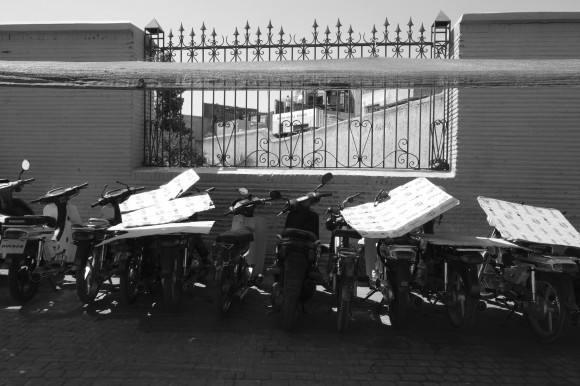 10th and 12th century buildings remain in the Medina.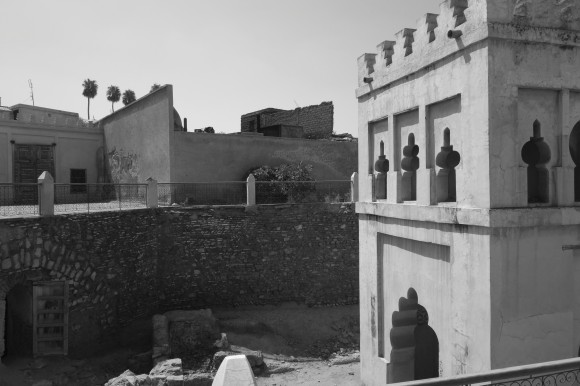 The Ben Youssef Mosque (distinguishable because of its green-tiled roof), the oldest mosque in Marrakech built in 12th century, is also in the Medina.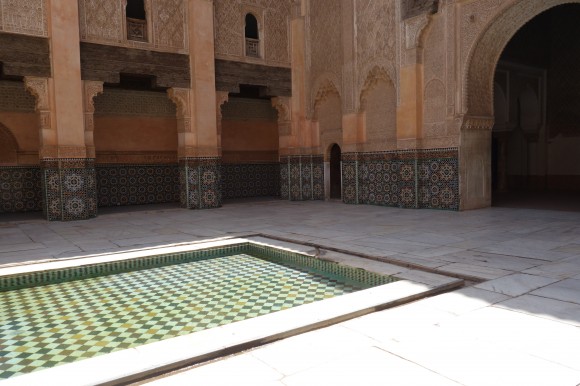 Médersa Ben Youssef  is a former Islamic University open to the public for a fee. It has the inscriptions, carvings, geometric patterns, and the colorful tiles that you think of when you think of Morocco (which takes its architectural roots from Moorish architecture).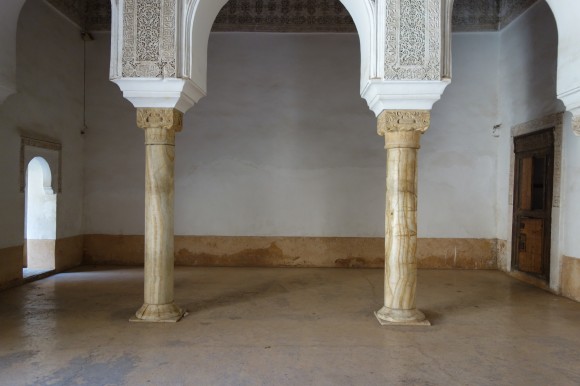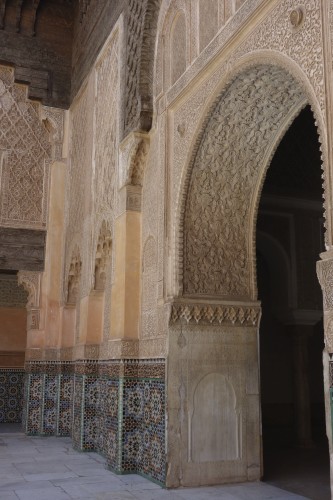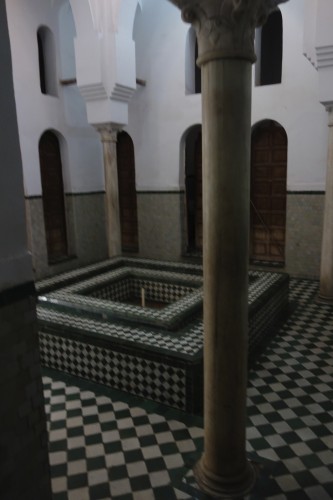 Built for function (as well as beauty) the meeting rooms were the largest and most elaborate rooms with the ceiling open to the sky for light.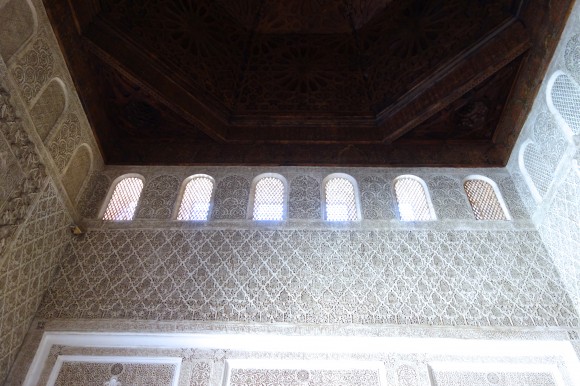 The private rooms where the students slept were small rooms with no windows (because you do not need light if you are going to sleep) and only a door that emerges to a common area.
Inside the Medina are also lavish Riads but you would never be able to tell how elaborate these homes are from the outside. Most living quarters are upstairs on top of businesses below.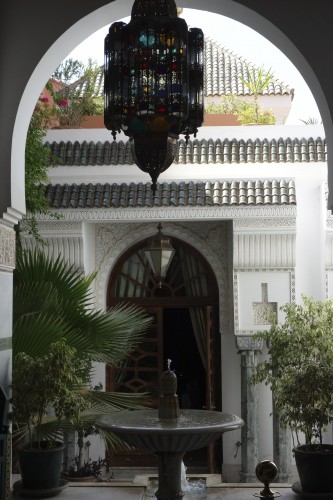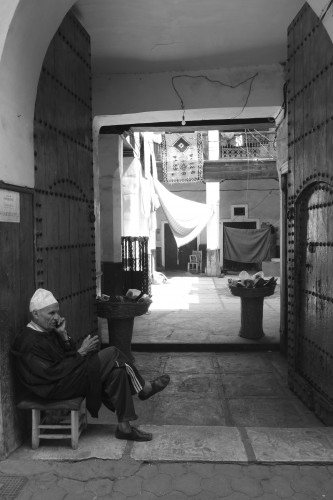 The souk is a marketplace. You can find handmade ironwork including everything from locks and roosters to gates and copper hand-pounded bathtubs.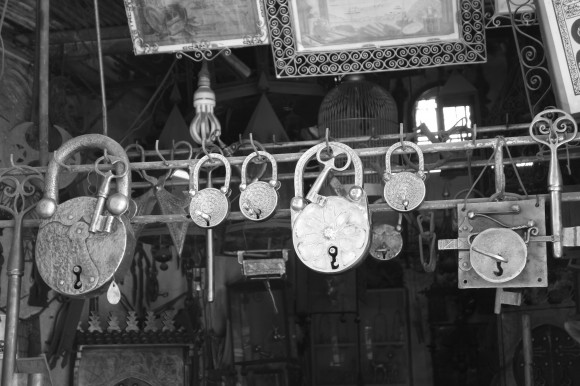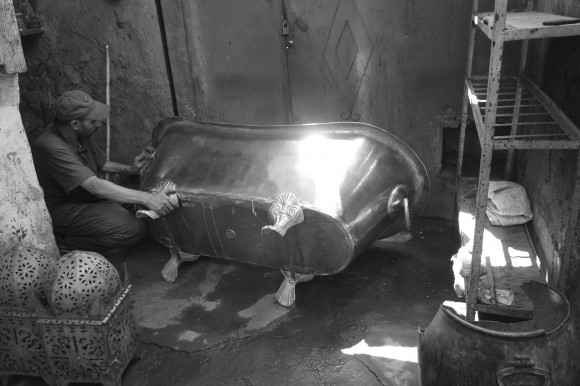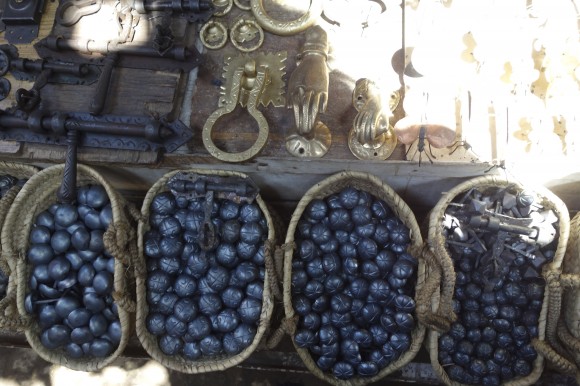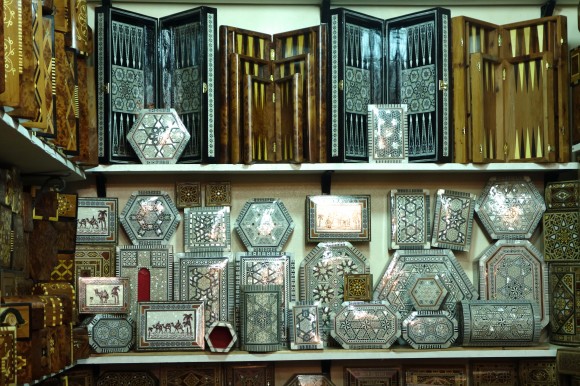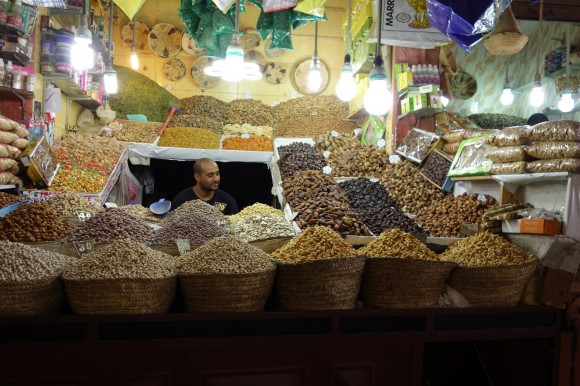 You will also find traditional Muslim clothing and shoes, dishes, Moroccan tea sets, wood products from intricate boxes to chess sets and cedar skewers for cooking (yes I did get these), spices, teas, extracts, luggage, purses, Berber rugs, and leather goods. Often the storefronts are no larger than a single space resembling a small self-storage unit replete with the rolling metal door that disappears into the store ceiling when it is open for business.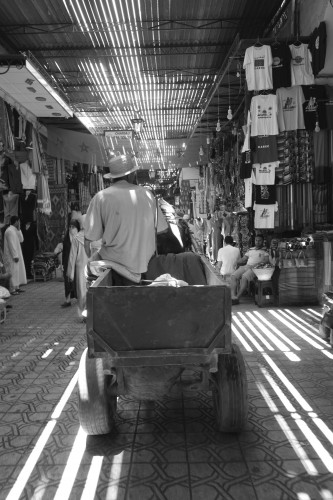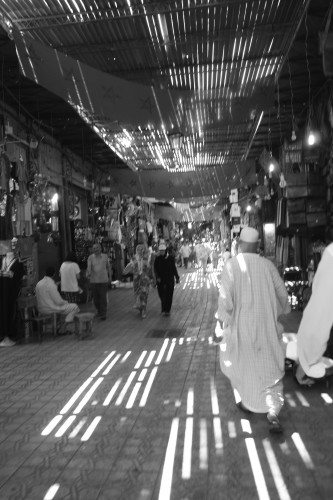 The souk is a place to work as well as see your neighbors. Bargaining is expected although I was told that the prices for the ironwork and spices are pretty much set and you do not bargain for those.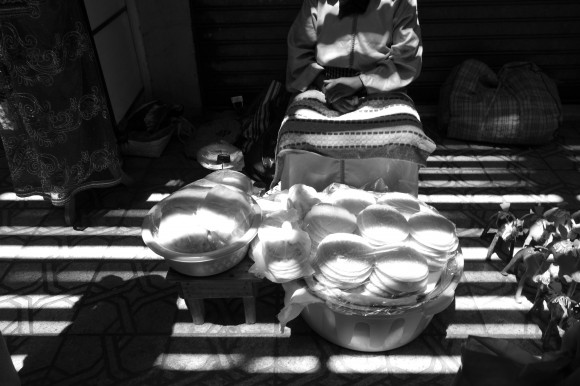 A guide to take you to the souk is advised. A guide can give you the in's and out's of the city. However, for shopping the guide will take you to someone with whom they have a relationship so you do not know if they are taking you there out of loyalty to their friend, for self-interest (if they have a monetary gain in the business), or if it is really the best place there is for you to get what you want. It could be a combination of all three. I will say this, no guide took us to the same spice shop or herbalist.
Spices and herbs and extracts of both are first used for their medicinal properties and second for their cooking properties.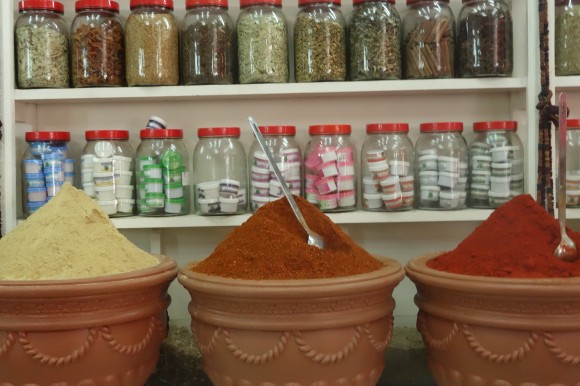 The majority of spices are sold through pharmacies/herbalists. They sell incense such as Myrrh, Frankincense, piment for paint, teas for all types of aliments including stress and indigestion, and spices. There is a surplus of extracts: flower and herb extracts such as rose, jasmine, orange blossom, thyme, rosemary, oregano, lavender. You can also buy make-up such as lipstick and eyeliner made of piment.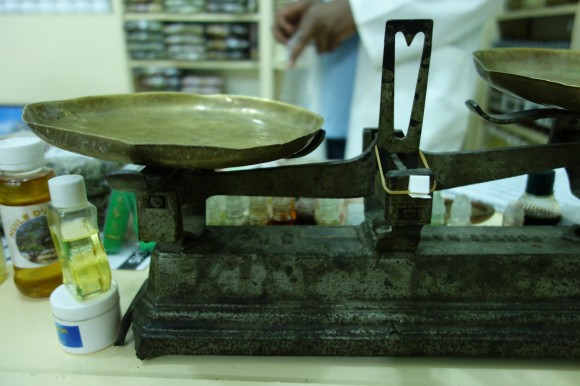 Spices are kept in jars or large pots. The majority of them are ground. Cumin (two varieties), harissa, cinnamon, ginger, saffron, ras al hanout (a combination of  35 spices), quatre epice (4 spices), red pepper, black pepper, anis, coriander, cardamon ginger, cinnamon, and nutmeg are the most prevalent. Some are prepackaged but most are sold by weight (this is true for the loose leaf tea as well).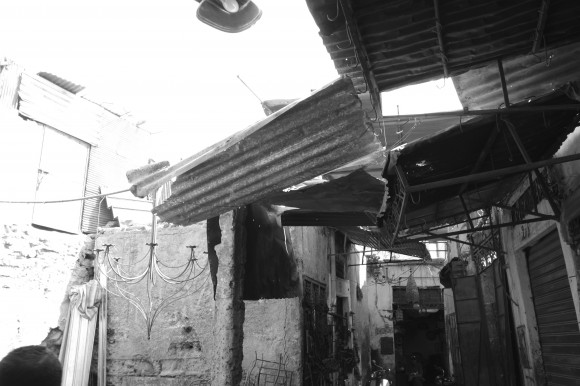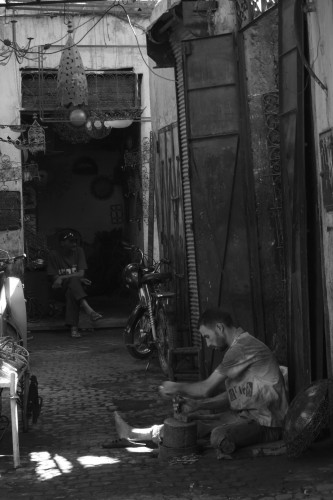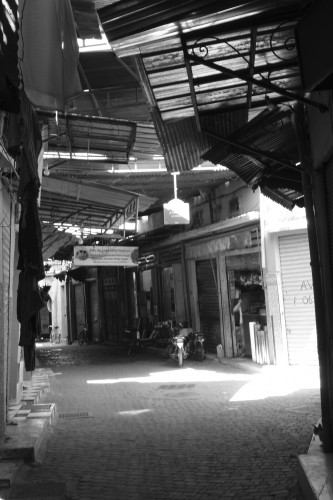 The souk itself was quite humble and the conditions modest.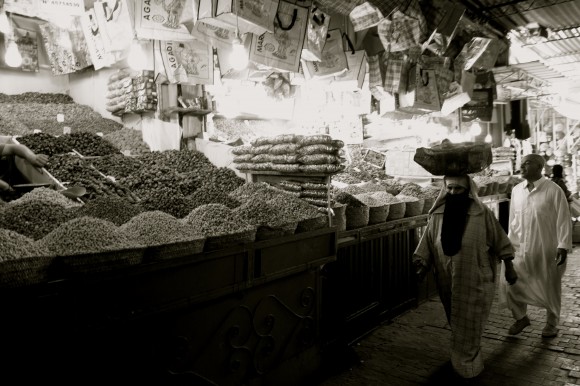 "Mom, there are no women here." Observed my daughter. The other agreed.
"That's not true, they are just covered." I responded.
In truth, there were only a handful of women in the souk.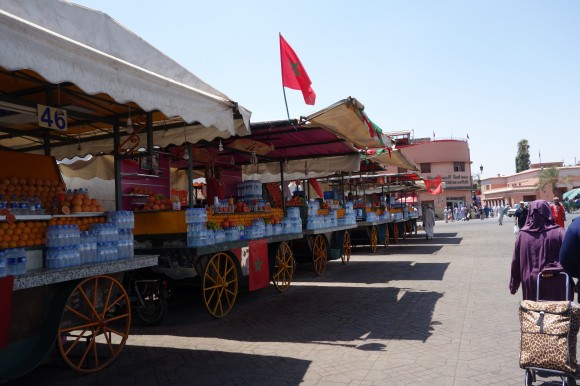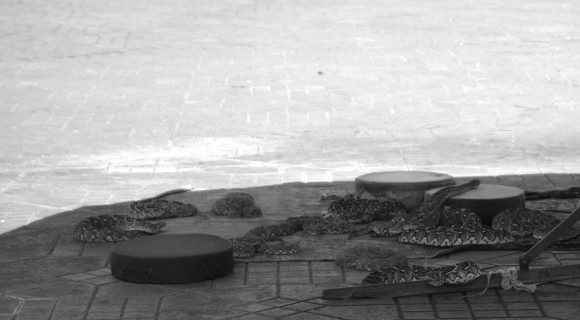 We emerged from the souk to the Place Jemâa el-Fna Square, a large open space which was filling with people. Carts were lined up to sell orange juice and I soon realized beyond the orange juice carts were snake charmers with piles of coiled snakes under umbrellas. I was not particularly excited to see snakes in an unfamiliar place with people I did not know. With our guide leading us, and a daughter on either side of me, we moved quickly away from the snake charmers.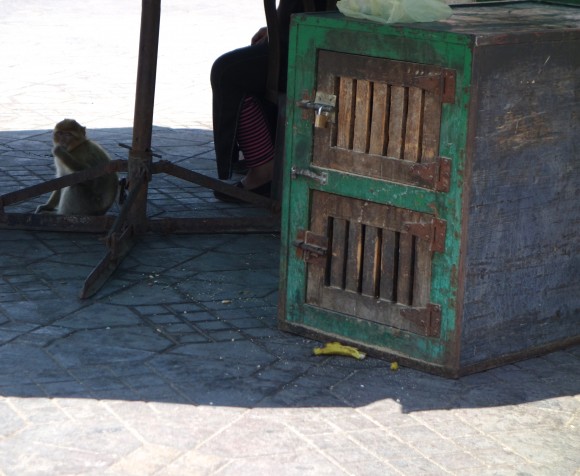 Just when I think we have cleared the snakes, a man jumps on my right-hand side.
"Want to pet my monkey?"
I look up. My ears did not betray me. There on his left shoulder was a large monkey. He thought that I would be interested in touching his monkey for a small fee. It was a first for me and for me the offer was not enticing. As soon as I tell him "no"  another man approaches with a larger, equally dirty monkey. I still have an arm around each daughter. This second man is more aggressive and discounting his price (as if it was the price holding me back). I give my guide like the look of "get rid of this guy" and now my hand is up giving the man with the monkey the "Heisman trophy pose" which I know is not so polite but enough is enough with the monkey thing. While my right hand is still in the air, a third man comes up to my eldest daughter on my left side. He is wearing a Fez on his head with a long tassel secured on the crown and he is swinging his head in a circular motion causing the tassel to spin on the top of the Fez like a helicopter blade. He offers to dance for a sum. I decline.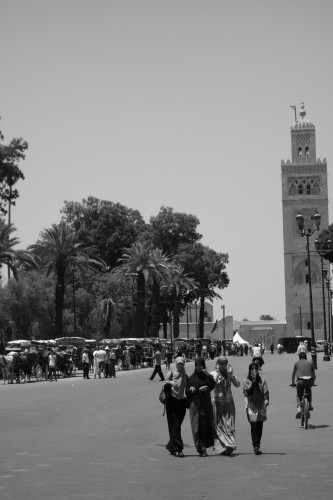 We walk toward the La Koutoubia Mosque (the largest mosque in Marrakech and the symbol for the city) to wait for our taxi. Horse-drawn carriages are lined up on Square de Foucauld across the street waiting to give tourists rides around the city and as we are looking at the long line a new wave of temptations presents itself.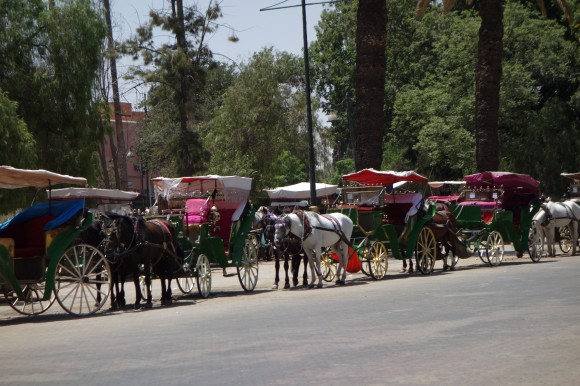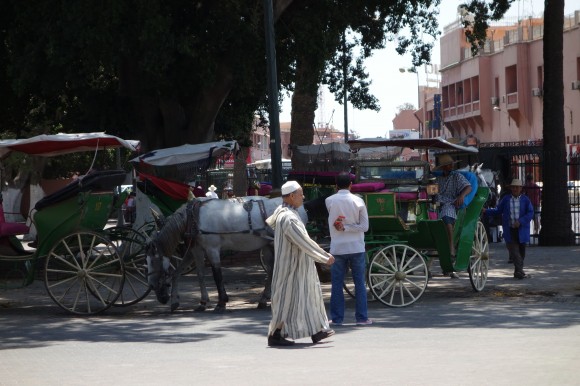 Two men place plastic cobras so close to my face that the protruding pink plastic tongue from the fake reptile's mouth is nearly touching my nose.
"NO…Thank you." I said
I look at our guide.
"People buy this stuff?" I  ask
"Some do," he says. "It is a symbol for them of Morocco."
"A plastic cobra? … Do people ever get bit by the real cobras?"
"Not the tourists that I know, but the handlers sometimes are bit.
I should not have been to surprised by the onslaught of tourist-geared attractions in Place Jemâa el-Fna Square. On my daily run in Paris I pass through the place de Trocadero where keychain Eiffel towers on a large ring are shaken in front of you and tourists are asked to purchase various trinkets or if they want their picture drawn. In Hollywood, California if you visit the Chinese Theater you will be approached by people dressed in various full-body costumes from SpongeBob to Darth Vader asking if you want a picture taken with them. I think it was the live animal thing that  I was not used to.
"Can we go to the YSL gardens now?" I asked the guide.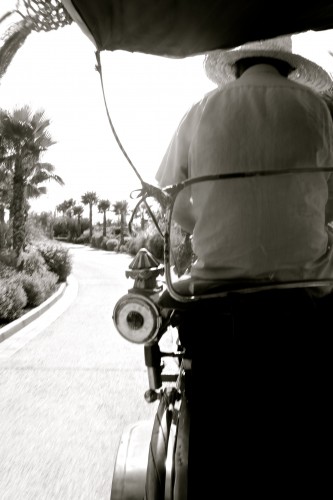 "Of course."
And with that, we left the Medina.
It was a funny coincidence that I just had seen the YSL biographical movie on the plane going to Paris. The movie included scenes of time the famous couturier passed in Marrakech and in particular at Jardin Majorelle.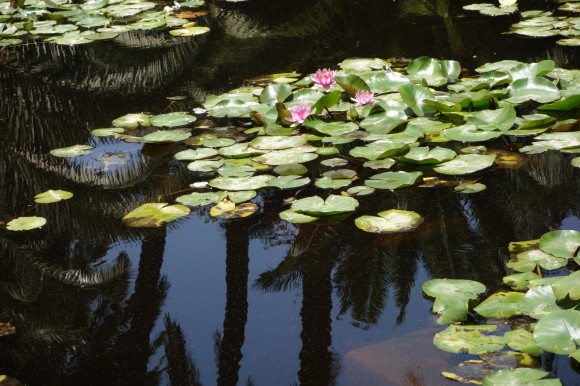 Jardain Majorelle is so named for the French painter Jacques Majorelle who devoted 40 years to creating the garden. After the artist suffered two accidents, he returned to France where he passed in 1962. In 1980 YSL and his companion Pierre Bergé bought the property and restored it.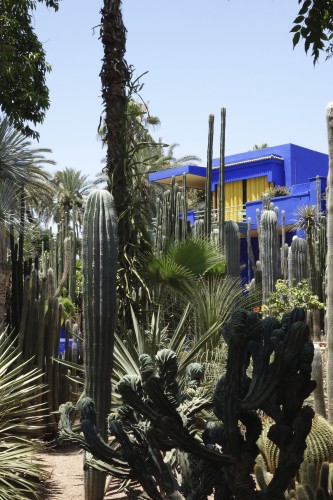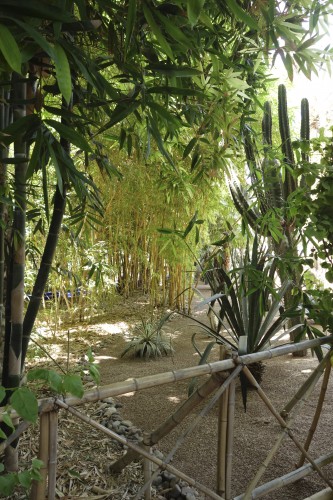 YSL passed in 2008 and Bergé gave the property to the foundation bearing both of their names. In 2011 the very first Berber museum was opened and it is in Majorelle's former workshop in the gardens.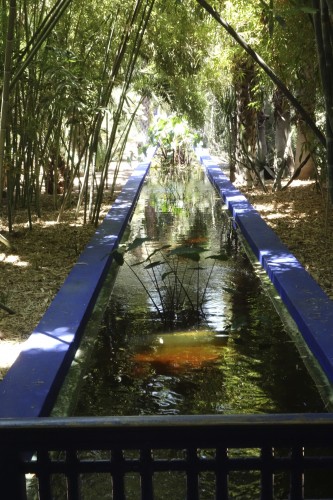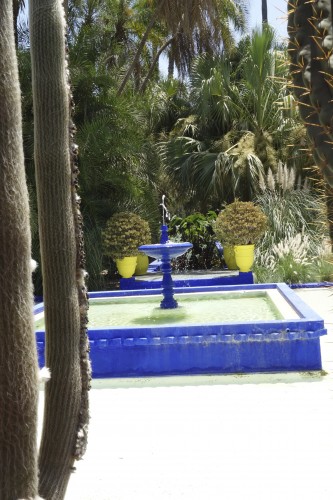 The garden contains plants from all five continents and includes an artful arrangement of palm trees, a water lily pond, bamboo garden, a cactus and yucca gardens and amidst it all are two fountains, the pavilion, all painted bright blue "Majorelle blue" (above) an ultramarine blue color the artist created specifically for his villa/art studio and the garden.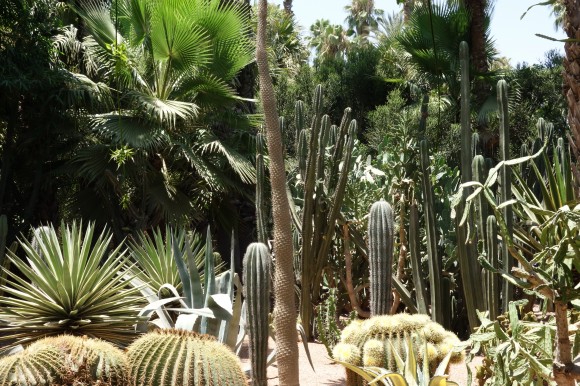 It was a peaceful place and overall looked like an artful cactus garden. It was a welcome, quiet place after the craziness of the Medina.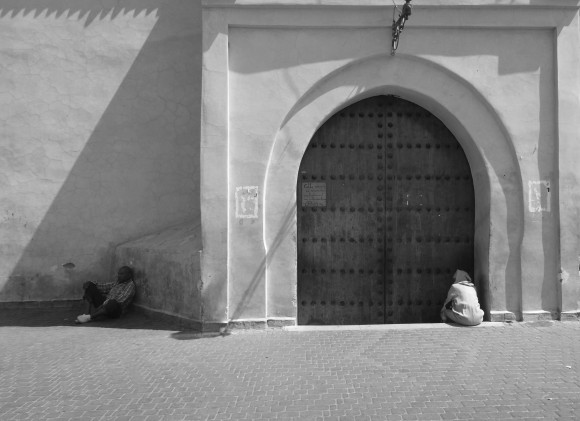 Throughout the city you hear the call for prayer (adhan) at various times throughout the day. In most cases, a speaker is attached on the tall tower (the minaret) of a mosque and a recording of the muezzin is played. No matter where you are you can hear the call wafting about the palm trees streaming through the silent, hot dry air. Without knowing the language, it sounded like a calming lullaby and it was beautiful. During prayer, the mosques are so full that the faithful spill out of the mosque onto the sidewalks, praying on their prayer rugs. Men that is. Women pray in a separate area.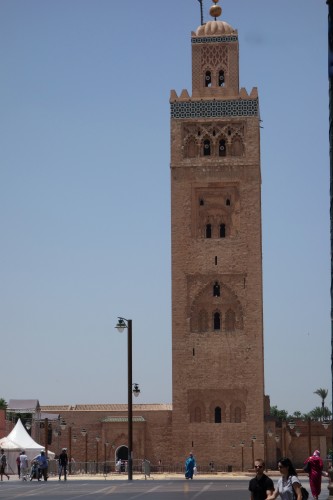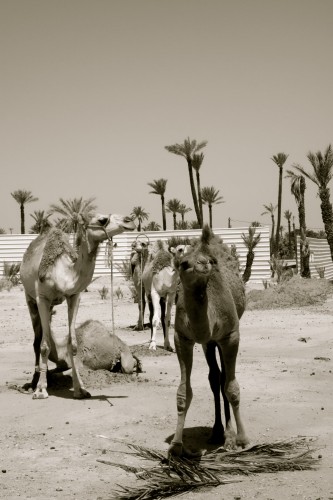 Opportunities for camel rides present themselves on various busy street corners throughout Marrakech. Every time we passed one my youngest's interest peaked more and more. I finally obliged.
The concierge recommended that we ride the camels in the Palermia, a palm tree grove across town and north of the Medina and outside the ramparts. I asked how much a 30 minute ride on a camel should cost me and we took a cab to the Palermia where the driver stopped at a pack of sad, tired-looking camels sitting in a circle watched over by a couple men. The taxi waits.
Amidst the palm trees are a few palaces (which from the outside were modest and not what you imagine when you hear the word palace) surrounded by very simple homes, dirt paths/roads, and discarded trash throughout the area. It was not the Sahara Desert but it certainly is nicer than riding camels in the city.
Here is where the girls' interests and my interest diverged. While I was thinking I don't know about these camels… Are they taken care of? Are they going to bolt? Can I trust this system in the middle of nowhere? The girls are excited getting on the camels and witnessing first-hand how camels fold their legs to rise to a lofty height. Before I can negotiate a price, the camel owner has all three of us on the camels and then tries to negotiate a price with me. I told him the rate the hotel quoted me and said I would like to get off of the camel if he did not honor it. He finally agreed (he knew the price was fair) and I got a: "Way to go, Mom" which was kinda cool.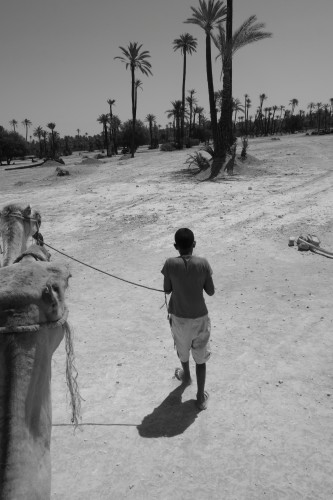 So we head out into the land of palm trees, our three camels tied together closely, and the rein is handed to a boy (apparently his younger brother) who could not be any older than eleven.
He leads us slowly on a road, sometimes a path, which wanders in an apparent large circle in this palm tree retreat. My camel is cranky but has a crush on my youngest daughter whom he ties to lick. Her camel, in front of me, ate something that did not agree with him. Just as I am thinking whether this small boy can handle these camels if there is a camel mutiny of some kind, out of nowhere comes a man on a mopede and pulls up next to me, parks abruptly, and grabs something out of his bag. If I did not say that this approach took me by surprise, well, that would not be true and I was hoping that it was not a cobra or a monkey. He pulls out a camera and offers to take our photographs on the camels for 20 euros so take pictures of us. I decline. Several times.
By the time our thirty minutes is over I felt as if I had aged ten years. Both daughters are glowing; they loved it. Despite my worry about whether the young boy could handle the camels, he made camels out of palm leaves for the girls while leading us around, and took photos of us with my camera without being asked. The nice approach works best on me. I tipped him well.
"You know," I told my daughters, "that boy was the same age as you. Can you imagine if you had to work all day in the hot sun?"
It was something to think about and I know they did.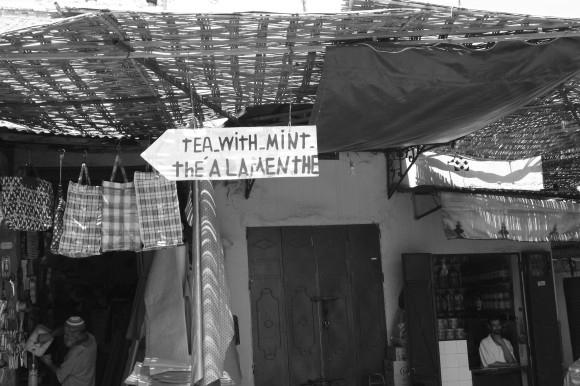 I had pre-booked an array of Moroccan restaurants for dinner throughout our stay. The concierge questioned my decision and suggested that we dine at some of the French or Italian restaurants as well. I declined. We did not fly to a different continent to eat French food. The earliest we could make a reservation outside the hotel was 8:30 p.m. (7:30 p.m. Paris time) because no one was working until after they had broken the daily fast.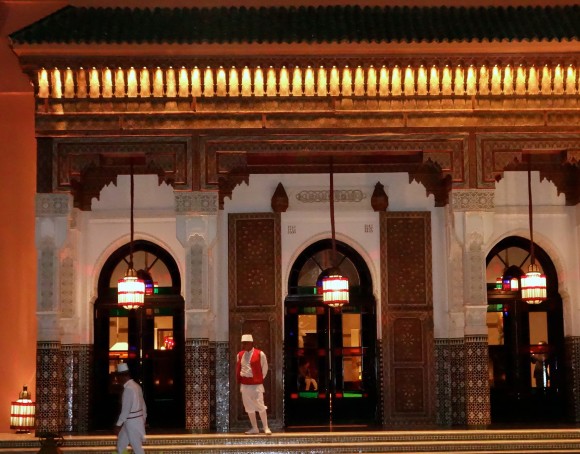 The first night we dined at the Moroccan restaurant at La Momounia, a well-known hotel in Marrakech.
A preliminary note about Moroccan food. The food is spiced (usually with cumin, harissa, and /or ras al hanout) but it is not spicy. Tangines and other stews tend to be heavy. Cinnamon and nutmeg are commonly used in savory dishes. Dried fruits, honey, dates, and almonds are used in both savory and sweet in a way similar to Middle Eastern and Turkish cuisine (for a comparison).
There are foods that you simply will not find in Morocco because they are prohibited. First, there is no cheese (coming from France I have to point out this contrast out at the outset). I was told that there is no cheese because alcohol is prohibited in Islam and the fermentation (created in cheese) is considered alcohol. Second, alcohol is not permitted although there are vineyards in Morocco and I tried a red wine from one (once). Third, there is no pork because pork is not permitted to be eaten in Islam as well.
To begin our meal we were given a plate of dates, Chebakia (a type of pastry /cookie made of honey covered with sesame seeds served for Ramadan) and a bowl of Harira. Harira is a meat and lentil soup with a tomato base. It was the second time my daughters had the soup that day. My daughters loved it.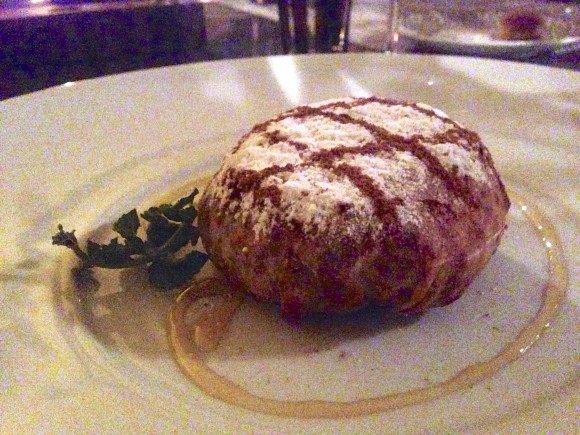 Next we had pastilles shredded meat or vegetables wrapped in phyllo dough. It is a Moroccan savory pie. Mine was the pigeon de pastilla (a Moroccan specialty shown above) which I was told would be sweet and salty. It was only sweet. The girls had a vegetable pastilla with large doses of black pepper.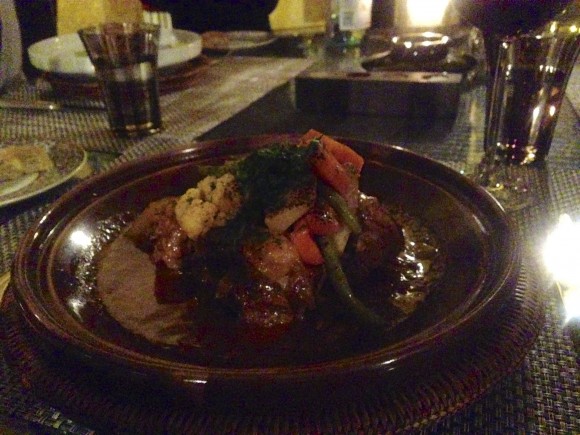 Lamb and chicken are the most prevalent meats in Morocco. Beef and pigeon are a close second. Main courses are typically tagines, couscous-based dishes, or stews. We had tagines. Carrots, potatoes, and green beans with lamb that had been slowly cooked for hours served with a flavorful meat sauce on light and fluffy couscous. I got my couscous. I was not disappointed.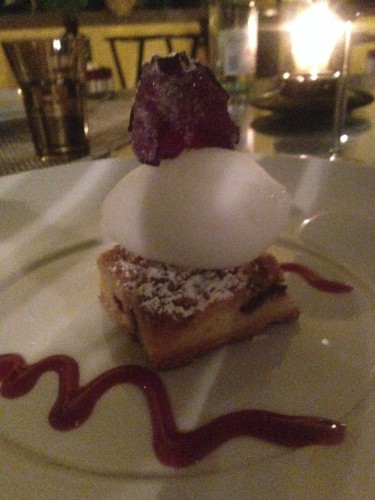 Moroccan desserts are sweet but naturally so due to the use of dates, honey, and fruit. You will not find cakes or cookies or tarts. Instead you will find things such as oranges flavored with orange blossom extract, poached fruit with ginger syrup, or cardamom ice cream with rose water extract. Sweetened mint tea is customary to have after your meal and it was poured it from a tea pot held several feet above the cup (although I wondered it that was tourist-driven as well). It is also customary to eat in very dimmed rooms apparently as all of restaurants we dined in were very dark (thus, the poorly-lit photos).
After dinner I understood why the concierge recommended to mix up the food types, Moroccan food is tasty, but filling.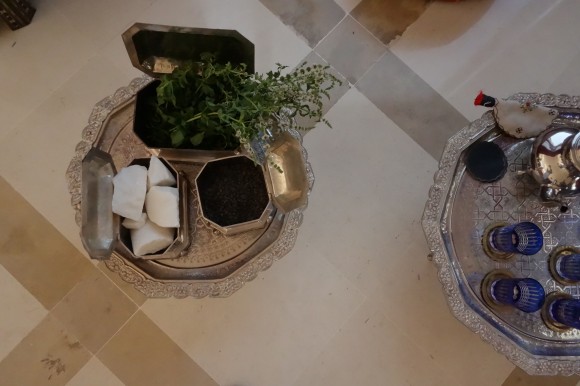 Despite the Moroccan food, the camel rides, and adventures throughout the city, I felt as if we was not getting the real taste of Morocco. To me, it was a sanitized tourist exhibit, showing us things "tourists want to see" but what interested me was the day to day life, I wanted to see what kind of food is in their markets, and how where they buy their food (there was really no food at the Souk in the Medina when we were there because of Ramadan).
I asked the concierge about the hotel sitting services to watch the girls for an hour so I could go to a souk to take a few photographs and observe people purchase food after 4 pm (when apparently the food would begin to be sold). She looked at me in silence.
"You can't do that." She said.
"What? What do you mean?" I asked.
"You can't go there alone. [pause] It's not safe for you."
"Why?" I asked.
"Because I am a woman?" I said
"Yes. And you're a tourist."
It occurred to me then and there that unless I was escorted by a man, my (our) freedom for all practical purposes was limited in a way I had never experienced. We definitely stood out but it never occurred to me that I could not do something because of my gender or citizenship. It was neither LA nor Paris. I got something new in a way I had not expected. However, I was undeterred. I still wanted to see the real Morocco and we would…
[to be continued because this is already way too long]
You can find this week's recipe for Harira, the Moroccan tomato-based beef and lentil soup, HERE.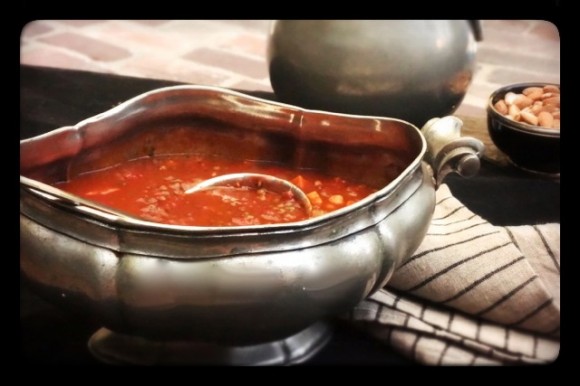 Tags: Harira, Marrakech, Médersa Ben Youssef -, medina, souk, travel chef morgan morocco, YSL