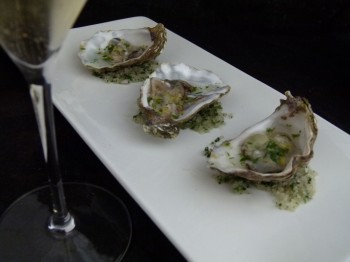 réveillon !
It is a New Year's Eve party in your mouth: herbed fresh oysters on sea salt, papillons au Roquefort (blue cheese butterflies), and smoked salmon roulades
The weather in Paris is chilly with a slight rain that is here one moment and gone the next. However, the winter weather matters to no one and it certainly does not keep Parisians indoors or off the streets (or slow them down for that matter). The city is lit, seasonally decorated, and Parisians are out in droves buying truffles, pâté de foie gras, oysters, smoked salmon, and Champagne … lots of Champagne and pink seems to be particularly popular this year. Celebration is in the air. This week's simple pleasure is three appetizers that will give you more reason to celebrate: herbed fresh oysters on sea salt, papillons au Roquefort (blue cheese butterflies), and smoked salmon roulade. Sent from (rainy) Paris, with love.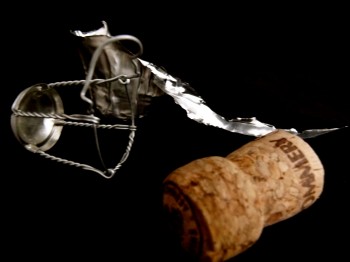 Here, even the most basic neighborhood grocery stores make an elegant and special New Year's Eve party easy for the host. While you will not find large plastic trays piled with chunks and wedges of food, you will find packages of miniature toasts, pre-sliced pâté de foie gras, blinis, and fresh crabmeat and smoked salmon, requiring only the mere assembly of the ingredients. Stores even carry packaged fresh whole truffles, a little slice of which you can add to your shucked oysters, pâté or pasta. However, you do not have to be in Paris to be able to assemble something easy and delicious. Here is an idea of things to gather and how to assemble them.
These three appetizers require no cooking and are all light (nice after the back-to-back holidays filled with heavy, starchy and sugary foods). They also include items you can easily find in American stores (I avoided using pâté and truffles for this very reason). All three go well with champagne and are different enough that you can make them all without being repetitive and there will be something for everyone (in case someone is not as fond of oysters as the French).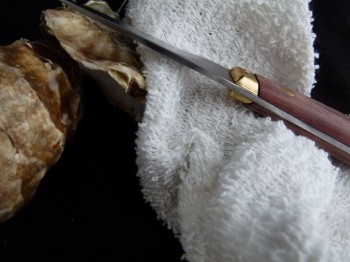 herbed oysters
Placing the oysters on a bed of herbed salt is a nice change from the usual bed of crushed ice (which often quickly melts and makes a mess). The herbs also give the salt a nice green visual boost. If you shuck the oysters in advance, place them on ice to keep them cold. You can prepare the salted serving plate and the herb juice in advance and when you are ready to serve the oysters, remove the oysters from the ice and place them on the salted serving dish with a little of the herb juice. Serve them as passed appetizers. It is that easy.
papillons au Roquefort (blue cheese butterflies)
Roquefort is a sheep's milk blue cheese from the region of Roquefort-sur-Soulzon in the south of France. Papillon is one of the makers of this cheese and their name inspired this particular appetizer. The combination of honey with the tangy cheese on the dense bread is lovely yet and not too filling. Use a light honey (for example, honey made from bees which fed on acadia, thyme or sapin). Do not use chestnut honey, it is too strong for this recipe.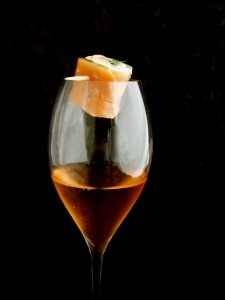 smoked salmon roulade
How many times have you had a smoked salmon plate with pumpernickel or sliced bagels served with various garnishes? It is good, but usually too much food. This appetizer takes those flavors (without the bread) and creates an appetizer which a guest-friendly service.

The oyster recipe is below. The salmon and Roquefort recipes are in separate posts for your printing ease. Ten minutes to prepare tasty and completely different appetizers to go with your champagne. … It is a party in your mouth.
Je vous souhaite un bon appétit et Bonne Année (Happy New Year) !
LM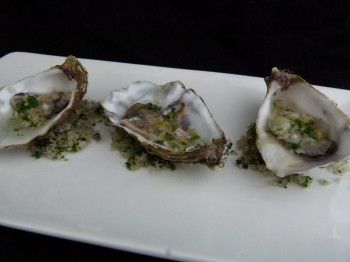 fresh oysters on herbed sea salt
makes 6
what you need:
6 fresh oysters, shucked on the half shell
1 teaspoon fresh lemon juice
1 teaspoon minced shallots
½ teaspoon lemon zest
½ teaspoon finely minced fresh coriander
¼ teaspoon finely minced fresh Italian parsley
¼ teaspoon sea salt
pinch piment d'espelette (optional)
garnish
½ cup sea salt
1 tablespoon minced fresh coriander
1 tablespoon minced fresh Italian parsley
how to:
Make Salt Bed.

In a bowl mix together minced fresh herbs with the sea salt. If you want a greener bed on which to lay the oysters add more minced herbs. Place salt decoratively on a plate.
Shuck Oysters

. Carefully shuck the oysters and separate the oysters from their shells, reserving the oyster juice. Pour the oyster juice in a bowl. Save the nicest 6 of the 12 half shells, discard the other 6. Place an oyster on each of the six remaining half shells.
Make Juice

. Strain the oyster juice into a clean bowl using a doubled cheesecloth or a mesh strainer (this will remove bits of oyster shell or dirt). Add shallots, fresh herbs, zest, lemon juice, piment, and salt to the strained oyster juice.
Plate

. Place oyster halves on the salt in a decorative way. Add a tablespoon of juice to each oysters. Serve immediately while cold.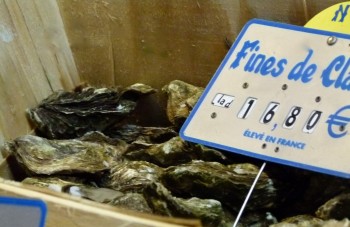 Tags: green salt, New Year's Eve, oysters, papillons, Roquefort, smoked salmon