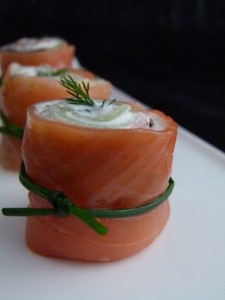 smoked salmon roulade
makes 12
what you need:
12 slices smoked salmon
12 thin slices cucumber
1/2 cup crème fraîche (or sour cream)
2 tablespoons minced fresh dill
1 tablespoon minced fresh chives
1 tablespoon minced capers, rinsed
lemon juice (optional)
kosher salt (to taste)
12 small skewers, cocktail toothpicks (or chives)
how to:
Prepare Ingredients.

Trim salmon slices so they are inch in width and 5" long. Lay flat on a cutting board. It is up to you if you want to peel the cucumbers. Use a mandoline to cut thin strips (they should be about 4-4½" in length). Lay a cucumber strip on top of the salmon strip.
Make Sauce

. In a bowl combine crème fraîche, herbs, and capers. Salt to taste (you may not need any with the capers). Add a thin strip of sauce to each cucumber.
Roll.

Grab the top of the salmon strip with the cucumber edge and roll it toward you, enclosing the other ingredients as you roll. Secure the roll with a skewer or toothpick.
Tags: appetizers, french cooking recipes, fresh herbs, roulade, smoked salmon