Alsacian slaw with lardons and apples
stats:
serves 4-6
what you need:
1/2 pound (8 ounces) thinly sliced green cabbage
4 ounces diced granny smith apples
5 ounces diced lardons
1 tablespoon minced fresh Italian parsley
3 tablespoons grapeseed oil
1 teaspoon rendered lardon fat (optional)
1 tablespoon honey
1 teaspoon heavy cream
1 tablespoon cider vinegar
2 teaspoons sel de Guérande or fleur de sel
how to:
salad
Cook Lardons.

Heat a pan over a medium-high flame. Add the lardons and cook. Drain lardons on paper towels. Reserve the lardon fat in the pan. Once cool, dice lardons and set aside.
Combine.

In a bowl combine the cabbage, lardons, apples, and parsley.
dressing
Acid.

Place vinegar in a bowl.
Oil.

Whisk in oil and lardon fat.
Season.

Add honey, cream, salt and pepper. Mix well using a whisk, a food processor or an immersion blender.
Dress Salad.

Slowly incorporate the dressing into the salad.
Chill.

Place dressed salad in the refrigerator for at least one hour (salad will store for a few days in the refrigerator and can be made in advance.
Adjust Seasoning.

Adjust seasoning if necessary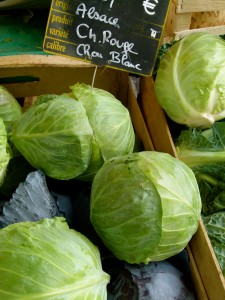 Tags: Alsace, Alsacian slaw, appetizer, apples, cabbage, french cooking recipes, healthy snacks, honey, lardons, salad, simple pleasures