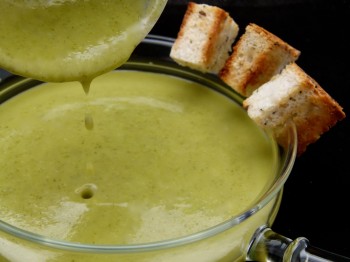 it's hot; it's cold; it's both:
zucchini and sorrel velouté
Raining one day; hot and sunny the next. While the calendar says spring, the weather weaves in and out of winter (and apparently this will continue). Unpredictable weather can be problematic when menu planning (and ordering) because the temperature necessarily affects how and what we eat. You would not want to eat cassoulet in July any more than you would crave a tomato-based gazpacho on a cold December day. Generally speaking, the beauty of nature is that if we eat seasonally, the food "in season" mirrors what our bodies need and crave: heavier, more filling foods in the winter to keep us warm (i.e., winter squashes and cauliflower) and lighter, hydrating foods in the summer (i.e., watermelon and tomatoes). But the climate change is throwing off our "food-dar." It was the need to create meals that combine chilly-weather comfort with the lightness of spring (and that can be enjoyed whatever the temperature) which inspired this week's simple pleasure: zucchini and sorrel velouté (served hot or chilled).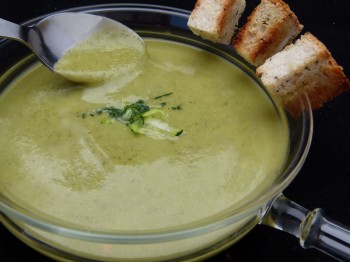 The French have an expression, "mon cul entre deux chaises." Politely translated it means that your bottom side (yes, the actual word is a little stronger but we will go with this) is caught in between two chairs. The expression refers to a situation in which you are not sure which way to go (upon which chair to sit). For example, do I put my winter boots and sweaters away or keep them out? I thought of this French expression as I wrote menus for for upcoming events. I decided that rather than be caught in between two chairs and held captive by the whim of the weather, the best course was to prepare for both so I planned menus with meals that work for both warm and chilly days (i.e., grilled monkfish wrapped in prosciutto on a carrot purée, spring risotto with asparagus, fresh peas and pea tendrils, and zucchini and sorrel soup). Such dishes have an element of comfort to them, but they are comprised of light "in-season" ingredients. I am always asked for soup recipes so I decided the zucchini and sorrel soup was what I would share with you this week. The soup is delicious served chilled (should the weather be in the 80's or 90's) or hot (should it be raining or chilly).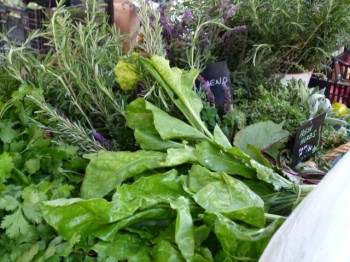 ingredient notes
In France, sorrel is used in soups, salads, egg dishes, and with fish. Sorrel leaves are slightly acidic with a lemony flavor profile. Sorrel resembles spinach (but paler green) and is prepared much the same way as spinach (primarily melted, sautéed, or puréed). The less cooking the better (I prefer to use it raw or melted) because it will turn a drab olive-green color. Sorrel is in season in the spring and the early part of summer. You can find it at the farmer's market and at many grocery stores.
Sorrel has been eaten for centuries; however, it is not something you would eat with regularly and/or in large quantities. Sorrel leaves contain oxalic acid which, "in very large doses – a few grams- […] is corrosive and can be fatal." (Harold McGee, On Food and Cooking (Scribner 2004) p. 259). However, in small quantities oxalic acid has not proven to be harmful and many other foods we enjoy include oxalates (salts of oxalic acid) including endive, spinach, chives, swiss chard, amaranth, and rhubarb). If you are sensitive to oxalates (i.e., you have kidney stones or kidney disorders, gout, or rheumatoid arthritis) you should talk to your doctor (not a chef) about eating sorrel or other oxalates.
Zucchini is just coming in season (most of the zucchini you find in the grocery stores is imported and shipped from warmer climates). Baby zucchini is at its sweetest now. Paired with the lemony sorrel, the two are refreshing and filling (yet not heavy).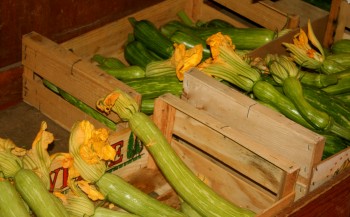 production notes
The addition of Greek yogurt to the soup gives it a velvety texture. No heavy cream is added to this vegetarian soup. If you serve the soup chilled, make sure it is cold (not room temperature) and that you re-adjust the seasoning and the consistency before service.
Whether served hot or cold, toasted wheat croutons are a nice accompaniment. Once dried, lightly brush olive oil with a little salt and smeared garlic on the toasts. Bake in the oven at 350 degrees Fahrenheit until golden brown. Make sure you cut them to the desired size before you bake them.
***
So, when you feel like you are sitting in between the chair of winter weather and the chair of spring food, be prepared for both. No matter what the weather brings in the weeks ahead, this recipe has got you covered for one meal at least).
Je vous souhaite un bon appétit !
LM
Tags: chilled, chilled soup, french cooking recipes, healthy soup, hot soup, simple pleasures, sorrel, soup, spring foods, vegetarian, zucchini