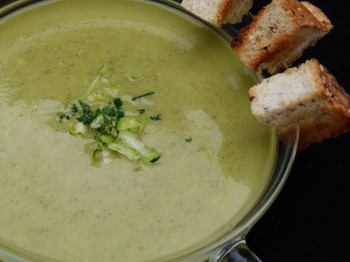 zucchini and sorrel velouté
yields 16 ounces (4 cup servings)
what you need:
1 tablespoon unsalted butter
1 pound chopped zucchini, trimmed
2 cups water
2 handfuls sorrel, stems removed
1-2 tablespoons nonfat Greek yogurt
1-2 tablespoons olive oil
1 bouquet garni (fresh Italian parsley, thyme, 1 bay leaf)
½ teaspoon kosher salt (and to taste)
4 turns on a pepper mill (and to taste)
how to:
Prepare Zucchini And Sorrel.

Wash zucchini and trim the ends. Do not peel (it is healthier with the skins; however, it will leave small green flecks in the soup. If you do not want the flecks, peel the zucchini). Chop. Remove the stems from the sorrel. Wash sorrel and dry well. Rough chop. Set aside.
Prepare Flavor Base.

Place a saucepan over a medium-high flame. Add butter to pan and melt. Add zucchini and toss in the melted butter. Add a pinch of salt and the bouquet garni. Cook zucchini until it is soften and the moisture in the zucchini has released (about 5 minutes).
Add Water.

Add water and reduce heat. Simmer for about 15 minutes (until flavors have combined).
Add Sorrel.

Add the sorrel to the soup. Stir to incorporate. Remove soup from the stove after 1-2 minutes.
Purée.

Remove bouquet garni and discard. Add olive oil and using an immersion blender, purée until very smooth (or use a food processor and process in batches).
Strain.

Use a sieve or chinois to strain the soup into a clean bowl. Use a wooden spoon or a spatula to push the soup through the strainer. Discard small sorrel and zucchini pieces caught in the strainer.
Adjust Consistency.

Add yogurt. Whisk well to incorporate (or use your clean immersion blender). The soup consistency should be that of cold cream. If the soup is too thick, add a little water. If too thin, you can place the soup back on the stove to reduce further (or you can add a little more yogurt). If serving the soup chilled, the latter is preferable.
Serving Hot.

Season to taste with salt and pepper. Serve hot.
Serving Chilled.

If you are serving the soup chilled, cool the soup in an container set in an ice bath. Once cool, place in the refrigerator in an airtight container for at least 3 hours. Re-adjust the consistency and the seasoning with salt and pepper before service.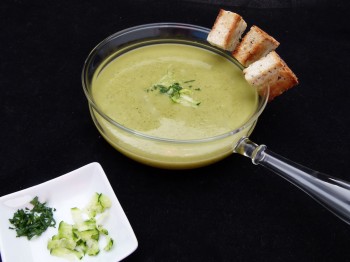 Tags: chilled, cold soup, french cooking recipes, Greek yogurt, simple pleasures, sorrel, soup, vegetarian, veloute, zucchini