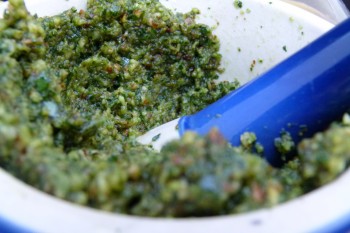 Just put your lips together and blow: almond and dandelion greens pesto (with pasta and roasted chicken)
"One man's weeds are another's dinner," I thought, as I plucked the dandelions growing alongside the sidewalk while a man stared at me as I weeded his front property. While he saw a runner picking weeds, I saw culinary possibilities. I blew on the feathery flowers (just for fun) and as the fuzzy petals hit the breeze I wished that more people used dandelion greens in their cooking repertoire rather than pass them up. Although I did not eat these (you never know what kind of fertilizer they had…) it was this wish which was the inspiration for this week's simple pleasure: almond and dandelion greens pesto.
Dandelions (Pissenlit in French) have been used for culinary and medicinal purposes for years (according to Larousse, the name "Pissenlit" comes from the green's diuretic properties"). They are particularly popular in the Mediterranean and throughout France where they are used in soups (dandelion soup is delicious), salads, stirred into braises, stews, and added to broths and soups for color. Dandelion greens pair well with eggs and are often used in omelets, quiches, and savory tarts. Their best usage depends upon their size: small and delicate greens are best used raw in salads which takes advantage of their pretty shape and delicate earthy taste. The larger dandelions (and chicory varieties) are better cooked (sautéed, braised, blanched).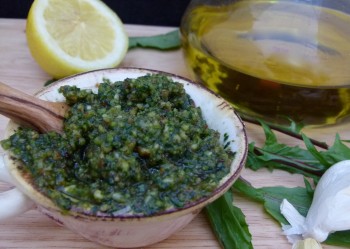 Dandelion greens can be broken down into two categories: the wild variety and the cultivated. Wild dandelion you see in your neighbor's yard or your garden if you are lucky enough and the cultivated greens are what you find at the market. Wild dandelion greens are more delicate and flavorful tasting. Like all tender greens they are sweetest and most plentiful in the early spring. Cultivated dandelion greens are larger and not as flavorful or delicate but are available from the fall to the spring. In the market, you may see both red and green "dandelion" but it is usually dandelion chicory which is slightly more peppery than dandelion. Dandelion chicory comes in red and green stemmed varieties such as Red Dandelion, Catalogna, Catalan Chicory, or Red-Ribbed Catalogna.
I chose to do a simple pesto recipe this week because it demonstrates this "weed's" range simply by incorporating the green into one dish. This dairy-free pesto can be stored in the refrigerator in an air-tight container for 1-2 weeks. While you have it on hand, you can add it to ingredients you likely already have at home, creating an easy, tasty meal:
use it to accompany a pan-seared steak, crispy duck breast, or coat a tenderloin;

bake it with roasted poultry;

top or stuff a fatty white fish fillet with it (i.e., halibut, sea bass, sardines);

toss it with shrimp or scallops;

mix it with pasta or gnocchi;

mix it with cooked legumes (i.e., fava beans, Cannelloni beans, lima beans, or Eye of the Goat heirloom beans, my favorite);

use it as spread on a sandwich (instead of mayonnaise);

toss it with roasted potatoes;

use it as a filling for a baked potato;

serve it in hard-boiled eggs (instead of using the yolks for a filling);

stuff it in an omelet;

mix it with vegetables;

swirl it in vegetable soup or broths (a pistou); and

use it to garnish toast or croutons.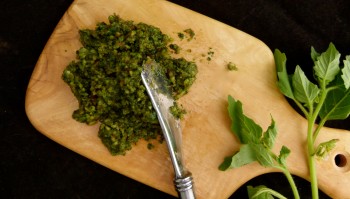 The accompanying recipe is for the pesto with pasta and roasted chicken (just to get you started, in fact you may have roasted chicken left-over from last night's dinner). You can use dandelions or dandelioin chicory for the recipe.
In the recipe I provide a range for the liquid ingredients. Begin by using only 1/3 cup of olive oil. If you need more, add the olive oil and lemon juice incrementally, but once they are in there, they are in there. Pesto should not be swimming in oil (do not use the pesto you find in the market as the standard for what pesto should look like).
Wishing for a quick, on-hand dinner? That is easy. Grab some dandelions, put your lips together, and blow. Dandelion greens pesto used in over a dozen different meals. Wish fulfilled.
Je vous souhaite un bon appétit !
LM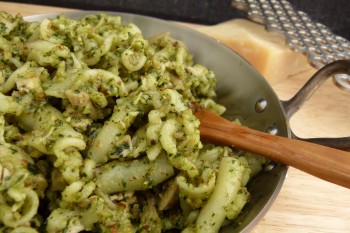 almond and dandelion greens pesto
(with pasta and oven-roasted chicken)
stats:
serves 4
what you need:
pesto
1 cup roasted and unsalted whole almonds
2 cups torn fresh dandelion greens (red or green), in 1" pieces
2 cloves of garlic, sliced
1/2 teaspoon kosher salt
1/3 -1/2 cup olive oil
1/2- 1 tablespoon fresh lemon juice
chicken
4 handfuls (about 3 cups) pasta (i.e., penne, farfalle, or shell)
1 cup diced roasted organic chicken breast (from 1-2 chicken breasts on the bone with skin)
olive oil (as needed)
kosher salt (as needed)
freshly ground black pepper (as needed)
how to:
pesto
Blend

. Place the almonds in a food processor and pulse until crushed. When crushed, add garlic, dandelion greens, and salt to the nuts. Pulse until combined.
Add Oil

. Slowly pour the oil in top with food processor while you continue to pulse it until the mixture has a paste quality. If it looks dry, add more oil.
Adjust Seasoning

. Salt to taste. Add lemon juice as needed. Set aside. The pesto can be stored in the refrigerator for 1-2 weeks.
chicken
Season the Chicken

. Rub olive oil on the chicken breasts and season liberally with salt and pepper.
Roast

. Place the breasts, skin side up, on a baking sheet or in a baking dish. Roast in an oven pre-heated to

350 degrees Fahrenheit.

Roast until the skin is crispy brown and the juices are clear.
Rest.

Remove the breasts from the oven and let them rest for about 5-7 minutes (if you cut them too early all the juice will escape from the breasts and the meat will be dry). Cover with aluminum foil to keep warm while the pasta cooks.
pasta
Boil Pasta

. Bring a pot of salty water to a boil over a high flame. Boil until al dente (do not over-cook). The pasta package will have a recommended time on it for cooking and it is generally accurate.
Drain

. Drain the pasta in a colander and return to the hot pan.
Dice Chicken

. Remove the ribs and the skin from the chicken breast(s). Discard the skin and ribs. Shred or dice the meat into pieces about 1-2 inches in size.
Dress

. Add chicken and the pesto to the hot pasta, letting the heat of the chicken and the pasta warm the room temperature pesto. Add more oil if the pasta looks dry.
Adjust Seasoning

. Salt to taste.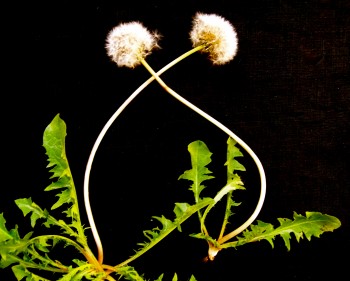 food for thought
the common name dandelion comes from "dent-de-loin"
French for "tooth of the lion" so-named due to the serrated edges
of the wild dandelion greens
Tags: almond and dandelion gressn pesto with chicken and pasta, almonds, chicken, dairy-free pesto, dandelion, dandelion chicory, dandelion greens, easy meals, pasta, pesto, simple pesto, Vegan pesto