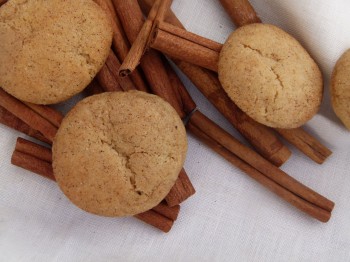 snickerdoodle cookies (à la Niçoise)
This simple cookie, with its warming cinnamon and brown sugar,
is perfect for the turn in the weather. Enjoy.
stats:
makes approximately 3 dozen cookies
what you need:
8 tablespoons unsalted butter, room temperature
1/2 cup granulated sugar
1/2 cup light brown sugar
1  teaspoon ground cinnamon
2 eggs (2 ounces), mixed and room temperature
1 1/2 teaspoons vanilla extract
1  3/4 cups bread flour
1 teaspoon fleur de sel
1/2  teaspoon baking soda
1 teaspoon baking powder
1 3/4 teaspoons cream of tartar
3 tablespoons granulated sugar mixed with 1/2  teaspoon ground cinnamon
how to:
Mix Dry Ingredients

. Mix together flour,  salt, baking soda, baking powder, and cream of tartar.  Set aside.
Cream Butter And Sugar

. Using a stand-alone electric mixer fit with a paddle attachment, mix together the sugars, cinnamon and butter.
Add Eggs And Flavoring

. Add eggs and vanilla extract. Mix just until incorporated.
Add Dry Ingredients

. Slowly add dry ingredients into wet ingredients. Mix until incorporated.
Chill.

Place dough in the refrigerator for at least 30 minutes to chill the butter so you can shape it.
Shape

. Roll the cookie dough into balls about 1 inch in size. Roll the balls in the cinnamon/sugar mixture. Tap off excess sugar. Place on a baking sheet lined with parchment paper.
Bake.

Bake cookies in an oven pre-heated to  

350 degrees Fahrenheit

for approximately 5-7 minutes (until the cookies are slightly browned). Error on the side of under-baking.  These cookies are moist and best kept that way.
Cool

. Cool on the baking sheet for one minute and then transfer to a rack to fully cool.
Tags: cookies, dessert, Kids cookies, simple cookie recipes, snickerdoodle