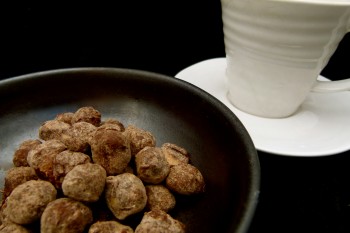 putting a little sugar in your bowl: chocolate covered toasted hazelnuts with a praliné crunch.
Pastry chefs will often tell you that the reason they chose the pastry over the savory path is the "last impression" factor. The last impression factor is the ability to complete someone's dining experience in a positive, memorable way. Even if a guest passes on dessert, it does not mean they will pass on a little something sweet if offered. Satisfying that sweet-craving does not have to be elaborate or unhealthy and that leads us to this week's simple pleasure: chocolate covered toasted hazelnuts with a praliné crunch.
When I cater parties, large or small, I customarily prepare a music playlist tailored to the occasion and the mood of the crowd. I time the music with the sequence of food courses. Nina Simone's song "I want a little sugar in my bowl" is one of my favorites and I often include it to be played after the meal when guests are lingering at the table and ending their evening. The swanky croon of Ms. Simone's voice is seductive and not overwhelming. I call it my "petits fours" song.
In the food service industry, it is customary to serve petits fours (complimentary little treats) with coffee or tea. It is a pastry chef's way of saying both "thank you" and "enjoy your night" and it puts a sweet touch on the closure of the evening. Petits fours are usually bite-sized madelines, macarons, sablés, or brownies. However, instead of traditional petits fours sometimes I will serve a little bowl of chocolate-covered hazelnuts. They are deliciously addictive and they do not last long.
Not only are these nuts satisfying, but this sweet treat is good for you too. Hazelnuts are lower in fat than other nuts and are full of protein, potassium, monounsaturated fatty acids and essential amino acids, among other things. Hazelnuts are mild in flavor and pair well with coffee.
Bittersweet chocolate (more than 70%) is high in antioxidants and anti-depressant properties (as if we needed a justification for loving chocolate in the first place). Do not substitute milk chocolate or white chocolate. The former contains a lot of sugar and milk and the mixing of milk products with the chocolate eliminates the benefits of the cocoa. The latter, white "chocolate," is not chocolate at all but merely cocoa butter and sugar and it is void of the benefits bittersweet chocolate possesses.
In France, it is very common to serve dragées or pralinés at special occasions, for a snack, or after a meal (although it is typically almonds, not hazelnuts). However chef Enrico Bernardo at his Michelin-starred Paris restaurant, Il Vino, is on the same wave length as I. He also serves chocolate coated hazelnuts with post-meal espresso.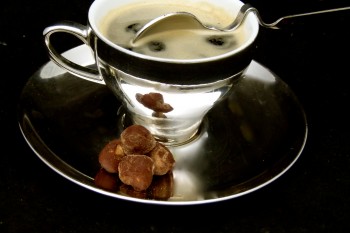 I simplified the preparation process for you at home. You do not need to temper the chocolate or hand dip the nuts. You can also eliminate the praliné step if you want but the small praline crunch is a pleasant surprise. To make your preparation as easy as possible, I recommend buying blanched hazelnuts (where the skins have been already removed). Do not skip toasting the nuts.
These nuts are not only a nice way to end a meal, but are a great on-hand snack to serve with coffee for guests (expected or unexpected), with a glass of red wine, or satisfy a sweet-craving in the afternoon. Store the nuts in a cool, non-humid place. You can store them in the refrigerator in an air-tight container but if they are exposed to moisture the sugar can bloom causing condensation on the surface.
Bittersweet chocolate covered hazelnuts "may not "save your soul,"and yes, Ms. Simone may have been crooning about something other than food, but this little sugar in your bowl is satisfying and good for you at the same time, "and I ain't foolin."
Je vous souhaite un bon appétit !
LM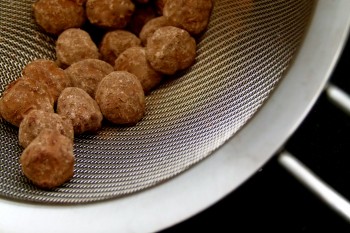 chocolate covered toasted hazelnuts with a praliné crunch
stats:
yields 1 cup
what you need:
1 cup blanched whole hazelnuts (shells and skins removed)
3 ounces bittersweet chocolate, melted
1-2 pinches fleur de sel
1/4 teaspoon coffee (or vanilla) extract
2 tablespoons granulated sugar
water (as needed)
sweetened cocoa powder (as needed)
how to:
Prepare Rack

. Place a baking sheet lined with parchment paper underneath a metal rack and set both aside to use later.
Toast Nuts.

Place hazelnuts in a sauté pan over medium-high heat. Toast nuts until they are golden brown, smell nutty, and begin to release their oil. Set aside to cool. If the hazelnuts still have skins on them, place the hot nuts in between two clean dish cloths and lay them on the counter. Place your hands over the top of the cloths and roll the nuts back and forth in between the cloths with your hands, rubbing off the skins.
Melt chocolate.

In a double boiler or bain marie, melt the chocolate and salt with the extract. Set aside.
Cook The Sugar.

Place sugar in a saucepan and add just enough water to the pan so the sugar looks like "wet sand." Place the saucepan over a medium-high flame. Once the sugar has turned amber in color (it will look like maple syrup), remove it from the heat. There is so little sugar that this will only take a few minutes.
Add Nuts

. Add the hazelnuts to the amber-colored sugar. Use a metal fork or spoon (or heat-resistant silicone spatula) to quickly coat the nuts in the cooked sugar (it should be only a paper-thin coating) before it cools.
Cool Nuts.

Pour coated nuts on the metal rack to cool, using the fork or spoon to separate the nuts.
Chocolate Coating.

Once the sugar-coating has cooled and hardened (this will only take a few minutes), add the nuts into the melted chocolate. Toss to coat.
Cool

. Pour the chocolate covered nuts back on the metal rack, making sure each nut is separate. Place the nuts in refrigerator until the chocolate has hardened.
Coat

. Place the cocoa powder in a bowl. Add the chocolate nuts. Toss to coat in the cocoa powder.
Sift.

Place the nuts and ground chocolate in a sifter or mesh colander to get rid of excess cocoa powder.
Serve

. Store nuts in a cool, non-humid place.
Tags: bittersweet chocolate, chocolate, dessert, french snack, healthy dessert, post dinner snack, praline, toasted hazelnuts