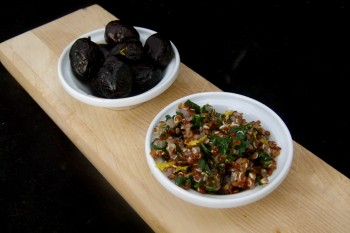 power down power food:
kale and quinoa tabbouleh
You cannot separate what you do as a profession from who you are as a person.  I am a chef, a mother of two, and I run fifty miles a week.   I am not only passionate about cooking but food in general.  I believe that healthy food habits have healing, preventative, and restorative power.  Unhealthy food habits deteriorate our bodies and starve our minds.
When I am training for a marathon I try to make what I eat count a little more: more protein, leafy greens, and healthy carbs, and less foie gras and Valentine chocolate.  As a mother I am always looking for inventive ways to incorporate protein and greens into my childrens' diet.  Two things in my "more" category are quinoa and kale; however, I have found that people often do not know what to do with either one when it comes to cooking.  It does not help that kale is usually stuffed on the bottom shelf in the produce aisle (hidden by other greens) and uncooked quinoa looks like bird seed.  To give you a little inspiration of how to use these two ingredients, this week's simple pleasure is the combination of the two in a simple and delicious salad: kale and red quinoa tabbouleh.
Kale, a crucifier, is loaded with vitamins A, C, calcium, iron, lutein (good for your eyes), and folic acid.  Kale contains far more vitamins than spinach or cabbage.  It is available all year long but it tastes best in the winter when the vegetable is not stressed by hot temperatures or too much sun.  Varieties of kale include Tuscan kale (also known as cavolo nero, black kale, or dinosaur kale), ornamental (or flowering) kale, curly kale, and russian kale (i.e., Russian Red).  Kale can be found in all grocery stores and farmers' markets usually carry several varieties (i.e., Coleman Farms at the Santa Monica farmers' market carries Russian kale and Peacock kale).
Kale is sadly thought of as a garnish or space filler under sneeze guards;  however, kale is a versatile vegetable that maintains its wonderful color and texture after cooking.  It does not have a strong flavor and can be added to anything from sautés and soups to risottos and pastas. Tuscan kale becomes dark green, almost black when cooked (although baked it turns bright green).  Cooked curly kale stays dark green and maintains its fluffy, curly texture.  In terms of cooking, kale generally goes one of four flavor routes: (1) spicy (using Harissa, chili flakes, or spicy sausages/meats); (2) creamy (puréeing the kale and adding heavy cream or cheese); (3) starchy (kale is often combined with potatoes, pastas, rice, or beans, especially in soups); or (4) citrusy/sweet (adding dried fruit, citrus or citrus zest to kale).
A couple of production notes about kale.  First, you must remove the stem from the leaves (except on small tuscan kale leaves) because the stems do not soften with cooking.  Second, you generally want to blanche the kale first in salty water (although it is not necessary with tuscan kale) to rid it of any bitterness.  Third, do not braise or boil kale too long because it will take on a sulfur smell similar to over-cooked cabbage.
Quinoa ("keen-wah") is an ancient grain often referred to as a "super food."  It is credited with everything from easing migraines to aiding in the prevention of cancer and boosting our immune system.  It contains more protein, fiber, iron, and magnesium than brown rice.  Quinoa is ideal for vegetarians as well as those with gluten sensitivities (quinoa flour is gluten-free).
Quinoa is often described as having a delicate flavor but I do not find that alone quinoa has much of a taste (although pearling quinoa before cooking it will give it a nutty flavor). However, quinoa's lack of defining flavor is an attribute because it can take on the flavors it is paired with making this protein power source something you can add to virtually anything.  Quinoa goes particularly well with other grains, all citrus, tomatoes, radishes, beets, hearty greens, honeys, and nut oils.  It works well in stuffings and salads.  Quinoa is a healthy substitute for couscous, rice, or pasta.  It is a good accompaniment to beef, game, dairy, and poultry.
Quinoa comes in a variety of colors including red, beige, pink, and brown.  When cooked it doubles in size and the germ of the grain sprouts, giving the grains little white tails.  Rinse quinoa well before cooking it because the protective bran coating is bitter.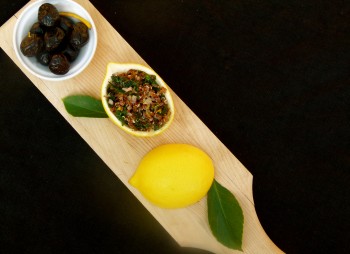 Tabbouleh (sometimes spelled "tabouli") is a Middle Eastern salad made with bulgur wheat, lemon juice, olive oil, tomatoes, and fresh parsley.  It is commonly enjoyed in the south of France where lemons, tomatoes, and olive oil are plentiful.  Fresh and light, tabbouleh is served as a side salad for lunch or dinner.  You can also eat it with flat bread, pita bread, naan or socca as an appetizer.
This recipe is easy to prepare and will take you about 15 minutes active time in total. Make sure that you finely mince your ingredients for appearance purposes and so that one flavor does not overpower the other. You do not have to use red quinoa and I hope you are creative with the range of quinoa colors and kale varieties available.  In the summertime you can take out the onions (if you want) and add fresh tomatoes and/or cucumbers.  Tabbouleh stores in the refrigerator for several days making it a good "go to" item (much healthier snack than chips or pretzels).  Whether running a marathon or running carpool (or both), the kale/quinoa combination is perfect to keep you and your family healthy during cold and flu season and all year long. À votre sante !
Je vous souhaite un bon appétit !
LM