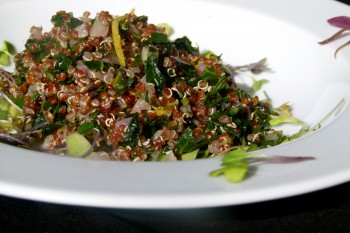 kale and red quinoa tabbouleh
stats:
serves 8-10
what you need:
1 cup red quinoa
1 1/2 cups water
1 teaspoon kosher salt
2 cups blanched kale (tuscan and curly), stems removed, finely chopped
1 red onion, diced brunoise
3 tablespoons fresh Italian parsley, minced
3 tablespoons finishing olive oil
2 tablespoons lemon zest
2 tablespoons fresh lemon juice
1 teaspoon fleur de sel (or as needed)
1/2 teaspoon Xérès or Spanish vinegar (Vinagre de Jerez)
how to:
Cook Quinoa

.  Gently rinse quinoa until water is clear.  Bring salted water to a boil.  Add quinoa.  Simmer uncovered about 20 minutes until all of the water has been absorbed.  Remove from heat and cover with a lid.  Fluff quinoa with a fork and let it come to room temperature.   You will yield about 2 cups of quinoa.
Blanche Kale

.  Place kale in a pot of salted, boiling water for 2 minutes (place a lid smaller than the pot or something equally heavy on top of the kale to submerge it if it rises above the water line). Remove kale from the boiling water and plunge in an ice bath.  Drain and dry well. Finely chop.  You should yield 2 cups.
Combine Ingredients.

Combine kale, onion, parsley, olive oil, zest, lemon juice, salt, vinegar, and quinoa.
Adjust Seasoning

.  Season to taste with salt (you may need more salt, depending upon how salty your quinoa water was).