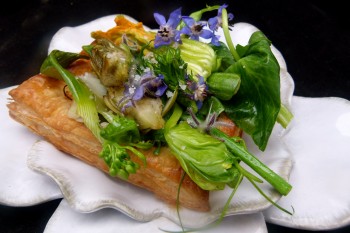 spring vegetable and flower savory tart with goat cheese
makes 4 tarts (4" by 4")
what you need:
pastry
1 sheet frozen puff pastry, defrosted and cut into 4 squares (4 by 4 inches)
2 ounces young goat cheese
1 egg, mixed
filling
1 tablespoon olive oil
2 garlic cloves, thinly sliced
3 baby artichokes, trimmed and quartered
fresh lemon juice (as needed)
3 baby spring onions, trimmed and halved
1 – 2 handfuls rapini, trimmed
6 thin green asparagus, trimmed
2-3 tablespoons chicken stock (or water0
3 baby zucchini with blossoms, halved, pistals/ stamens removed
fresh pea tendrils with flowers (as needed)
kosher salt (as needed)
garnish
fresh violets or fresh borage blue starflowers (as needed)
how to:
prepare pastry
Defrost Puff Pastry.

Place frozen pastry dough in the refrigerator to defrost.
Roll

. On a lightly floured surface, use a rolling pin to roll out puff pastry until thin. Use a knife or pizza cutter to cut the pastry dough into 4 squares 4 inches by 4 inches in size.
Dock

. Place the pastry squares on a rimmed baking sheet lined with parchment paper. Poke holes in the pastry squares with a fork.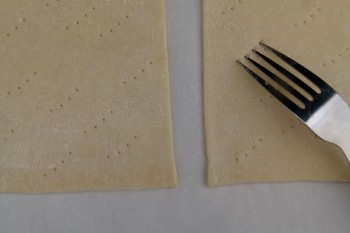 Add Cheese.

Gently spread goat cheese on each square (about 1/8 inch thick) stopping 3/4 inch from the edge of the square.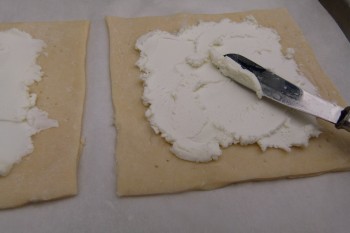 Chill.

Place baking sheet with pastry squares in the refrigerator to chill.
Prepare Vegetables
Trim Artichokes

. Pull the thicker, outer leaves off of the baby artichokes. Use a pairing knife to peel and trim the stem. Remove rough edges from where the removed leaves were attached. Use a sharp chef's knife or serrated knife to cut the tops off of the artichokes (you should have about 1 inch left plus the stem). Cut the artichoke into quarters and rub with lemon juice to prevent discoloration. Sprinkle with kosher salt. Set aside.
Cut Onions

. Cut the roots off of the onions as well as the thick green tops. Cut the onions in half lengthwise. Onions should be no longer than 4 inches from the bulb to the tip. Set aside with artichokes.
Trim Rapini.

Cut off thick stalks from the rapini. Discard. Use primarily the tender shoots, leaves, and flowers. Pieces should be no longer than 4 inches in length.
Cut Asparagus

. Cut asparagus into pieces about 4 inches in length from the spear to the end. Set aside.
Cut Zucchini

. Delicately slice zucchini and blossoms in half lengthwise.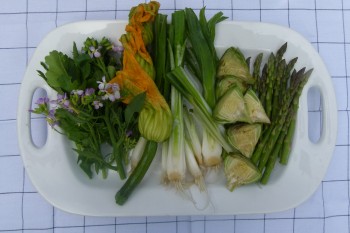 Cook Vegetables
Sauté Vegetables

. Add olive oil to a large hot sauté pan. Once the oil is warm, add garlic. When garlic is fragrant, add artichoke hearts and spring onions. Cook for about 5 minutes until they are lightly browned and tender. Add asparagus and toss with vegetables and oil. Add a few pinches of kosher salt.
Braise

. Add broth to the vegetables and cover the sauté pan with a lid. Cook for about 5 minutes until artichokes and onions are tender. Add rapini, asparagus, and zucchini to pan and use a pair of tongs to incorporate them with the other vegetables. Cook for another 3 minutes to soften rapini (but do not over-cook). The excess liquid should be gone from the pan by now.
Wilt and Warm.

Remove pan from heat. Add pea tendrils to vegetables and toss with tongs (the heat of cooked vegetables will lightly wilt the tendrils which is all you want to do them). Season to taste with salt. Place lid back on pan and set aside.
Bake.

Brush egg wash on the uncovered portions of the pastry squares. Place the baking sheet with the pastry squares in an oven preheated to 400 degrees Fahrenheit. Bake for approximately 10-12 minutes until puffed and golden brown. Remove from oven.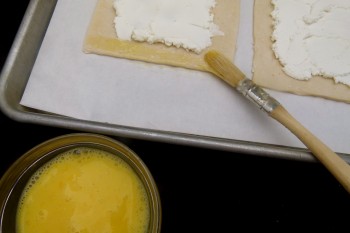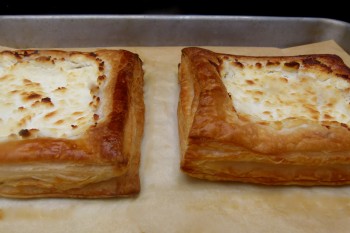 Fill

. While tart shells are warm, immediately add cooked vegetables to tart, arranging nicely and covering the cheese. If the vegetables are no longer warm, quickly refresh/warm them in the sauté pan over a medium heat.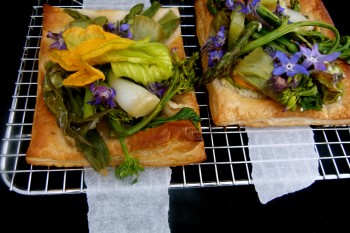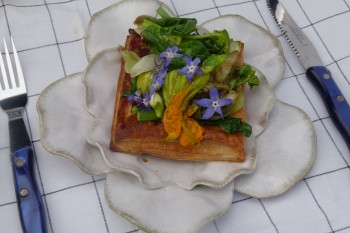 Tags: artichokes, flowers, french cooking recipes, pea tendrils, puff pastry, savory tart, savory tart with goat cheese, simple pleasures. french cooking recipes, vegetable tart, zucchini blossoms