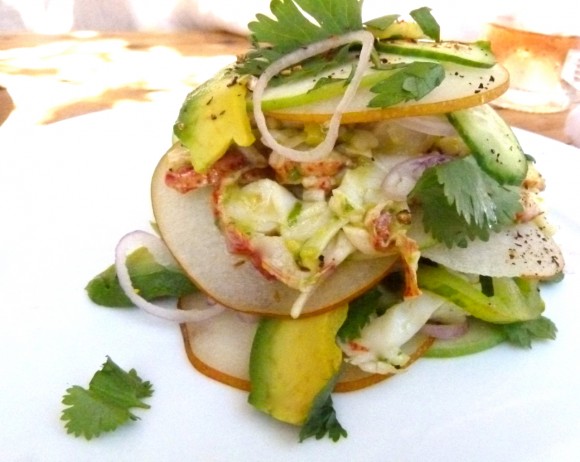 lobster "roll" California style
(mille-feuille de homard à la Californie)
serves 4
what you need:
lobster
4 lobster tails
1 cup seafood stock
½ cup dry white wine
1 sachet (1 bay leaf, fresh Italian parsley, fresh cilantro, black peppercorns, 1 strip lime peel)
salad
1 ripe avocado, thinly sliced
1-2 apples, thinly sliced, seeds removed
1 Asian pear, thinly sliced, seeds removed
1-2 cucumbers, thinly sliced
1-2 tomatoes (preferably Green Zebra), sliced
1 shallot, thinly sliced
dressing
2 teaspoon gros sel de Guérande (or sea salt)
2 tablespoons fresh lime juice
2 teaspoons red wine vinegar
⅓ cup olive oil
¼ cup avocado
¼ cup fresh cilantro leaves
1 tablespoon fresh minced Italian parsley
pinch piment d'espelette
freshly ground black pepper (as needed)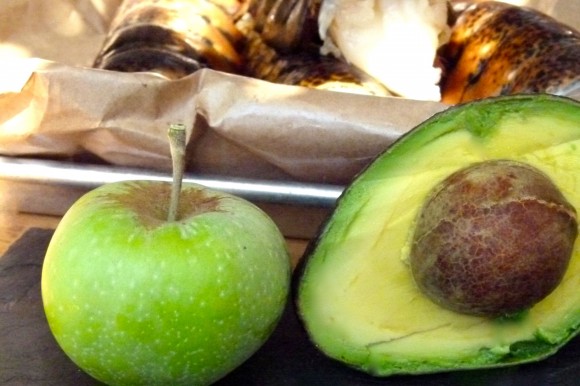 garnish
pinch piment d'espelette
pinch minced fresh Italian parsley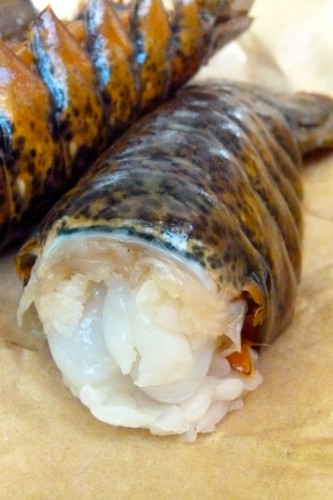 how to:
Cook Lobster Tails.

Place wine, stock, and sachet in a large pot over medium heat. Let it simmer for 15 minutes. Turn the heat up and bring to a boil. Add tails. Cover pot with a lid and reduce heat. Cook lobster tails for about 5 minutes until the shells are bright red. Remove the tails from the pot with tongs and set aside to cool.
Remove from Shell/Slice.

When cool enough to touch, use kitchen shears to cut the underside of the tail. Carefully remove lobster tails from their shell. Using a sharp knife, slice the tails into thin medallions (as shown). The tails can be cooked in advance and kept in the refrigerator for a couple of days (assuming the tails are fresh).
Prepare Dressing

. Place all of the dressing ingredients (avocado, olive oil, salt, lime juice, parsley, cilantro, and piment) into a bowl and use an immersion blender or small food processor to blend to a smooth consistency. The dressing can also be prepared in advance and stored in an airtight container in the refrigerator.
Dress Lobster.

Add dressing to the lobster medallions. Toss to incorporate.
Prepare Fruit.

Using a chef's knife or a mandolin, carefully slice the apples, pears, and cucumbers. Use a chef's knife to thinly slice the shallot and avocado. Use a serrated knife to slice the tomato.
Garnish.

Garnish with a piece of fresh cilantro, minced parsley, and a pinch of ground pepper and piment.
Serve.

Serve cold on a chilled plate.
(Alternative Assembly).

Instead of creating a layered salad, you can simply dice or slice the tomato, apple, pear, and avocado and mix it with the sliced lobster dressing (and yes, you can put it in a bread roll if you choose).
Tags: apples, asian pear, avocado, cucumber, french cooking recipes, lobster, lobster roll, millefeuille, piment d'espelette, salad, simple pleasures, tomato