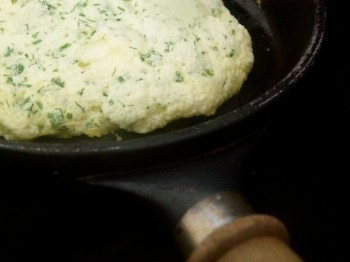 look what the wind blew in: souffléd herb and chèvre omelette
(a great way to lighten up post-Thanksgiving)
This week I bought my youngest daughter Les œufs verts au jambon (Dr. Seuss's classic Green Eggs and Ham, in French). As we read it, I could hear the wind howling outside and I thought of a friend's comment about feeling like an anchor after the consumption of turkey, stuffing, potatoes, sweet potatoes, and gravy. So what does a chef think of while reading green eggs and ham, listening to the wind, and obsessing on "lighter", leaner foods? Whisked egg whites with a little green and the inspiration for this week's simple pleasure: souffléd herb and chèvre omelette.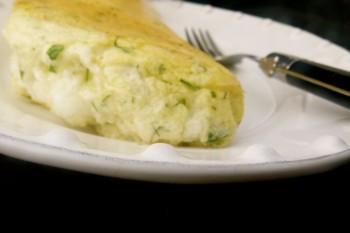 This is a moderate omelette. A little of this and a little of that. It consists of two egg whites but retains one yolk, thereby reducing the calories and cholesterol but giving you the B vitamins in the yolk that will liven your step. Whisking the egg whites to incorporate air gives the omelette a lightness and deceptive volume. The fresh herbs and a mere tablespoon of goat cheese soften the whites so the texture is airy and delicate, but not spongy. If you want to fill the omelette with a little something extra but stay consistent with the theme, fill the omelette with finely chopped butterhead lettuce. Tasty. Light. Easy.
This omelette takes ten minutes to "whip" up and consists of four simple steps: (1) mix the yolk with cheese and herbs, (2) whisk the egg whites, (3) add whites to the base, and (4) fry. Green eggs sans (without) the ham, can be served any time of day and enjoyed anywhere. However, do not take my word for it, listen to the doctor:
"Ils sont si bon, si bons, tu sais []…
j'en mangerai ici et là.
Oui, j'en mangerai à tous les endroits !
J'aime tellement les œufs verts…
Merci !
Merci !
Et quand je dis oui, c'est oui !"
(They are so good, so good, you know…I will eat them here and there. Yes, I will eat them everywhere. I really love green eggs. Thank you ! Thank you ! And when I say "yes", it is "yes.")
Je vous souhaite un bon appétit !
LM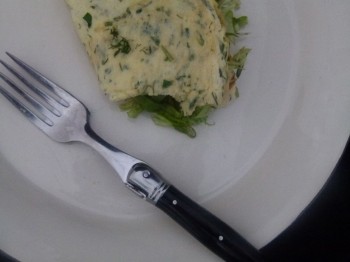 souffléd herb and chèvre omelette
stats:
makes one omelette (can serve 1-2 people)
what you need:
1 teaspoon unsalted butter
1 fresh egg yolk
¼ sel de Guérande (or kosher salt)
1 teaspoon minced fresh dill
1 teaspoon minced fresh Italian parsley
I teaspoon minced fresh chives
2 fresh egg whites
1 tablespoon chèvre
¼ teaspoon quality honey
½ cup shredded butterhead lettuce (optional)
how to:
Make Base.

Separate the whites from the yolks. Discard one yolk (save it for something else). With a fork, mix the yolk, herbs, chèvre, salt, and honey in a bowl until well combined.
Whisk Egg Whites

. Use a stand alone mixer fit with a whisk attachment. Place the egg whites in the mixer bowl and whisk on high until you achieve soft peaks (do not mix until you reach medium or stiff peaks because your omelette will taste spongy).
Fold Whites Into Base.

Take ⅓ of the whisked egg whites and combine it with the yolk mixture. Fold the remaining ⅔ of the egg whites into the yolk mixture.
Pan-Fry.

Use a nonstick 8" omelette pan (or nonstick 8″ sauté pan). Place the pan on the stove over a high flame. Once the pan is hot, add butter.Turn heat down to a low-medium flame. Once the butter has melted, pour the egg mixture into the pan and use a spatula or a spoon to gently spread the mixture evenly across the pan. Cook over a low flame for a few minutes. Once the bottom of the omelette is set, use the spatula to loosen the sides of the omelette and gently slide the spatula under the omelette to turn it over.
Cook Other Side.

Cook the second side for 1-2 minutes to set. If you want to add the lettuce filling for the omelette, place the lettuce on the omelette now.
Serve.

Use the spatula to lift one side of the omelette and fold it in half

. Gently spill the folded omelette from the pan to a plate. Enjoy warm and immediately (or your omelette will deflate.)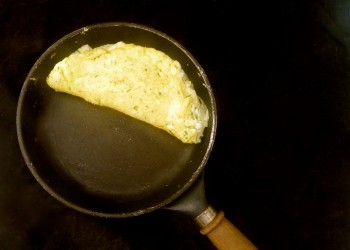 food for thought
Read Elizabeth David's An Omelette and A Glass Of Wine.