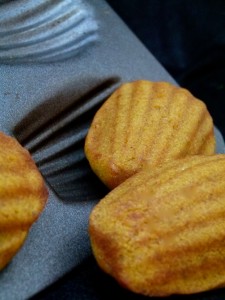 "I don't just like it . . I love it !"
pumpkin spice madeleines
It is Thanksgiving. You are in the kitchen trying to get the meal ready and the kids, big ones and the little ones, are hungry. When is dinner? Sometimes it is nice to have a little snack on hand to keep hungry tummies at bay (and busy hands out of the kitchen) while you finish preparing the meal. Here it is and it could not be more simple or satisfying: pumpkin spice madeleines.
Madeleines are little sponge cakes in the shape of a shell. Madelines have been around for a few hundred years. There is disagreement as to whom is responsible for creating madeleines: Talleyrand's chef, a peasant girl (named Madeleine), or cordon-blue cook Madeleine Paumier; however, even if it was Miss Piggy and the Swedish Chef it does not seem to matter as these little cakes are delicious and people gobble them up. In fact, the French novelist Marcel Proust used the popular snack of Madeleines as an example of involuntary memory (in so-called the "episode of the madeleine") in his novel à la recherche du temps perdu (the search of lost time).
These madeleines will take you 10 minutes to make and it is a great way to use the canned pumpkin purée that most of you already have on hand. Make the batter, let it rest in the refrigerator , and bake them later (I generally like to let the batter rest overnight, but wait at least a few hours). They take only about 7 minutes to bake at 350 degrees Fahrenheit (most likely the same temperature you are roasting your turkey). You can eat them plain, with cranberry butter or even with crème fraîche.
A very Happy Thanksgiving to all et je vous souhaite un bon appétit !
LM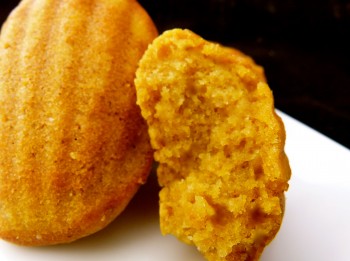 pumpkin spice madeleines
stats:
makes a baker's dozen
what you need:
4 ounces (8 tablespoons) unsalted butter, melted and cooled
2 eggs, divided
1/2 cup + 1 tablespoon light brown sugar
¾ cup canned pumpkin purée
1 ¼ teaspoon pain d'épices*
½ teaspoon vanilla extract
¾ teaspoon kosher salt
1 cup unbleached, all purpose flour
1 tablespoon granulated sugar
madeleine pan
unsalted butter (as needed for pan)
* pain d'épices is a loaf cake popular in the Alsace region of France. You
can also buy pain d'épices the spice combination which is
a combination of ground cinnamon, cloves, green anise, ginger, and cardamom.
If you do not have it, substitute the following:
½ teaspoon ground cinnamon
¼ teaspoon ground cloves,
¼ teaspoon ground nutmeg
⅛ teaspoon ground ginger
⅛ teaspoon of allspice
2 pinches ground cardamom.
how to:
Melt Butter.

Place the butter in a small saucepan over low heat. Slowly melt butter (do not get it too hot). Set melted butter aside and let it cool.
Mix Yolks And Sugar.

Using a mixer fit with a paddle attachment, mix the egg yolks with the brown sugar.
Add Flavor.

With the mixer on low speed, add the pumpkin purée, pain d'épices (or substituted spices), and vanilla extract and mix until incorporated.
Dry Ingredients

. Add the flour and salt to the mixer bowl. On low speed, mix to incorporate.
Add Butter.

Slowly add the cooled butter and mix to incorporate. Set aside.
Whisk Egg Whites.

Using a clean mixer bowl and the whisk attachment, whisk the eggs whites on high speed. When the whites begin to get foamy, rain in (slowly pour in) the tablespoon of granulated sugar. Continue to whisk the whites on high speed until the whites hold stiff peaks.
Fold In Whites.

Take ⅓ of the egg whites and add them to the madeleine batter and stir until incorporated. Slowly fold in the remaining ⅔ egg whites.
Refrigerate.

Pour the batter in an airtight container and let it rest in the refrigerator overnight.
Preheat

Oven.

Preheat the to

425 degrees Fahrenheit.
Pan

. Butter the shell moulds in a madeleine pan. Using a pastry bag or a spoon, carefully fill the madeleine moulds ⅔ full.
Bake.

Reduce heat to

350 degrees Fahrenheit.
Cool

. Let madelines cool in the pan for a few minutes and then turn them out on a wire rack to finish cooling.
food for thought for Thanksgiving (and always)
"Let us be grateful to people who make us happy:
They are the charming gardeners who make our souls blossom."
– Marcel Proust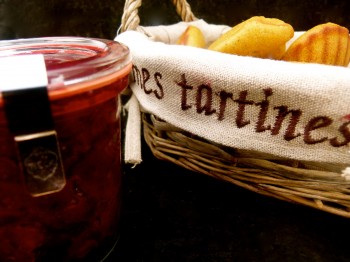 Tags: easy cookie, Easy snack, healthy snacks, madeleines, pain d'épices, pumpkin, pumpkin puree, pumpkin spice madeleines, sponge cake