lotte cigare
(Monkfish cigars)
serves 4
what you need:
2 beautiful Monkfish fillets (approximately ½ pound each)
8 slices of prosciutto (Prosciutto di Parma)
kosher salt (as needed)
freshly ground black pepper (as needed)
olive oil (as needed)
fresh minced Italian parsley (optional for garnish)
how to:
Wrap.

Lay 4 strips of prosciutto on

parchment paper

. The strips should slightly overlap one another. Lay a fillet across the 4 slices. Fold the top of the slices down over the fillet and continue to roll the fillet in the slices. Repeat for the second fillet.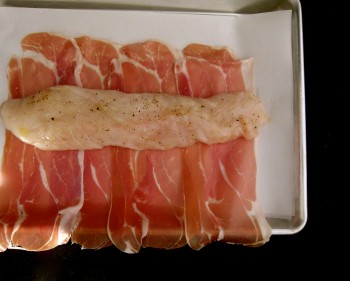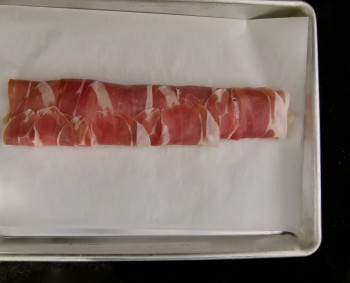 Grill.

Over a medium flame, place the wrapped Monkfish fillets on a pre-heated grill. Grill for 2 minutes and then turn over the fillets (using tongs) and finish grilling for another 3 minutes on the other side. The fish is done when it is opaque (and not translucent or clear). Instead of a grill, you can fry the fillets in a pan over a medium-high flame (use a small amount of olive oil in the pan to prevent sticking and fry for 5 minutes until done).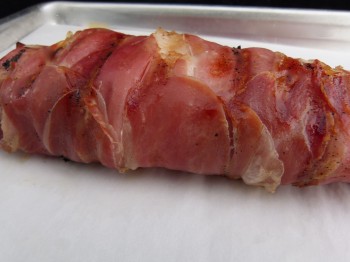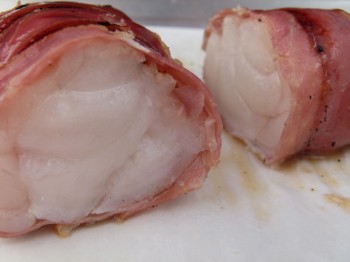 Serve.

Cut the wrapped fillets into medallions (about one inch in width). Place the medallions on a plate or skewer with wooden or metal skewer.
Garnish.

Add minced Italian parsley and sprinkle with salt and

piment d'espelette

.
Tags: easy dinners, five minutes, grill, lotte-cigare, Monkfish, Monkfish cigars, piment d'espelette, prosciutto, simple pleasures. french cooking recipes, two ingredients