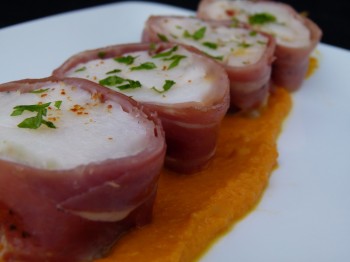 two ingredients and five minutes:
lotte-cigare
(Monkfish cigar)
In culinary terms, Memorial Day in America means celebrating with family and friends over uncomplicated, easy meals and it always involves a grill. When I am in Los Angeles, I grill as much as I can simply because nothing beats cooking in the beautiful outdoor weather (in Paris my kitchen is so small that the mere pulling of something from the oven will surely place my backside on the opposite wall…although there is a nice window). I am soon headed back to France so this week I was grilling and it was the flames from the grill, the lobster tails on the grill, and an unlit cigar which inspired this week's simple pleasure: lotte cigare (monkfish cigar).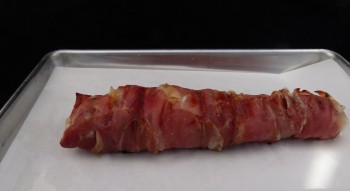 It was a beautiful early evening and I was grilling lobster tails. An unlit cigar was nearby and for a quick moment, I thought about lighting it with the grill flames. However, given my recent episode of unforeseen accidents (i.e., breaking my wrist while merely running), I envisioned my hair and eyebrows catching fire and the cigar still unlit so I resorted to more typical means. I looked at the lobsters on the grill and I thought of Monkfish, a type of anglerfish from the northwest Atlantic which is often referred to as the "poor man's lobster." They are enjoyed in France often (although the first time I tried it was in the States, not in France). Monkfish fillets are also round (although the fish itself looks like a slimy club). Enjoying the now lit cigar, the thought occurred to me that if I rolled a monkfish fillet in prosciutto and grilled it, it would not only be a rolled "cigar" but grilled, this "poor man's lobster" would really resemble a lobster tail. The thought is not so inventive, really, because in France, anything they roll up, including jam inside phyllo dough, becomes a culinary "cigare."
Even if the logic of this creation seems tortured to you, the recipe is not. It is a delicious meal and this is all you need:
2 ingredients: quality

Monkfish fillets

and prosciutto (preferably

Prosciutto di Parma

);
Salt, pepper and a little olive oil; and
A heat source (a grill or even a pan over a stove).
The fillet cooks in 5 minutes. 2 ingredients and 5 minutes and you have a delicious dinner (and time to light and enjoy your cigar). Recipe.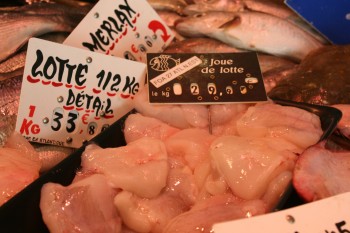 quick ingredient and production notes
Monkfish (lotte in French) has also been called the devil or the toad of the sea, because, in truth, physical beauty has eluded it although taste has not. It is referred to as an inexpensive lobster because the flesh of Monkfish is meaty, buttery, without bones, and rich like that of lobster but the cost is less (although the gap is less than what it used to be). I do not find it as flavorful as lobster but Monkfish is a substantial fish that needs little embellishment to add moisture or bring out its flavor.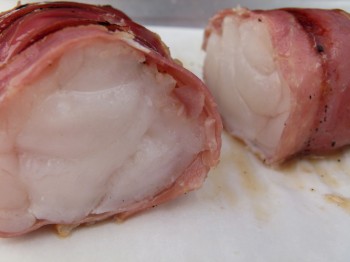 Monkfish is prepared by roasting the fillets whole or cutting the fillets into medallions and sautéing them or skewering them and then grilling or pan-frying them. Because it is a substantial fish it is more forgiving than a delicate, lean fish and less likely to be over-cooked and dry. As such, it is a good fish for those who question their ability to cook fish.
If you do not have prosciutto, you can use bacon. However, bacon is not as easy to work with because the slices are long and thick, you will have to trim them. Also, bacon tends to be a little greasy (and the fat content is certainly higher).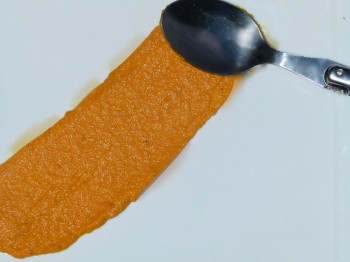 To give you an easy something to go with your monkfish, I have included a recipe for a carrot purée. The combination of monkfish and carrots was not an accident. First, everyone has carrots in their refrigerator (as well as the other ingredients called for in the purée recipe). Second, you not only have the ingredients on hand, but it is easy to make: boil and mash. Third, you can make it ahead of time and warm it at time of service. Fourth, carrots are one of those vegetables that most people, young and not so young, like. Fifth, a big chef's secret is that carrots pair extremely well with seafood. Now the secret is out
Serve the fillets and purée with a green salad, mesclun or some spicy greens (arugula or mizuna) would be perfect. Five minutes for a great dinner…what will you do with all of that time ? Perhaps enjoy your company, your Memorial Day, and a cigar as well.
Happy Memorial Day and thank you to all of those who serve our country.
Je vous souhaite un bon appétit !
LM
Tags: carrot puree, cigar, easy recipes, five minutes, french cooking recipes, grilling, lotte-cigare, Monkfish, prosciutto, simple pleasures, two ingredients