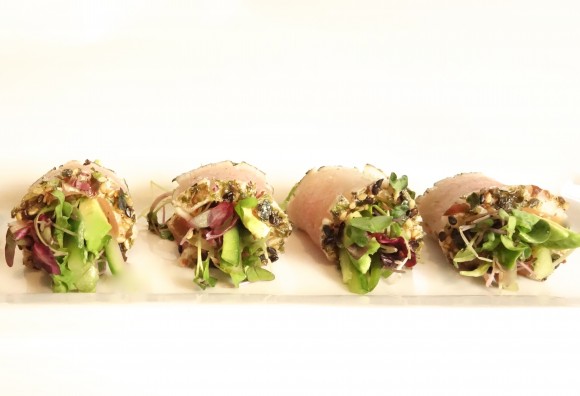 Kona, "Blazeman," and the log-roll
Recipe: seared tuna roll with microgreens
The IRONMAN in Nice, France is like the other IRONMAN endurance races: a 2.4 mile swim, 112 mile bike ride, and a full marathon (26.2 miles). The only difference is that the swim is in the Mediterranean off the Côte d'Azur, the bike ride is in the French Alps and passes through 17 small French villages such as Loup, Gourdon, Vence, and Grasse, and the marathon is a back and forth on the Promende des Anglais. 
In the summer I see the cyclists and runners in the south of France and have often toyed with the thought of taking on the challenge myself. After 17 marathons, I needed something new and I decided it was time to get over my fear of swimming and learn to cycle. There was another reason too, but that one is a little more personal, so I will hold off on sharing that one for now. So in August, I registered for the IRONMAN in Nice. The race is June 28, 2015. I have my work cut out for me.
Endurance competitions are a test of your physical strength, but more than that, they are a test of your mental endurance and your commitment and sound preparation. I have some poignant examples. Stay with me, this will all make sense in a minute and it is not about me (and yes, food is involved).
The week I registered for the IRONMAN I set about figuring out how I am going to reach this goal. I joined the LA Tri Club a group of about 2,000 other individuals in Los Angeles who train and compete in all levels of triathlons. In this group I befriended many lovely people who got me started with gear and training advice. I will forever be grateful for the start.
The weekend before Nautica (the Malibu Tri) I did my first PCH bike ride with other LA Tri Club members and in doing so I met two athletes who would be assisting "challenged athletes" in the Malibu Tri  (those individuals with physical challenges who continue to compete in these types of endurance races with the assistance of others). My friend's boyfriend is a volunteer for CAF (the Challenged Athletes Foundation) and as we spoke about CAF and the incredible determination of those who continue to compete despite physical challenges, she asked me if I knew of Jon Blais. I did not.
I do now.
Jon "Blazeman" Blais was an elite athlete and multi-sport competitor. At 33 years old he was diagnosed with ALS (Amyotrophic Lateral Sclerosis, commonly known as Lou Gehrig's disease) and most recently brought more into the public consciousness with the ALS "ice bucket challenge." 
Blazeman had always wanted to compete in an IRONMAN (he competed in triathlons for 20 years). Despite the fact that ALS was taking over his body, and only five months after his diagnosis, he completed the IRONMAN in Kona on October 15, 2005.  He is the only person with ALS to complete an IRONMAN.
Blazeman finished Kona with a time of 16:28:56 by "log-rolling" over the finish line.
He passed away on May 27, 2007.
Since then, many competitors and IRONMAN finishers have crossed the finish line by log-rolling over it in honor of Blazeman.  The number 179, Blazeman's number, has been reserved in all domestic triathlon events for a challenged athlete. Blazeman set out to raise awareness about ALS …he did.
I am only five weeks into my training (my training of nine months..). Learning two new disciplines is exciting but challenging. I joined  a competitive swim program (I am the newbie by far) where I have swallowed enough water to end the California drought and a non-suspecting plastic snorkel has been my nemesis (but given that six weeks ago I panicked just putting my head under water, it's all good). I learned to clip in and out of a bike and practiced in the park to the amusement of small children as they watched me fall over with my feet clipped in my bike. Three hour bike rides exhaust me like a marathon never has (but proudly I have not fallen oven since my park adventure). The training for an IRONMAN is demanding and I often think about Blazeman and I honestly do not know how he trained with ALS and then raced uninterrupted for 16 hours to finish. 
Blazeman was a testament to the strength of the human spirit and its ability to endure. He is an inspiration. CAF volunteers and the challenged athletes they assist are an inspiration.
This week's recipe was something that I made  in between training sessions to get me through my Tower 26 swims. I was quite fond of the result  and when I gave it to others, it got the "thumbs up."
Persil de la Mer (parsley of the sea) is the combination of two different seaweeds, dried and crushed. It is one of my favorite ingredients lately. It is a wonderful and colorful addition to food. I decided to use Persil de la Mer with ingredients that I had been craving due to my training, namely: fish and avocados.  
I use tuna in this recipe because it is one of those fish that is easy to find and most people like it. If you are an athlete, you should know that yellowfin tuna has 92 calories per 3 ounce serving, 92% of which is from protein and 8% from fat (19.87g protein and .81g fat).
Persil de la Mer is available on the internet (a link is in the recipe) and searing tuna cannot be easier. Coat the top and bottom of the fish with the seasoning, sesame seeds,  and then cook it for a few minutes on each side. It takes 5 minutes.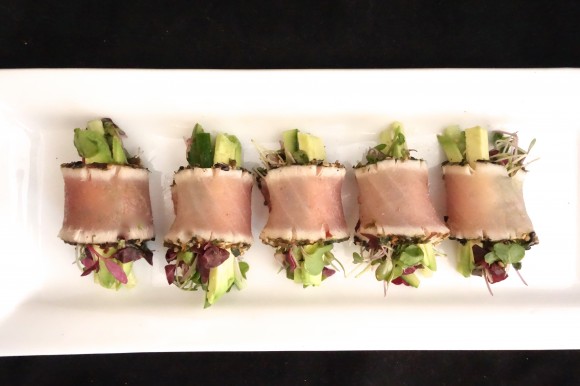 When I created this recipe I was thinking of Blazeman and I rolled the seared tuna slices (in French, it would be called a "roulade") enclosing thinly sliced cucumbers, avocado, and micro greens with a splash of yuzu juice and a pinch of piment d'espelette. MIAM !  It can be part of a sit down meal but also makes a good "to go" snack (just keep it with ice packs to keep it cold).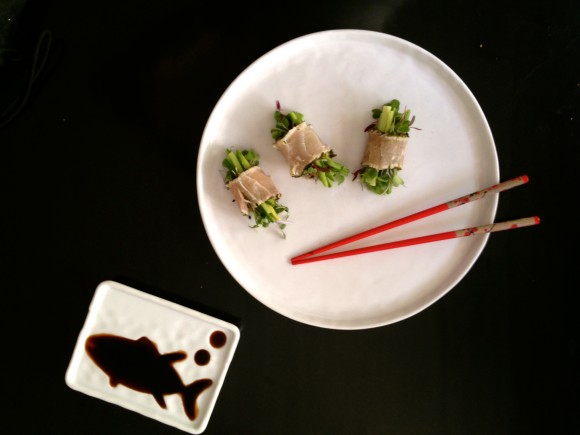 At the dinner table one evening my daughters and I shared some Cali-style sushi recipes I had been working on. I included this one. I told them about Blazeman's log-roll and why their food was shaped the way it was. We talked about Blazeman and ALS and that ice bucket challenge that my eleven year old had done now became even more meaningful. Never underestimate the power of food or dinner table discussions.
To all of those participating in Kona on October 11, 2014  (several of you in the Tower 26 program)  – bon courage ! (good luck)
et bon appétit 
LM
 RECIPE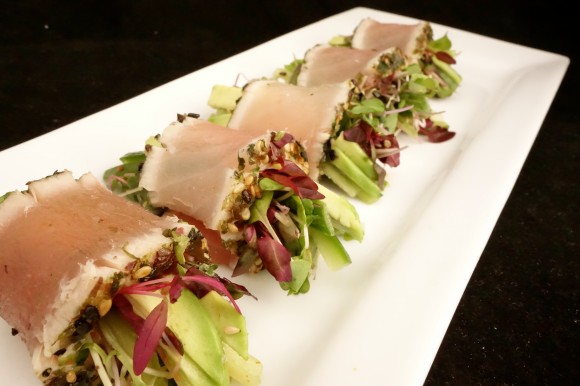 seared tuna roll with microgreens
It is imperative to buy the freshest tuna you can find from a fishmonger you know and trust.
Persil de la Mer can be purchased via internet (link below). For an immediate substitution, crush dried seaweed (available in most markets)
or simply use the sesame seeds and seasoning. It will still be delicious. Yuzu is a citrus used in Japanese cuisine. It tastes like a tart orange. I find its fresh zing unparalleled. You are unlikely to find the small, bumpy-skinned citrus in the U.S.; however, you can find the the bottled juice readily online, in a speciality store, or Japanese grocery store.
serves 2
(344 calories per serving)
1 heaping tablespoon Persil de la Mer*
1 teaspoon golden sesame seeds
1 teaspoon black sesame seeds
1/2 teaspoon kosher salt (or black Hawaiian sea salt)
1/2 teaspoon freshly ground black pepper
6 ounces Albacore or Yellowfin tuna, sushi grade
2 teaspoons yuzu juice
2 pinches piment d'espelette
2 handfuls of microgreens
1 avocado
2 Persian cucumbers, seeds removed
olive oil, as needed
soy sauce, optional
1 jalapeño, optional
Combine.

Combine the Persil de la Mer, sesame seeds, salt, and pepper in a bowl. Press the top of the tuna fillet into the mixture. Repeat on bottom side of the fillet.
Sear.

Place a nonstick pan over a high flame. Once pan is hot, add olive oil (you only need about 1-2 teaspoons). When oil is hot, add tuna fillet, sear for 2-3 minutes. Turn over with tongs and sear the other side. Remove fillet from pan with tongs and cool (you can sear the tuna in advance and chill in the refrigerator in an airtight container). Tuna is best served cold.
Prepare Farce.

Cut the cucumbers and avocado in julianne. Set the avocado aside. Place the cucumbers in a bowl. Add microgreens, piment, and yuzu juice. combine.
Slice and Roll.

Slice tuna in slices about 1/8" thick. Lay one slice flat on a cutting board. Place 2-3 julienne avocado strips on the center of the slice. Add 2-3 cucumber strips and a little microgreens. Roll the slice enclosing the greens and julienned fruit. Use a toothpick to secure the roll closed if necessary.
Serve.

 Serve immediately (or the yuzu juice will wilt the microgreens). Serve with thin jalapeño slices and soy sauce.
*Persil de la mer is a combination of two dried seaweeds. It adds a beautiful touch to dishes. You can find it here
Tags: ALS ice bucket challenge, avocado, blazeman, France, healthy snacks, ironman, LA tri club, Nice, persil de la mer, Tower 26, tuna parisparttime