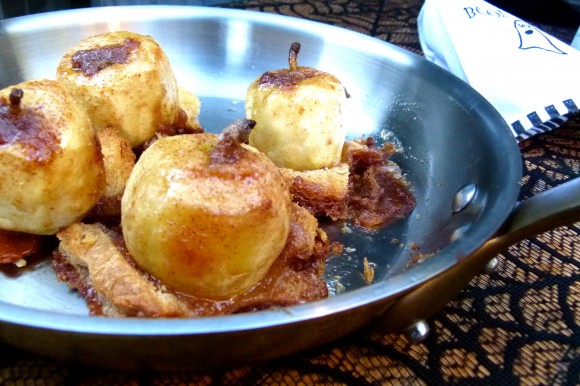 the lure of an apple, the seduction of toast
all treat with no trick: cinnamon-sugared baked apples
on crispy, caramelized ghost toasts
Remember bobbing for apples at Halloween parties? Children (and adults) shoving their faces into a steel bucket of cold water hoping to capture the crunchy treat in between their teeth. Apples have draw. Some may call them an "attractive nuisance" (which in the legal world refers to something potentially dangeous but so inviting that it is certain to attract people to it). Think of Eve. How about Snow White? However, you can give into the lure of an apple; without negotiating with a serpent; with no resulting sin or threat of your heart in a box; and no bucket of cold water in your face or to drown in. In fact, you can have your apple and your sugar fix too.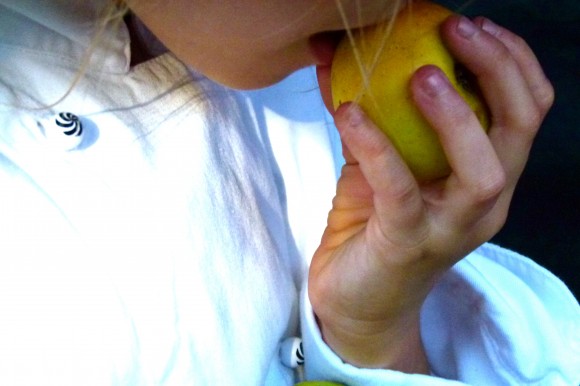 This Halloween, it is all treat: warm, soft, baked apples basted in a cinnamon-sugared butter on top of toasts (in the shape of ghosts) that have been caramelized to a crispy and chewy, buttery delight. Giving into this seasonal treat and coming out unscathed, satisfied, and keeping the switch witch at bay is the inspiration for this week's simple pleasure: cinnamon-sugared baked apples on crispy, caramelized ghost toasts.
"bone" appétit !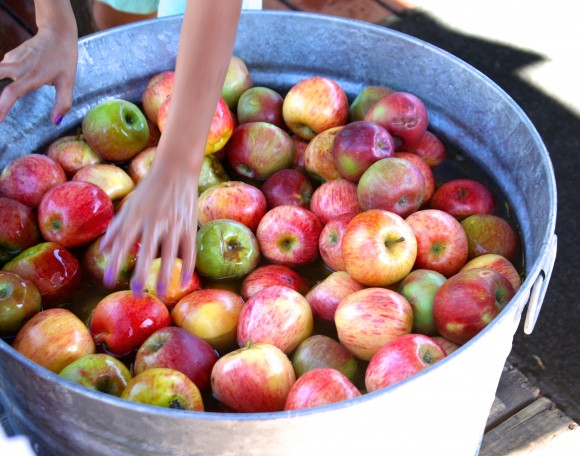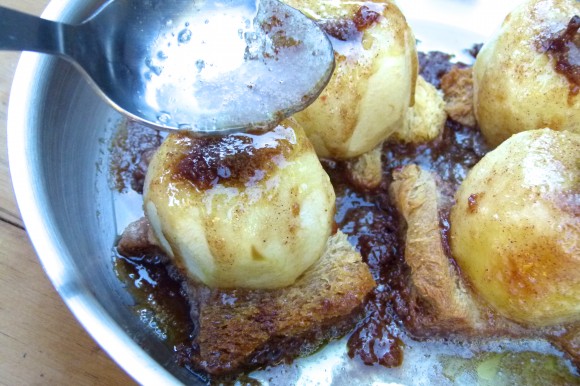 Baking apples is a classic French way to prepare apples in the winter (especially in Normandy) but this week's recipe is a family one so it shows you that caramelizing apples in the oven is not unique to the French. My mother made these for us. Her mother and grandmother made them for her and so on. I pass it to you. I have no doubt that if you try this recipe, it is one you will incorporate into your family's repertoire as well.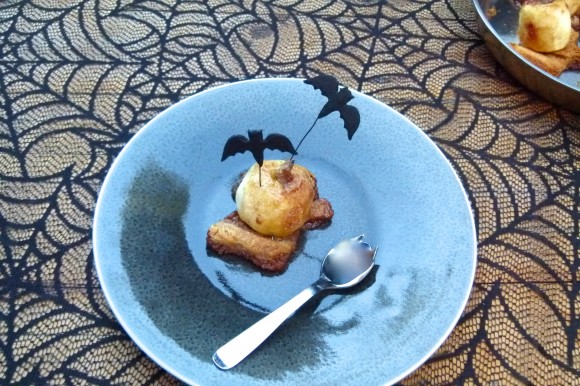 The recipe is very easy to prepare and uses only 5 ingredients (plus lemon juice to brush on the apples once peeled). If you want to know more about apples varieties and apples in general, see my November 12, 2010 post part one and part two However, below are common questions and answers regarding the recipe.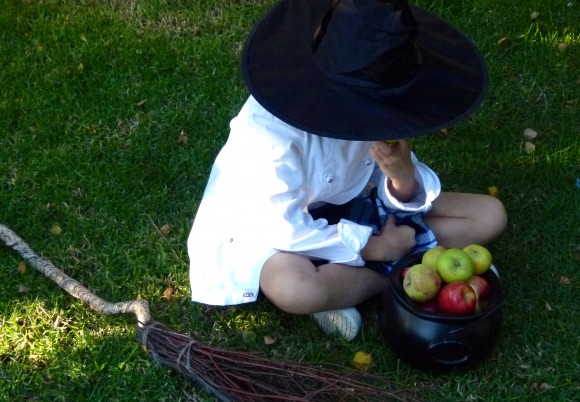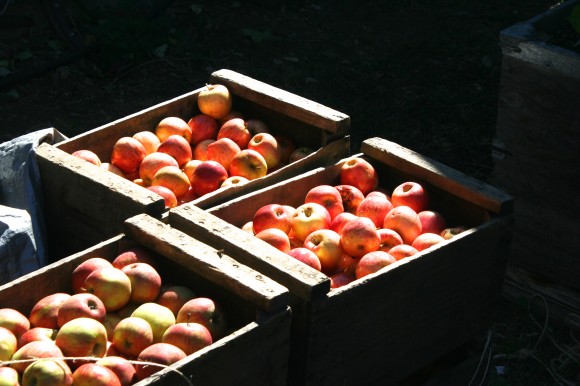 the "bare bone" Q & A
QUESTION: What type of apple should I use?
ANSWER: Bake an apple that holds its shape.
Red Delicious is not a good apple to cook with but Granny Smith and Golden Delicious are wonderful. It is difficult to remember which apples are good to cook with and which ones are not (there are about 15,000 varieties). The easiest way to test this is to cut off a wedge of the apple and submerge it in water and cook it. If the wedge maintain its shape then it is good to bake with.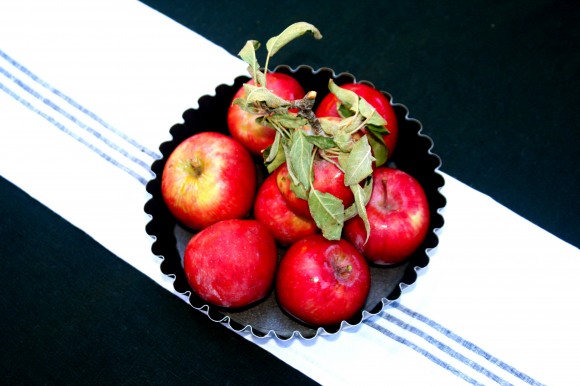 QUESTION: What are your favorite apple varieties to use?
ANSWER: My favorite apples to cook with are: Ashland's Kernel, Braeburn, Bramley's Seedling, Calville Blanc d'Hiver, Fuji, Gala, Golden Delicious, Granny Smith, Honeycrisp, Ida Red, Jazz, Jonathan, Jonagold, Melrose, Mutsu (Crispin), Newtown Pippin, Northern Spy, Rome, Pink Lady, Pomme des Reinettes, and Golden Delicious, White Pearman, and Winesap.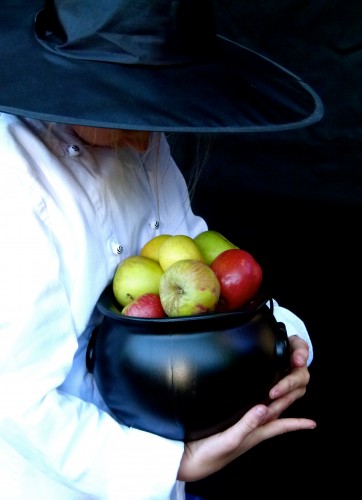 QUESTION: Where can I find these varieties?
ANSWER: Many supermarkets carry varieties such are Rome, Pink Lady, Jazz, Braeburn, and Golden Delicious. Many Farmer's Markets in Los Angeles are now carrying heirloom varieties. Windrose Farm sells many of my favorites: Braeburn, White Pearman, Smokehouse (green and tangy); Ashmead's Kernel (gorgeous yellow and brown); Hudson's Gold Gem (very crispy with pear tastes); Sierra Beauty; and Pink Lady.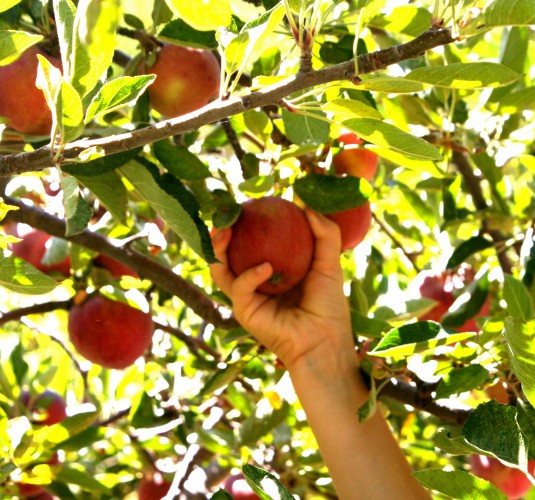 QUESTION: If I want to pick the apples myself, where can I go?
ANSWER: There are many locations in southern California that let you pick apples. For example., Glen Oaks is about a 2 hour drive east on interstate 10 east. See my November 12, 2010 post for more information.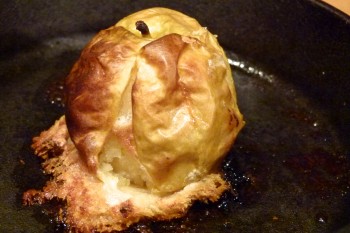 QUESTION: Do I have to peel the apples?
ANSWER: No. You can bake the apples with the skins on; however, the difference is twofold: (1) the skin will wrinkle, brown, and will be a little tough (a little Halloweenish…); and (2) when you braise them, the butter will slide down the skin without absorbing the sugared butter so they will not be as flavorful (although the interiors and the toast will have absorbed the cinnamon/sugar butter combination).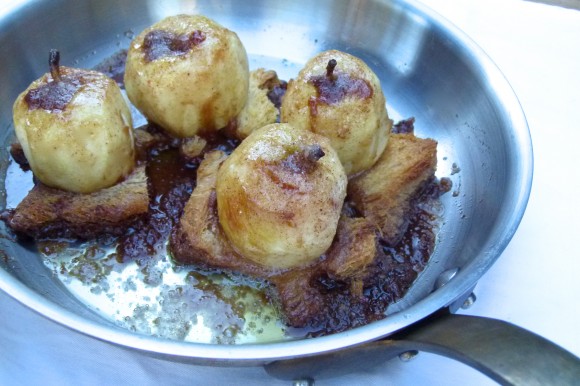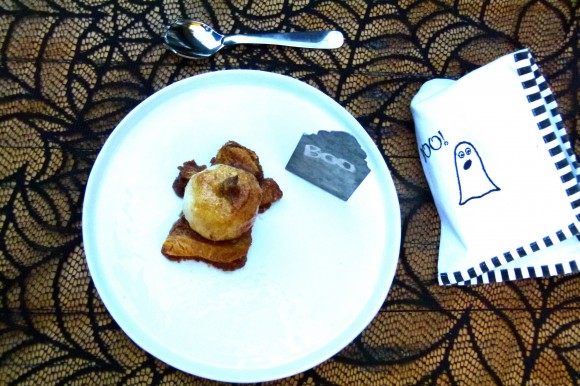 QUESTION: What if I do not like cinnamon or want to use something else?
ANSWER: You can stuff the apples with other things: a square of caramel, caramel sauce, soft cheeses (i.e., blue cheese or goat cheese… a harder cheese works only if you grate it), honey, or a combination of these. However, make sure if you peel the apples to baste them in a simple syrup or butter so they will not dry out in the oven.
***
"bon(e) appétit !"
LM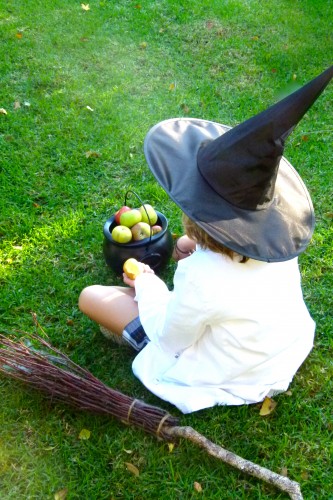 SOURCES
Windrose Farm
Santa Monica Farmer's Market (Wednesday)
5750 El Pharo Road
Paso Robles, CA 93446
805.239.3757
bandb@windrosefarm.org
Tags: baked apples, cinnamon, ghost toasts, Halloween